Share on your favorite social networking site by clicking its icon.
Please do not forward this newsletter. There is a risk that someone may unsubsubscribe you. Click
here
for a link to send to friends. or use the address of the webpage version.
The mission of ARCC is to bring about substantive structural change within the Catholic Church by seeking to institutionalize a collegial understanding of church where decision making is shared and accountability is realized among Catholics of every kind and conditio
n
.
Once people start to believe change is possible,
the drive to achieve it accelerates.
- Patrick Edgar, ARCC President
ARCC can earn a penny every time you search the Internet.
GoodSearch.com
donates half its revenue, about a penny per search, to the charities its users designate. You use it just as you would any search engine. Go to
www.goodsearch.com
and enter
ARCC
as the charity you want to support. Bookmark the site or make it the default search engine via your browser's settings. Just 50 of us searching four times a day will raise about $730 in a year without anyone spending a dime. One member has already earned more than $55 for
ARCC
so far this year.
A good source for synod information and resources: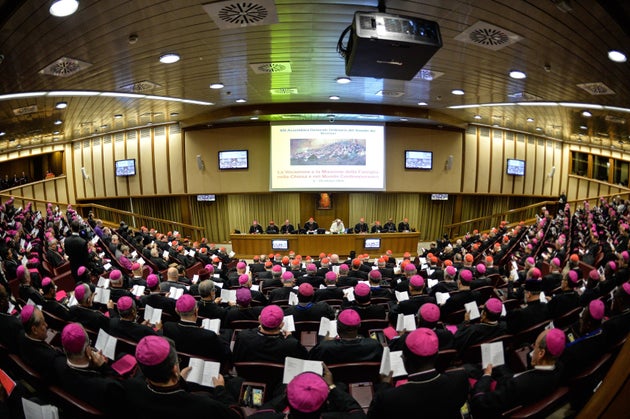 The Synod Approves Final Document, Leaves the Door Open for the Pope to Move Forward on Key Issues
Gerard O'Connell Oct.24, 2015
The Synod of Bishops on the Family concluded its work on Saturday evening, Oct. 24, by approving the final document by a two-thirds majority. While re-affirming traditional church doctrine on marriage and the family as expected, the synod significantly closed no doors, despite a strong push to do so, instead it cleared the way for Pope Francis to respond to the unanswered questions in a future magisterial text.
The approval of this consensus document has greatly strengthened the hand of Pope Francis in his effort to build a church whose "first duty," as he said in his speech after the vote, "is not to hand down condemnations or anathemas, but to proclaim God's mercy, to call to conversion, and to lead all men and women to salvation in the Lord."
The synod fathers, in their introduction to the text (so far only in Italian) offered the pope "the fruit of our reflections, with an awareness of the limits that these present"-in fact they provided more questions than answers. And in the last paragraph (n.94) they ask him "to evaluate the opportunity" to write "a document on the family."
The approved text is "a document of consensus," Cardinal Christoph Schonborn (Austria) told the press in a briefing at the Vatican before the synod actually voted.
. . . .
Indeed, the most heated discussion in the synod revolved around one theme in this chapter: the controversial question of whether Catholics who have divorced and civilly remarried could, under certain circumstances, receive communion. A sizeable group of synod fathers, including three cardinals heading Roman Curia Offices (Ouellet, Sarah and Pell), sought to totally exclude this possibility from the text but in the end they failed.
"Discernment" is the key word to understand the synod's approach to this question, Cardinal Schonborn told the press. He said the synod gives "great attention" to their situation, which is so diversified that "there is no black and white answer, no simple 'yes' or 'no'" as some insisted, instead "it's necessary to discern in each case." He recalled that this was exactly what John Paul II had advocated in his 1981 apostolic exhortation on the family, "Familiaris Consortio." Moreover, he added, "discernment" is something that Pope Francis knows a lot about; with his Jesuit background of the Spiritual Exercises of St Ignatius, he has been doing it all his life.
This key word-"discernment"-appears in several paragraphs, three of which (83-84-85) encountered very strong opposition from a group of synod fathers that wanted to totally exclude the possibility that the divorced and remarried could ever be allowed to receive communion.
. . . .
Through these three paragraphs (84-95-86) the synod recommends to the pope that the path be opened for the integration of the divorced and remarried into the life of the church. Nowhere does it close the door to the possibility that Catholics who are divorced and remarried may, under certain circumstances, be allowed to receive communion. The synod has handed this open question and many others to the pope for him to address in a future magisterial document.
On another contested subject, the church's approach to homosexuals, Cardinal Schoborn acknowledged that "there's not much about homosexuality in the text" since it only looks at this question within the context of the family, where a member-"a brother or sister"-has homosexual tendencies.
Pope Will Write an Apostolic Exhortation as Follow-Up to Synod on the Family
Gerard O'Connell Oct.28 2015
Pope Francis will write an apostolic exhortation as a follow up to the Synod on the Family and "it should not take too long [to arrive]," the Cardinal Secretary of State, Pietro Parolin, told the Italian news agency ANSA.
He said the papal document "will be based on the conclusions of the synod, as is the tradition." He told this to reporters at the Gregorian University today, after delivering a lecture there for the 50th anniversary of "Nostra Aetate," the Vatican II document on the relation of the Catholic Church to non-Christian religions.
. . . .
Earlier in the week, the Father General of the Jesuits, Adolfo Nicolàs, S.J., who attended the synod and is close to the pope, confirmed that there would indeed be an apostolic exhortation.
. . . .
Father Nicolàs noted, "The church has always been weak when it comes to follow-up," but, "the fruit of the synod cannot just be a document, however good."
He said, "the fruit [of the synod] is practical: what is done, what happens in the pastoral situation, in the parishes when people start asking. It's there that one sees [the follow up]."
"For me," Father Nicolàs said, "the ideal follow-up would consist of particular synods: each bishop when he returns home holds a synod with his people, both priests and laity, to discuss how to realize here the possibilities [opened by the synod on the family]."
The pope has smoked out his opposition
Robert Mickens )ct.26 2015
If you really want to know what happened inside the Synod of Bishops this past month, don't obsess too much over its final report (relatio) on the church and the family.
Each of that document's ninety-four articles or paragraphs was approved by at least two-thirds of the 264 prelates (and one layman) that showed up for the final vote. And the reason there was such overwhelming approval is because of a delicate compromise that took all of the most controversial issues off the table or treated them with open-ended language.
Nonetheless, Catholics of contrasting points of views (and even ideologies) have found ways to claim "victory" for their side through a favorable reading of one passage or another. But they are missing the point.
Pope Francis' novel decision to call the synod into session twice in twelve months to speak freely about the exact same issue ("the vocation and mission of the family in the Church and the contemporary world") was primarily not about the family. Rather, it was about re-introducing a process of discussion and debate at the highest level of the church, not seen since the first years immediately following the Second Vatican Council. He confirmed as much in a key address he gave on Oct. 17 during a symposium to mark the 50th anniversary of the Synod of Bishops.
. . . .
On Saturday evening, as he brought this latest synod assembly's work to a close, the pope told the bishops and observers what he believed the exercise had been about.
Among other things, he said: "It was about laying bare the closed hearts, which frequently hide even behind the Church's teaching or good intentions, in order to sit in the chair of Moses and judge, sometimes with superiority and superficiality, difficult cases and wounded families."
Francis undoubtedly took note of those prelates he had in mind.
And while he thanked the bishops for engaging in "a rich and lively dialogue" through the many "different opinions which were freely expressed," he lamented that some synod participants spoke out "at times, unfortunately, not entirely in well-meaning ways."
He surely jotted down the names of a few more bishops.
"The Synod experience also made us better realize that the true defenders of doctrine are not those that uphold its letter, but its spirit; not ideas, but people; not formulae, but the gratuitousness of God's love and forgiveness," the pope said.
More names to add to his little black book?
. . . .
As Cardinal Gerald Lacroix of Quebec told reporters last week, Francis knows the "accents and difficult points" of the debates that went on. He also "knows the weight of each argument," even of those that did not make it into the final document.
In other words, the pope has gotten to know the bishops much better and is now in a stronger position to distinguish those who are on board with his vision of renewing and reforming the church from those who are not.
. . . .
Nearly a third of the synod fathers voted against those articles in the final report that, although greatly watered down, hinted at greater openness to accommodating Catholics who fall short of the mark regarding church's marital laws and teaching.
And even more alarming is the list of twelve bishops that the general assembly elected to the synod's permanent council. Along with three papal appointees, this group of fifteen will prepare the ground for the next ordinary assembly of the synod.
The assembly was asked to choose three men each from the Americas, Europe, Africa and Asia-Oceania. According to one report, Archbishop Charles Chaput of Philadelphia garnered more votes than anyone else. Archbishop Blaise Cupich of Chicago, who was among the top three elected from the Americas, was eliminated because only a single representative is allowed from any one country.
Others elected, who are generally described as opponents to change, were Cardinals George Pell (head of Vatican's Secretariat for the Economy), Robert Sarah (prefect, Congregation for Divine Worship), Marc Ouellet (prefect, Congregation for Bishops) and Wilfrid Napier (South Africa).
Elected from among those bishops generally seen as more reform-minded were Cardinals Vincent Nichols (England), Christoph Schönborn (Austria), Oscar Rodriguez Maradiaga (Honduras), Luis Tagle (Philippines), Oswald Gracias (India) and Archbishop Bruno Forte (Italy).
. . . .
In the past, popes and their closest aides have found these synod assemblies to be a useful proving ground or talent pool for selecting future Church leaders. After this latest exercise, in which he practically forced the bishops to lay their cards on the table, Pope Francis is in a better position to confidently choose a number of prelates who will be assets in carrying out his agenda for church renewal.
He surely realizes that, with the current crop of bishops, he needs all the help he can get.
Synod on remarried Catholics, consensus in ambiguity
Thomas Reese Oct.24, 2015
. . . .
What did the synod finally say about divorced and remarried Catholics in its final relatio or recommendations to the pope?
Like the Germans, the
synod suggested
the use of what is called the "internal forum," where the document says priests can help remarried Catholics "in becoming conscious of their situation before God" and in deciding how to move forward.
"The conversation with the priest, in internal forum, contributes to the formation of a correct decision on what is blocking the possibility of a fuller participation in the life of the church and on steps that might foster it and make it grow," states the document.
"For this to happen, the necessary conditions should be guaranteed of humility, discretion, and love of the Church and its teachings in the sincere seeking of the will of God and in the wish to give a more perfect response to it," the document continues.
What is remarkable about the three paragraphs dealing with divorced and remarried Catholics is that the words Communion and Eucharist never appear. Yes, that's right, they never mention Communion as a conclusion of this internal forum process.
. . . .
I think that the truth is that Communion was not mentioned because that was the only way the paragraphs could get a two-thirds majority. Like the Second Vatican Council, the synod achieved consensus through ambiguity. This means that they are leaving Pope Francis free to do whatever he thinks best.
Hats off to the drafting committee that found exactly the right language to achieve consensus even if it does not give a definitive answer to our questions.
. . . .
The document also speaks of taking decisions about having children after reflecting on what one is hearing in conscience, quoting the Second Vatican Council document Gaudium et Spes to say: "The responsible choice of procreation presumes the formation of conscience, which is 'the most secret core and sanctuary of a man where he is alone with God, whose voice echoes in his depths.'"
Apparently, the original text from the drafting committee was tightened up slightly in order to get consensus.
Finally, on the other controversial topic, homosexuals, the synod said they are part of our families and quoted church documents saying they should be "respected in their dignity and received with respect, with care to avoid 'every type of unjust discrimination.'" The synod did not progress beyond where the American bishops were in 1997 in the pastoral message, "
Always Our Children
."
The document also criticized international organizations that condition financial aid to developing countries on the legal recognition of same-sex marriage.
. . . .
So who won?
Clearly the drafting committee which would have been embarrassed if its text had been rejected.
The Germans who proved to be true churchmen willing to keep talking until they reached agreement rather than hurling condemnations at each other.
Pope Francis who got a synod where ideas were exchanged and debated with complete openness.
Catholic families of all types, who got the undivided attention of the synodal fathers during these three weeks.
Who lost? Those who wanted to emphasize the law over mercy, who were opposed to any changes in church practice.
. . . .
The synod did not do everything I wanted and consensus had to be reached through ambiguity, so my pessimism was not completely wrong.
On the other hand, the synod did point the church in the right direction, and as Pope Francis reminds us, synodality is not just a three-week experience, it is at the heart of how he wants to see the church operate in the future. That gives me hope.
Who won? Who lost? 5 points on the contentious Vatican summit
David Gibson Oct.25, 2015
The most significant and contested gathering of Roman Catholic bishops in the last 50 years formally ended on Sunday (Oct. 25) after three weeks of debate and dispute, but the arguments over who "won" and who "lost" are only beginning.
. . . .
The synod was never going to provide definitive answers; it is only an advisory body to the pope and cannot legislate, or bar changes in church policies.
Yet some on the right saw the lack of an explicit recommendation to allow divorced and remarried Catholics a pathway to Communion as evidence that "conservatives basically 'won' this synod," as Damian Thompson wrote in The Spectator.
The lack of almost any opening to gays and lesbians was certainly a setback for progressives who had been cheered last fall that so many top churchmen had used unprecedented language in speaking in positive terms about gays and same-sex couples.
But the broader reality is that conservatives, as many of them acknowledged, did not get what they wanted or needed at this synod, and their prospects going forward look even dimmer.
Here's why:
1. Divorced and remarried Catholics made some gains.
The final report from the synod contained key phrases about individual Catholics in "irregular" situations - such as being remarried without an annulment - using the "internal forum" of their conscience, in consultation with a pastor, to consider their status in the church.
. . . .
2. Silence on gays is preferable to harsh words.
The absence of any breakthrough language on gays was a tactical retreat by progressives who saw that they did not have the support in the synod to get close to a two-thirds threshold.
. . . .
3. The synod showed that the church can, and has, changed.
That change can seem obvious when viewed from the perspective of history, but it's been a neuralgic point for those who fear that admitting to any evolution can lead to a slippery slope. Francis hammered home the need to change in his
forceful closing address
to the synod Saturday, in which he declared that "the true defenders of doctrine are not those who uphold its letter, but its spirit," and he called on the church to adapt to different cultures and conditions.
"A faith that does not know how to root itself in the life of people remains arid and, rather than oases, creates other deserts," as he said in
his closing homily
at Mass in St. Peter's Basilica on Sunday.
4. The synod is dead. Long live the synod.
This synod ended, but synodality - the ongoing process of dialogue, discernment, collaboration and collegiality that leads to new approaches and possibly even doctrinal shifts - isn't over. . . . . The pope said that the "church and synod are synonymous" and that the journey of discernment is ongoing. Church leaders were free to speak their mind, whereas in past years they would have been silenced. Once the flock hears pastors disagreeing and speaking openly about, for example, the value of families led by gay couples or single parents, it's hard to "unring" the bell.
. . . .
5. It's Francis' turn now.
As long as Francis is the pope, he makes the final call, and he is expected to take the suggestions he has heard in this synod, and in last year's synod and the various consultations he has held since he was elected in March 2013, and use them as a launchpad for further, more concrete reforms.
Perhaps the biggest question is how long Francis has and how many like-minded cardinals and bishops he can appoint before he dies or retires. He turns 79 in December and openly acknowledges that his may not be a long papacy.
Read more
Catholic bishops at synod call for a more welcoming church
Nicole Winfield and Daniela Petroff Oct.24, 2015
Catholic bishops called Saturday for a more welcoming church for cohabitating couples and Catholics who have divorced and civilly remarried, endorsing Pope Francis' call for a more merciful and less judgmental church.
Bishops from around the world adopted a final document at the end of a divisive, three-week synod that exposed the split in the church between conservatives and progressives over how to better minister to Catholic families today.
In a win for the progressive camp, the document emphasized the role of discernment and individual conscience in dealing with difficult family situations, especially the vexing issue of whether civilly remarried Catholics can receive Communion.
. . . .
The three paragraphs dealing with the issue barely reached the two-thirds majority needed to pass, but conservatives couldn't muster enough votes to shoot them down. The most controversial paragraph 85 - which says a case-by-case approach is necessary when dealing with remarriage since not everyone bears the same responsibility for the preceding divorce - only cleared by a single vote.
But the document's passage overall will give Francis the room to maneuver that he needs if he wants to push the issue further in a future document of his own. Marx said he hoped that Francis would issue it during his upcoming Jubilee Year of Mercy, which starts Dec. 8.
In a final speech to the synod, Francis took some clear swipes at the conservatives who hold up church doctrine above all else, saying the church's primary duty isn't to condemn or judge but to proclaim God's mercy and save souls.
Francis said the synod had "laid bare the closed hearts which frequently hide even behind the church's teachings and good intentions, in order to sit in the chair of Moses and judge, sometimes with superiority and superficiality, difficult cases and wounded families."
. . . .
n a clear sign that the conservatives had failed to shut the door on the Communion issue, an umbrella group of 26 conservative pro-life organizations said in a statement late Saturday that there was now a "crisis of trust" in the church over the vote.
"Only the pope can restore trust between Catholic laypeople and church authorities in Rome," the group said in a statement.
. . . .
Only the 275 synod "fathers" were allowed to vote - none of the handful of women invited to participate - even though one of the "fathers" with voting rights wasn't even a priest, much less a bishop.
Brother Herve Janson of the Little Brothers of Jesus told reporters he considered refusing to accept the invitation to participate, given that his status in the church is the same as a sister who heads a religious order of nuns.
"I was very upset, because while before the distinction (between voting and non-voting members) was between the clergy and laity, now it has become between man and woman," he said.
Synod calls for greater promotion of women's role in church
Cindy Wooden Oct.26, 2015
If the Catholic Church did more to recognize and promote women's responsibility within the church, it could help their status in societies as well, said the Synod of Bishops on the family.
The church should show "greater recognition of their responsibility in the church: their participation in decision-making processes, their participation in the governance of some institutions, their involvement in the formation of ordained ministers," said the final report of the synod, approved Oct. 24.
Archbishop Joseph E. Kurtz of Louisville, Kentucky, president of the U.S. Conference of Catholic Bishops, told reporters the next day that the document, after speaking about "the dignity of women and the way in which women are treated from country to country and within the church ... talked about the importance of the charisms" that women bring to families, society and the church.
. . . .
Synod members also mentioned the role of single people in the family and in the church. Not only are many of them "dedicated to their family of origin, but they often are of great service to their circle of friends, the church community and through their professional lives," the final report said. Too often they are overlooked or isolated, synod members said, but they enrich the lives of their families, societies and the church.
Catholic Theologians Condemn Ross Douthat's Recent Piece on the Pope
Jim McDermott Oct.27, 2015
. . . .
On Sunday, October 18, the
Times
published Ross Douthat's piece
"The Plot to Change Catholicism."
Aside from the fact that Mr. Douthat has no professional qualifications for writing on the subject, the problem with his article and other recent statements is his view of Catholicism as unapologetically subject to a politically partisan narrative that has very little to do with what Catholicism really is. Moreover, accusing other members of the Catholic church of heresy, sometimes subtly, sometimes openly, is serious business that can have serious consequences for those so accused. This is not what we expect of
The New York Times.
October 26, 2015
John O'Malley SJ (Georgetown University)
Massimo Faggioli (University of St. Thomas, Minnesota)
Nicholas P. Cafardi (Duquesne University)
Gerard Mannion (Georgetown University)
Stephen Schloesser SJ (Loyola University Chicago)
Katarina Schuth OSF (University of St. Thomas, Minnesota)
Leslie Tentler (Catholic University of America, emerita)
If you haven't read Mr. Douthat's piece, it's worth a look-just keep a nitroglycerin pill handy, because it is a shocker, depicting the pope as a figure of "ostentatious humility" (naughty pope, rubbing his simplicity in our overfed faces) who is attempting to change that which Mr. Douthat says "the pope is supposed to have no power to change," namely "Catholic doctrine."
Now, if you find yourself wondering, since when is the pope (or a synod, for that matter) unable to call for a change in church doctrine, well, that's a good question. The pope and the synod can in fact change doctrine, but not dogma.
. . . .
It is indeed an embarrassment that The New York Times would publish a piece that is so sloppy (and just plain wrong) in its understanding of these basic distinctions.
If you read the piece, you may also find it a wee bit surreal. Mr. Douthat's proposition that the pope is engaged in a "plot to change Catholicism" is painted in the courtly, power-hungry intrigues of another era. "A Jesuit pope is effectively at war with his own Congregation for the Doctrine of the Faith, the erstwhile Inquisition," he writes.
But in fact this pope is not attempting to seize power for himself or overthrow some item of Catholic dogma. He's just pushing for a greater pastoral care for families. So when Mr. Douthat writes, "Speaking as a Catholic, I expect the plot to ultimately fail; where the pope and the historic faith seem to be in tension, my bet is on the faith," what he's saying is not, as it sounds, "I'm betting that the pope will be prevented from changing the fundamental tenets of our faith," but rather "I'm betting the bishops will continue to prevent divorced Catholics from being able to go to Communion."
Where were the voting women at the Synod?
James Martin, SJt Oct.24, 2015
. . . .
[T]his morning something very disturbing was revealed, thanks to a perceptive question by Thomas J. Reese, SJ, former editor in chief of America and currently a columnist for the National Catholic Reporter. Brother Herve Janson, a member of the Little Brothers of Jesus, an order noted for its poverty and simplicity, was one of the participants at the daily press briefing. It was noted that he was also a voting member.
Father Reese asked, rightly, "What is the rationale for you being admitted to the Synod and religious women not being admitted to the Synod? (The exchange can be seen on the video below, starting at 42:00)
What does that mean? Basically, Brother Janson is not ordained. Some may not be aware of this tradition, but you can be a member of a men's religious order and not be ordained: thus the term "Brother." Brother Janson is neither a bishop, nor a priest, nor a deacon. Technically, his canonical "status" in the church is that of a layman. That is, he has the same "status" as that of a woman religious, or in common parlance, a Catholic sister. And the same status as a laywoman as well.
In response to Father Reese's question, which produced some uncomfortable laughter from the other panelists (who immediately grasped the challenging nature of the question): Brother Janson said (my translation from the French): "That is a big question....I felt very uncomfortable (malaise)....Before, the distinction was between cleric and lay. And now, it became between man and woman, exactly as you said very well....I asked myself the same question." Strikingly, Brother Janson said he thought of refusing (renoncer) the invitation to be a voting member, out of solidarity with women religious. (This exchange can be viewed at 42:00 in the video below.)
This is a serious failure for the Synod. Previously, at least as far as I had known, it seemed that ordination was a prerequisite for voting. That is, there were priests who were appointed, in addition to the bishops, as voting members. There were strong theological arguments that could be advanced for that: it was a synod of bishops, and, in Catholic theology, priests participate in the ministry of the bishop through the sacrament of holy orders.
Now, it seems that the prerequisite for being a voting member was not ordination, but being a man.
It would have been extremely easy for the Synod to have invited-as it did with Brother Janson-a Catholic sister to participate in the Synod, with voting rights.
Perhaps the head of a women's religious order could have been invited, or a woman religious who worked in the Vatican, or a woman religious who had experience in the theology of family life. It would also have been easy (since Brother Janson is a layman) to invite another layman or a laywoman to vote.
For me this is the worst kind of sexism. It goes against the Pope's explicit desire to have more women in "leadership roles" in the church, as he said in
Evangelii Gaudium
: "We need to create still broader opportunities for a more incisive female presence in the Church." (10).
It is also, to use some theological language, a sign. The church teaches, as Jesus did, by both word and deed. The "sign value" of having a voting member who was a woman-even one-would have been immense. It was a huge missed opportunity.
Finally, while some may dismiss my comments as off topic, the decision to not to include women has to do with the family. Sexism is something that many, if not most, of our mothers, daughters and sisters have to deal with. The last thing the Synod should have been doing is creating more problems for the members of our family.
Abbot Schröder: The Synod Needed a Historical Perspective
Luke Hansen, S.J. Oct.28, 2015
Abbot Jeremias Schröder, O.S.B., a member of the synod of bishops that concluded on Sunday in Rome, told America on Oct. 21 that the relationship of the church to modernity and its own history were "overarching issues" of the synod.
"A real weakness of this whole process has been the absence of historical reflection," Abbot Schröder said. "What we now consider to be eternal truth was really only formulated at Trent, and that's not understood by many synod fathers. That was very present for me. As Benedictines, we grow up with a sense of history-everything we have is historically shaped-but that was not very present at the synod."
. . . .
In the interview with America, Abbot Schröder described several challenges facing the synod and the church, including the "considerable differences" among synod members on a number of important issues, the "discrimination" of women within the church and the restrictions presently placed on divorced and civilly remarried persons in the life of the church.
Asked about what the Holy Spirit was doing in the Synod, Abbot Schröder said the synod fathers had grown "much closer" to each other, not necessarily in their positions, but in their "manner of speaking."
They "looked each other in the eye. We have sat very closely-elbow to elbow-in these tiny rooms" for the small groups, which are very diverse, and the experience has "taken a lot of the projections out of the way, how we think about each other and how we talk with each other."
. . . .
One issue that came up repeatedly in interventions and small group discussions at the synod was that of violence against women within families. The "Instrumentum Laboris," the working document of the synod, noted that a "greater appreciation" of the responsibility of women within the church could be a "contributing factor" toward their improved status within society.
Concerning that relationship, Abbot Schröder acknowledged it is "very difficult" to discern "clear causality" between the two, but he said the "discrimination of women in the church is a part of a panorama of cultural settings that also permit the mistreatment of women to emerge."
"It is clear to me," he explained, "that the unsolved question of the proper role of women in the church-and not just proper but, in one way or another, equal-the fact that this is not solved is a strong signal to the world, a wrong signal. And that is why the church has a responsibility to look at that."
. . . .
In an interview with Vatican Radio on Oct. 21, Abbot Schröder called Archbishop Durocher "very courageous" for even raising the possibility of the ordination of women as deacons.
"A lot of people get into trouble when they start talking about the ordination of women," he explained. You can be "punished severely...with quite existential consequences" for moving in that direction.
He added that the intervention by Archbishop Durocher was "heard and understood and appreciated by some" at the synod, but to his recollection "it is not something that the synod in any way took up, either positively or negatively," since the synod had to deal with so many issues related very directly to families.
Abbot Schröder acknowledged "a big step forward" for the synod with the presence of Brother Herve Janson, the superior general of the Little Brothers of Jesus, as the first lay voting member in the 50-year history of synods.
"It's clear to me that once you have accepted that a non-ordained superior can be there," Abbot Schröder explained, "then obviously it is a little wedge in the door toward rethinking the role of women in the synod." He also acknowledged that the synod leadership could consider it a "fluke incident" and "make sure it doesn't happen again."
Even though they could not vote, Abbot Schröder said the role of women in his small group was "very strong" and they spoke "quite freely." He noted an important contribution by an expert in bioethics who helped reshape a reference in the working document that was "quite obsolete."
Clash of the clergy: Dispute between Washington cardinal and senior churchman goes public
David Gibson Oct.20, 2015
The eight American bishops taking part in a Vatican summit on family life stay at a huge seminary built high on a hill overlooking St. Peter's Basilica and the rest of the Eternal City.
It's a lovely place with spacious apartments for each bishop and any amenity they might need.
But for all that, it may be getting a tad uncomfortable.
In the latest installment of an increasingly sharp exchange conducted via the media, Philadelphia Archbishop Charles Chaput on Monday rejected what he took as a swipe at him by Washington Cardinal Donald Wuerl, also a member of the U.S. delegation at this gathering of global bishops.
Chaput, who hosted Pope Francis for the final two days of the papal visit to the United States last month, didn't like what he saw as Wuerl's attempt to lump him in with the conservative opposition to the pope at the gathering, called a synod.
. . . .
In a
Wall Street Journal column
last Friday, Chaput struck again, knocking the synod's methods - which have been backed by Francis - but also taking a dig at the motives of the reformers.
In the article, Chaput said the more the champions of reform insist they are not changing church doctrine on marriage, the less believable they are to the other cardinals and bishops at the synod.
That jab came on top of the ongoing furor over a
secret letter
that 13 conservative cardinals sent to Francis just after this synod began this month in which they blasted the process and argued that it was rigged to favor reforms that would lead the Catholic Church down the road to heresy and ruin.
One of their chief complaints was the composition of the 10-member committee drafting the final report; that committee, which the conservatives said was too progressive, includes Wuerl, who was personally named by Francis.
In an unusual breach of ecclesiastical etiquette, two of the signers of the letter were Wuerl's fellow Americans, New York Cardinal Timothy Dolan and Galveston-Houston Cardinal Daniel DiNardo.
Apparently, it was all a bit much for Wuerl - normally one of the most cautious and diplomatic of churchmen - and on Sunday he fired back at the critics in separate interviews with three publications.
While he didn't mention Chaput or the others by name, Wuerl fiercely defended the synod and Francis against charges that reformers were "manipulating" the synod.
. . . .
The contretemps follows comments last Friday by Chicago Archbishop Blase Cupich, a synod delegate who is viewed as an ally of Wuerl and Francis, who
said
he didn't see any reason for the "anxiety" that Chaput claimed was dominating the synod.
Cardinal Pell: "The final document is much better than what we feared"
Nachrichten Oct.25, 2015
Yesterday, Cardinal George Pell commented on the final document of the Synod on the Family at the general assembly of the Una Voce Federation that was also taking place in Rome. Pell said, that the Synod was "very hard work".
The final document contained 94 paragraphs. Most of them were not controversial. The paragraphs 84, 85 and 86 had substantial minorities opposing them:
84: 187 yes and 72 no.
85: 178 yes and 80 no.
86: 190 yes and 64 no.
According to Pell a minority of bishops objected because they thought that the true teaching was not taught explicitly enough. He excused the Synod fathers with the argument that they - although they happen to be bishops - "have never done any or much Thomistic philosophy".
Pell saw a danger in the paragraph about conscience because people could use "conscience" and then "do what they want". But the paragraph about conscience was rewritten in the last days: "You need to study it, but it is basically good."
According to Pell, the Synod did not focus at all on the three topics Communion for the divorced and remarried, on the idea of conscience or on the acceptance of homosexuality: "Catholic doctrine is stated clearly."
. . . .
Pell admits that the language is "different" and verbose. It is not a document that he would have written: "Some people will say it is terrible, but it is not terrible." For him the final version is almost a miracle if compared with the draft: "The Synod itself is much, much better than the worst we have feared."
Why are some Catholics so afraid of change?
Rev. James Martin Oct.27, 2015
The Synod on the Family, the gathering of bishops from around the world that just concluded, changed no Catholic doctrine. None.
But you wouldn't know that from the fierce reactions the synod evoked. Even the possibility that the church might deal more openly with, for example, divorced and remarried Catholics or the LGBT community, sent some Catholics into a near frenzy.
. . . .
The final document is not even the final word. Pope Francis will most likely issue his own document within a few months, summing up the synod's findings and perhaps moving the discussion farther.
But even the hint of change prompted outrage -- which was directed not only at Pope Francis, but also the bishops at the synod, Catholic commentators, and from time to time, me. At times, the level of sheer spite was astounding.
Why?
. . . .
Those disturbed by the possibility of change are usually devout Catholics who believe that the law is an important part of Catholic tradition. And it is.
Make no mistake: Jesus himself said he came to "fulfill the law." Many of the church's rules flow directly from the Gospels. Just consider divorce, the synod topic that captured much of the attention in the West. It is unequivocally stated by Jesus to be wrong.
So some of the consternation is understandable.
Some, however, is harder to understand.
For if you're a devout Catholic who believes in the guidance of the Spirit, then you should also trust that the same Spirit is guiding Pope Francis and the synod. Sadly, in some corners that trust seems to have evaporated after the Pope's election, to be replaced with doubt, suspicion and anger.
Again why?
First, Catholics today often conflate dogma, doctrine and practice.
. . . .
Second, change itself may be difficult for some Catholics because it threaten one's idea of a stable church. Yet the church has always changed. Not in its essentials, but in some important practices, as it responds to what Jesus called the "signs of the times."
. . . .
Third, a darker reason for the anger: a crushing sense of legalism of the kind that Jesus warned against. Sadly, I see this evident in our church, and it is ironic to find this in those who hew to the Gospels because this is one of the clearest things that Jesus opposed: "You load people with burdens hard to bear and you yourselves do not lift a finger to ease them!" he said in the Gospel of Luke.

Fourth, even darker reasons for the anger: a hatred of LGBT Catholics that masks itself as a concern for their souls, a desire to shut out divorced and remarried because they are "sinful" and should be excluded from the church's communion, and a self-righteousness and arrogance that closes one off to the need for mercy. Also, a mere dislike of change because it threatens the black-and-white worldview.

Fear of change holds the church back. And it does something worse. It removes love from the equation. In the past few weeks I have seen this fear lead to suspicion, mistrust and hate. And at the heart of this, I believe, is fear.
As St. Paul said, perfect love drives out fear. But perfect fear drives out love.
As Italy Goes, So Goes the Church
Robert Mickens Oct.28, 2015
A pope's most important title is Bishop of Rome. It is the basis for all his other designations listed in the , such as Vicar of Jesus Christ, Supreme Pontiff of the Universal Church, and so forth.
But Pope Francis showed once again this week that one of the titles he is particularly serious about is "Primate of Italy." On Tuesday he acted in this role to do nothing less than cause a bit of an ecclesiastical earthquake in the Bel Paese by making two surprising epsicopal appointments to major archdioceses that are normally headed by a cardinal.
The first tremors came last week when it was rumored that Francis had selected Fr. Corrado Lorefice, a parish priest from a small town in southeast Sicily, to be Archbishop of Palermo, some 170 miles to the north.
But just hours before the Vatican officially published the Sicilian appointment, the ground really began to shake. That's when Italian media reported that the pope had picked Matteo Zuppi, a progressive-leaning auxiliary bishop of Rome, to be the next Archbishop of Bologna. Francis tapped the former pastor of the to replace the now-retired Cardinal Carlo Caffara, one of Italy's leading conservative hierarchs.
It is no exaggeration to say that both appointments are of monumental proportions.
. . . .
The appointment of the new archbishops to Palermo and Bologna are only part of a much bigger and more important picture. You can talk about living in a universal and globalized Church all you like, but the reality is that its Italian component is still the engine that drives the train. Pope Francis knows this. And that's why he's making exerted efforts to change the mentality and complexion of its hierarchy. Naturally, he's run into opposition.
The first order of business, just months after he became pope, was to gently remind the Italian Episcopal Conference (CEI) they needed to resume work begun following the 1929
Lateran Pacts
with the Italian State (and its
1985 revision
) to reorganize and drastically reduce the country's now 226 dioceses.
Boy, did that fall like seed on stony ground! The original pact had stipulated that there should be roughly one diocese for each of Italy's 100 civil provinces, though the 1985 agreement altered that. Then, last year, Francis proposed that the bishops begin electing their episcopal conference president and secretary-general, posts that have always been papal appointments.
. . . .
Francis also upset the Italians last February when he gave the cardinal's hat to two men who head minor dioceses and denied it to those in traditionally red-hatted places like Venice.
Why does this matter for the rest of the Church? It's sort of like what they used to say about U.S. presidential elections, "As Ohio goes, so goes the nation." But even more, it's tied up with an old adage about candidates in papal elections, "If you want to know how he'll govern the Church, look at how he's been governing his diocese."
. . . .
Speaking of Church governance, the pope took an unusual step this week to tell mischief-makers in the Roman Curia he's not going put up with any shenanigans or attempts to block his reforms.
In a letter to his Secretary of State, Cardinal Pietro Parolin, he made it clear that while changes to the Church's central bureaucracy are being mapped out and slowly being implemented, the current laws and statues that regulate the Curia remain in full effect. Most important among them is the legislation on the hiring, firing, and transferral of personnel from one office to another.
Francis knows that one of the best ways to foul up a reform is by hiring new people and moving key mid-level officials into other offices. He told Cardinal Parolin to remind all heads of Vatican departments of this and to underline that his office, the Secretariat of State, must give final permission to anything in this regard.
Did the Pope have any particular department head in mind? Some think the letter is directed principally at Cardinal George Pell, the prefect of the Secretariat of the Economy.
Francis established this new office in February 2014 and the blunt-speaking, former archbishop of Sydney took up the reins with great determination. Known to be a bull that lugs his own china shop, Cardinal Pell started throwing around his weight (and the Holy See's money) in order to implement financial reforms as fast as possible-perhaps too fast and lacking in proper etiquette.
. . . .
"I answer only to the Pope," the cardinal had been boasting since arriving in Rome. But the new statutes made it quite clear -he actually answers to the Council for the Economy, whose chairman is Cardinal Reinhard Marx of Munich. Yes, that's the same Cardinal Marx that Pell during the recent Synod assembly for his irresponsible comments in a newspaper interview.
The Deep, Difficult And Joyous Spiritual Journey Of Sister Joan
Cathy Lynn Grossman Oct.26, 2015
Tom Roberts, author of a biography of Benedictine Sr. Joan Chittister released Oct. 1, signs books with her at a launch event at Pucker Gallery in Boston. (GSR Caitlin Hendel)
Veteran Catholic writer Tom Roberts thought he knew
Sister Joan Chittister
- the maverick Benedictine nun who dares speak her mind to her church.
He didn't.
When Roberts, editor at large for the
National Catholic Reporter
went to interview her three years ago in Erie, Pa., at the community where she entered religious life at age 16, a secret she's held for a lifetime came to light.
. . . .
As they sat to talk, she leaned forward, blue eyes downcast, voice slow, and poured out a story she had never told anyone before about her early life as a terrified child of an abused woman, trapped by her husband, her church and her society.
Suddenly, instead of an updated obituary, Roberts was hearing a new story - the forces that shaped one of U.S. Catholicism's most influential voices. That conversation begins the biography by Roberts published this month,
Joan Chittister: Her Journey from Certainty to Faith
.
She told Roberts "it's time" she opened the hidden door to her early life because both her valiant, devoutly Catholic mother and her abusive, alcoholic stepfather had died. She was free to speak of a childhood of poverty, insecurity and "ceaseless fear."
But Chittister - now 79 and very much alive, thank you - has another reason why the time has come.
"All my professional life, I have spoken my heart out for the all over the world. It's a theological thing, a deeply moral thing, the determining issue for the integrity of the church and the advancement of any state," she told Religion News Service in an interview about the book.
"It's time to acknowledge that this material is not just theological and rhetorical. It's real. I'm not just talking from compassion, from a world I don't know anything about. I'm talking about myself - and all social classes, all kinds of people,"
"I saw it as maybe my last major presentation on behalf of women who are trapped by circumstances of religion, law, custom and culture," said Chittister.
. . . .
It started simply. Within months of moving from the upheaval of her parents' home to the Benedictine community house, Chittister was struck with polio. The same relentless determination and fierce focus that helped her survive her family, strengthened her through years of therapy until she could walk again.
She took her veiled final vows and became a teacher while studying for her undergraduate and graduate university degrees on nights and weekends.
Roberts described those years as a time when Catholics were certain their church had all the answers - until many, like Chittister, discovered it did not. That's why the book is subtitled "Her Journey from Certainty to Faith."
Then came the '60s and the Second Vatican Council reforms that gave a fresh charge to women religious (as nuns and sisters are known) to find new ways to live out their calling. Chittister moved into two decades of leadership roles within her community, her order, and the Leadership Council of Women Religious, the group that represents about 80 percent of U.S. Catholic sisters. During a decade of upheaval, she traveled the nation giving talks with titles such as "Self-understanding through change."
. . . .
"Listen" is the crux of the book, the crux of her life in a church that, she says, still refuses to listen to women.
"I came to feminism through faith," Chittister told Roberts. And herein likes the central conflict of Chittister life in a church controlled by men who think they alone can define Jesus and God's plan.
Roberts' book walks readers through contemporary Catholic conversations on women's ordination. The neat summary of the Vatican view is "No." Not only "no" but, as pope after pope has said, the subject is closed.
. . . .
"You cannot order Catholics not to think," she said in an interview recalling that confrontation with church authority. "I remember thinking then, 'You can't scare me. You have no idea where I've been.'"
For Chittister, the role of women raises "theological, scientific, sociological and human questions that you cannot stop thinking about. You have to open the door to the conversation in the name of the integrity of your theology."
But even these conversations yielded yet another surprise for Roberts - "how much of a traditionalist she is.
. . . .
Today, said Roberts, Pope Francis has been calling for a deeper theology of women, and women such as Chittister are saying, back to him, "It's done already! Stop telling us who we should be. Let us tell YOU who we are!"
Women's ordination has never been her focus, Roberts writes and Chittister confirms. Other issues take precedence for her: education; economic opportunity; health care; civil rights and the right to self-determination. For the past 20 years she's been writing, speaking and traveling to places of conflict with the Global Peace Initiative of Women, including days in Iran during the nuclear pact negotiations.
Same-sex marriage: The sky is not falling
Fr. Peter Daly Oct.26, 2015
The sky is not falling.
Despite what some commentators said after the Supreme Court's decision in June in
Obergefell v. Hobbs
regarding same-sex marriage, the sky was not falling. The ruling may, in fact, make things better, not only for LBGT couples, but also for our society.
There will be problems. Sweeping decisions always create some problems. In this case there will be problems for religious liberty. But we will learn to live with Obergefell. There will eventually be an accommodation between the 14th Amendment's
equal protection
of the rights of same-sex couples and the First Amendment's religious liberty rights (
free exercise
) of the faithful.
The Sunday after the decision was announced I talked about the issue from the pulpit. I started my homily by reading a letter from our archbishop, Cardinal Donald Wuerl. His letter made three points.
First, the church's definition of sacramental marriage has not changed. We still see marriage as the life-long union of one man and one woman, for the purpose of the mutual love of the couple and the procreation and education of children. Second, our church welcomes all people, gay and straight, into our community of faith. "Catholic teaching exhorts every believer to treat all people with respect, compassion, sensitivity and love. All are called to walk with Jesus and so all who try to do so have a place in the Church," Wuerl wrote. Third, while all people must be treated with respect, we do not have to agree with everything that they do.
. . . .
Civil and ecclesiastical concepts of marriage are different and distinct. Maybe the time has come for us to completely "divorce" civil authority from ecclesiastical authority in the ratification of marriage.
It is odd that when I sign the marriage license, I am acting as both a religious minister and a civil authority. Perhaps we priests should stop signing state-issued marriage licenses.
In Mexico and dozens of other countries, there is no such commingling of civil and ecclesiastical marriage and authority. Instead, all couples first have a civil ceremony before a representative of the state. Later, if they choose, they go to church for a religious ceremony.
If same-sex couples go to the courthouse to obtain civil marriage, it is no skin off my nose. Who does it hurt? How does it threaten heterosexual, sacramental marriages? I don't think it does.
If a Catholic clerk issues a same-sex marriage license, it does not mean she agrees with that union any more than when a Catholic court clerk issues divorce papers.
Francis defends bishop accused of concealing sex abuse
Though evidence of the priest's abuse was verified by Chile's judicial court, statute of limitations allowed Fr. Fernando Karadima to dodge prosecution. When a separate Vatican investigation found the priest guilty of abuse, he was condemned in 2011 to a life of prayer and penance in a convent outside of Santiago.
"[The diocese] lost its independence once it let its head be filled with what politicians say, who are judging a bishop without any evidence, even after 20 years as bishop," Francis said in the May 6 recording, before a group of Chilean Catholics in Rome who asked the pope to send a message to those in Osorno disappointed by the arrival of Barros. "Think with your heads and do not be led by the noses by the lefties who orchestrated this whole thing," he said in Spanish, as translated by NCR.
Though Barros was never tried for covering up Karadima's abuse, testimonial evidence has suggested Barros destroyed incriminating correspondence, while other victim testimonies claimed Barros was present during the sexual acts.
Though Chilean courts uphold the testimonial evidence, Barros has denied the allegations and has never faced a canonical or civil case.
. . . .
The Karadima case touches Francis not just through Barros: In 2013
, Francis appointed Cardinal Francisco Javier Errázuriz Ossa
- Karadima's most powerful defender, and Santiago's archbishop from 1998 to 2010 - as one of nine on the Council of Cardinals, a group that advises the pope. But Juan Carlos Cruz, one of Karadima's alleged victims who testified that Barros was present during the sexual acts, has long been outspoken in accusing Errázuriz of conspiracy.
Then, in early September, a Chilean newspaper published an email exchange (dated 2013 and 2014) between Errázuriz and his successor, Cardinal Ricardo Ezzati. In the emails, which the archdiocese confirmed were authentic, the two cardinals discussed how to block Cruz from being invited to speak at a meeting of the pope's child protection commission.
Sacked gay priest launches assault on Catholic Church
A priest who was dismissed by the Vatican for announcing he was openly gay and introducing his long-term male partner to a press conference on the eve of the Synod of the Family has launched a scathing attack on the Catholic Church in a letter to Pope Francis.
Mgr Krzysztof Charamsa, 43, told Francis that the Catholic Church is "full of homosexuals" despite being "frequently violently homophobic" and he called on "all gay cardinals, gay bishops and gay priests [to] have the courage to abandon this insensitive, unfair and brutal Church".
Twitter
:
Michael Kelly
@MichaelKellyIC
Msgr Charamsa on @BBCWorldTonight seems to think he hasn't breached celibacy because his misdemeanour wasn't with a woman.
Cincinnati nun dismissed for acting as priest
A Cincinnati nun was excommunicated and dismissed from her Roman Catholic religious order last week after admitting she has been secretly acting as a priest since this spring.
Sister Letetia "Tish" Rawles, who has been a nun for 47 years, told the leaders of her order she was ordained in April as part of a movement that has been rebuked repeatedly by the church for violating Catholic teaching. Rawles, 67, has presided over religious services in secret and ministered to people who lived with her in a Cincinnati nursing care facility.
. . . .
Supporters appealed to the Vatican on Tuesday to allow Rawles, who is critically ill, to remain with the Dayton, Ohio-based Sisters of the Precious Blood. They said she has served the church as a teacher and care giver for decades and should be allowed to remain a nun, even if the church does not recognize her as a priest.
. . . .
Under church law, Rawles was excommunicated, or separated from the church, the day she was ordained a priest. Sister Joyce Lehman, president of the Sisters of the Precious Blood, said the religious order had no choice but to dismiss Rawles.
. . . .
Although Rawles no longer is a member of the Sisters of the Precious Blood, Lehman said the order would make sure she continues to receive medical care and housing.
"We are in the process of setting up some means of financial support," she said. "Not because she was in the order, but because she is a person in need."
The walls begin to crumble. A book review of
"Catholic Women Speak
- Bringing Our Gifts to the Table"
Review in Chasin' Jesus blog Oct.24, 2015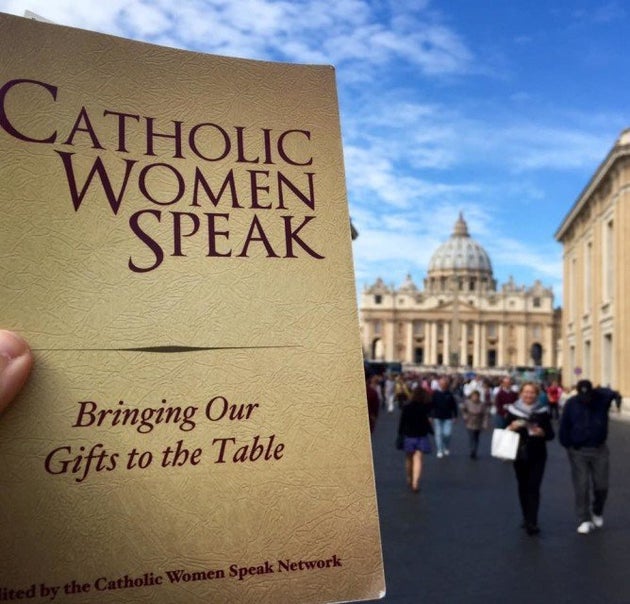 "This is a remarkable, yet too often unremarked, thing about almost two millennia of history and scholarship within and without the church. Women, as subjects, as persons in their own right, are mainly invisible. . . [F]or Christians, feminism confronts us not with an ideology but with the more tangible and urgent issue of standpoint. The gift that feminism has given us is not a new set of rules but an enhanced capacity for men to know what it is like to stand in a woman's place, to know more about what it is like to be a woman, to see women." . . . .
When I wrote that book [
Borderline
], I wrote as a Catholic man, calling myself and other Christian men to repentance (to "turn around"). The irony, I suppose, is that I myself am incapable of providing the firsthand account of the standpoints of women. The good news is that there is a new book, by forty-four Catholic women (and one man), from around the world and many walks of life, that does exactly that.
Assembled almost on the run, with a generous fast-track assist from Paulist Press to be published in time for the 2015 Synod on the Family,Catholic Women Speak provides forty short, pithy, thoughtful reflections on precisely those concerns that are being ostensibly addressed by the Synod: sex, marriage, family. That skeptical qualifier "ostensibly" refers to the fact that voting members of the Synod are 279 males, with only 30 women as non-voting "auditors." And so this book stands (Hier steh ich?) outside the door of the Synod as a testament to those who are not at the table. All these many years, now, with a body of men, surrounded by other men, citing an ancient pagan Greek man's version of "natural law," explaining to women what it means to be a woman - a kind of two-millennia of
mansplaining
.
. . . .
In Jesuit Father Agbonkhianmeghe Orobator's Foreward, he writes:
In every voice there is a story. And every story is unique. The narratives voiced by contributors to this anthology are at times joyful and jolting, consoling and painful, exhilarating and exasperating. They tell of the 'joys and hopes, the griefs and anxieties' that Catholic women live and experience in multiple forms of human sexuality, family, marriage, and relationships. They lament the painful exclusion, violence, and poverty that compound these experiences, and question the institutions and structures that sustain them, but without abandoning faith and hope - that each story will be heard, received, and affirmed, with compassion, mercy, and humility.
The reflections in this book are divided, following Fr. Orobator's introduction, into four parts: (1) Traditions and Transformations, (2) Marriage, Family, and Relationships, (3) Poverty, Exclusion, and Marginalization, and (4) Institutions and Structures.
The contributors are, in addition to Fr. Agbonkhianmeghe Orobator, are Sr. Anne Arabome, Olive Barnes, Tina Beattie, Amelia Beck (nom de plume), Pippa Bonner, Agnes M. Brazal, Lisa Sowell Cahill, Anna Cannon, Catherine Cavanaugh, Julie Clague, Rachel Espinoza, Margaret Farley, Madeleine Fredell, Astrid Lobo Gajiwala, Cristina Lledo Gomez, Sr. Janette Gray, Katie Grimes, Nontando Habede, Ursula Halligan, Emma Jane Harris, Tawny Horner, Sr. Elizabeth Johnson, Alison Concannon Kennedy, Ursula King, Sr. Trish Madigan, Sara Maitland, Cettina Miletello, Rhonda Miska, Sr. Mary Aquin O'Neill, Jean Porter, Carolina Del Río, Lucetta Scaraffia, Christine Schenk, Giovanna Solari-Masson, Janet Martin Soskice, Sophie Stanes, Patricia Stoat, Ana Lourdes Suárez, Eve Tushnet, Clare Watkins, Margaret Watson, Deborah Woodman, and Sr. Gabriela Zengarini.
The pieces in this anthology are quite short, ranging from two to fivepages, making it ideal in many ways for small group book studies. (hinthint) The language is generally accessible, though there are frequent abbreviated references to various Church documents. The editors, however, have thoughtfully included an index of those abbreviations just after the Introduction.
. . . .
This diplomatic tone is maintained throughout the book by all the authors. This does not mean the content is evasive. As Ursula King pointedly writes, "Will Catholic women ever be fully recognized? Will they be encouraged to make their full contribution to the intellectual life of the Church and, more importantly still, will women become real coequals and copartners in shaping the Catholic intellectual tradition? That is what will count in the end."
. . . .
Catholic Women Speak
is calling on us all to wake up.
So then let us not sleep, as others do, but let us keep awake and be sober.
-1 Thessalonians 5:6
'Nostra Aetate' at 50: The 'Magna Carta' of interreligious dialogue
Junno Arocho Esteves Oct.28, 2015
Representatives of the world's religions gathered in Rome to commemorate and reflect on the 50th anniversary of "Nostra Aetate," the Second Vatican Council's declaration on relations with other religions.
Although it is the shortest of the Second Vatican Council's documents, its influence continues to be felt in the life of the church today, said speakers at an anniversary conference Oct. 26-28 sponsored by the Pontifical Council for Interreligious Dialogue and the Pontifical Commission for Religious Relations With the Jews.
. . . .
One of the fundamental achievements of "Nostra Aetate," ("In Our Time"), was the church's recognition of what is true and holy in other religions, said Cardinal Jean-Louis Tauran, president of the pontifical council. In the document, "for the first time, the magisterium recognized that holiness can be found also in other religions and that this can lead to a 'ray of that truth that illuminates all mankind.'"
. . . .
In the end, the final two articles of the document addressed the Catholic Church's relationship with the Jewish people while the initial articles of the declaration highlight the church's relations with other world religions.
Catholic leaders unveil 10-point climate action list ahead of UN summit
Rosie Scammell Oct.26, 2015
Catholic leaders made a rare appeal to the world's politicians on Monday (Oct. 26), urging them to take strong action at the highly-anticipated U.N. climate change summit later this year.
Nine cardinals, patriarchs and bishops representing the Catholic Church across five continents signed a , presented at the Vatican on Monday (Oct. 26) by clergy from Belgium, Colombia, India and Papua New Guinea.
The document presents a 10-point policy proposal calling for "a fair, legally binding and truly transformational climate agreement."
The U.N. conference on climate change meets in Paris from Nov. 30 to Dec. 11, and the Catholic leaders would like to see it take action on all 10 items.
Conspiracy theories fill Italy media over pope brain tumor story
Philip Pullella Oct.22, 2015
Conspiracy theories worthy of a Dan Brown novel sprouted in the Italian media on Thursday, with accusations that Pope Francis's enemies were looking to undermine him after a newspaper reported he had a brain tumor.
The Vatican angrily denied Wednesday's story, calling it irresponsible and inexcusable, but rather than fading out of sight, the saga has inflated into a cloak-and-dagger whodunnit.
"Who wants the pope dead", the main headline in Il Giornale newspaper said. La Repubblica and La Stampa, both respected dailies, wrote of a "shadow of a plot" on their front pages.
Most papers concluded that the story was false. But rather than dismissing it as a journalistic error, commentators and churchmen in the land that gave the world Machiavelli, the master of political cunning, looked for hidden intrigue.
The common denominator was that the pope's foes within the Vatican and the Catholic Church want to weaken his authority as a pivotal meeting of world bishops on family issues nears its end on Sunday.
. . . .
But the Vatican's own newspaper, L'Osservatore Romano, said the timing of "false news" was fishy. "The moment chosen unmasks an attempt to raise a cloud of dust in order to manipulate."
"Some, both inside and outside the Church, are nervous about the outcome of the synod," said German Cardinal Walter Kasper, a progressive close to the pope.
"It's clear that some people don't like this pope ... but the pope is in good shape and the attempt will be in vain," he told Corriere della Sera.
Two Twins Talking In The Womb...
Originally written in Hungarian by Útmutató a Léleknek,
translated by Miranda Linda Weisz.
Two twins were talking in the womb:
Tell me, do you believe in life after birth?
Of course. After birth comes life. Perhaps we are here to prepare for what comes after birth.
Forget it! After birth there is nothing! From there, no one has returned! And besides, what would it look like?
I do not know exactly, but I feel that there are lights everywhere ... Perhaps we walk on our own feet, and eat with our mouth.
This is utterly stupid! Walking isn't possible! And how can we eat with that ridiculous mouth? Can't you see the umbilical cord? And for that matter, think about it for a second: postnatal life isn't possible because the cord is too short.
Yes, but I think there is definitely something, just in a different way than what we call life.
You're stupid. Birth is the end of life and that's it.
Look, I do not know exactly what will happen, but Mother will help us...
The Mother? Do you believe in the Mother? !
Yes.
Do not be ridiculous! Have you seen the Mother anywhere? Has anyone seen her at all?
No, but she is all around us. We live within her. And certainly, it is thanks to her that we exist.
Well, now leave me alone with this stupidity, right? I'll believe in Mother when I see her.
You can not see her, but if you're quiet, you can hear her song, you can feel her love. If you're quiet, you can feel her caress and you will feel her protective hands.
Help Support ARCC with AmazonSmile
You shop. Amazon gives.
Do you make purchases at Amazon? Do you buy Kindle books from Amazon? Consider going through
AmazonSmile
.
Amazon.com will donate 0.5% of the price of
your eligible purchases to ARCC whenever you shop on
AmazonSmile
.
Upcoming Event
2015 Call To Action National Conference
Join Joan Chittister, OSB, John Dear, Patricia Fresen & others at the 2015 Call To Action conference November 6-8.
ARCC sponsored Preconference Seminar
Friday, November 6, 2015 * 9:00am to 3:00pm
MOVING BEYOND CLERICALISM
INCLUSIVE MINISTRY FOR THE FUTURE
Pope Francis has identified clericalism as a major ill in the Catholic Church. Its pervasive influence has had a damaging impact on people of God. Understanding clericalism's roots, negative effects, continued manifestations, and coping strategies and potential solutions will be the primary focus areas of this pre-conference session. Participants will leave empowered to identify and break clerical patterns in communities of faith and justice.
Association for the Rights of Catholics in the Church