| | | | | | | | |
| --- | --- | --- | --- | --- | --- | --- | --- |
| | | | | | | | |
Share on your favorite social networking site by clicking its icon.
Click
here
for a link to this newsletter to send to friends.
ARCC invites our Newsletter friends who are not already members to consider joining and supporting ARCC.
Doing What Comes Naturally?
Another Voice July, 2014
In October 2014, there will be an "Extraordinary Synod on the Family," a big Roman Catholic gathering of bishops to consider important issues of Catholic belief and practice.
In preparation for that October gathering, the Vatican sent out questionnaires; and now the results have been processed and a Vatican "working document," called an instrumentum laboris has been written.
The questionnaire results show that large numbers of Catholics around the globe neither accept nor follow official Roman Catholic teaching on: birth control, sterilization, in vitro fertilization, homosexuality and homosexual unions, cohabitation before or without marriage, and recognizing the legitimacy of marriages for the divorced and remarried.
Some open-minded Catholics, encouraged by the apparently open-minded and friendly behavior of Pope Francis, are expecting big changes in October. That may occur; but the instrumentum laboris seems to reiterate the same old teaching, in a rather judgmental manner. It stresses that many Catholics do not accept church teaching because they have been distorted by the individualistic, relativistic, and secularistic cultures in which people live today. To summarize: Catholic people do disagree with official church teaching: but the people are misguided and wrong. Food for though.
In a recent article in The Tablet (July 12, 2014), Charles Curran, formerly of the Catholic University of America and currently Professor of Human Values at Southern Methodist University in Dallas, Texas, sees two current problems in official Roman Catholic ethical statements: (1) natural law as an outdated approach to ethical decision-making and (2) the papalization of moral truth.
Natural law: As I mentioned here a couple weeks ago, the official church understanding of what is "natural" has changed greatly over the centuries. Our understanding of what is appropriate human behavior and appropriate Christian human behavior is open to growth and development. We rely on human reason and we rely on Christian scripture and tradition, always realizing that our human and Christian understanding is always more contextual than something static and unchanging. We travel in time in and with the Spirit of Christ. We are the People of God in process. We are moving toward the truth.
Papalization of moral truth: Only in the last two centuries - and greatly emphasized more recently in the papacies of Pope John Paul II and Pope Benedict XVI - have we seen an exaggerated understanding of Catholic ethics that would identify Catholic moral teaching with papal teaching.
It seems very clear to me, as I reflect about what Catholics around the world have been saying in their Synod on the Family questionnaire responses, that there is indeed a strong sense of the active and engaged belief of the faithful, what Catholic tradition has called, for centuries, the sensus fidelium. The official understanding of natural law and a strong sense of the papalization of moral truth appear to be out of sync with the contemporary beliefs of the People of God.
It will be interesting to see what happens in October.
Some things we have been reading
Iraqi Patriarch: For the first time in the history of Iraq, Mosul is now empty of Christians
Vatican Radio Jul.19, 2014
The last Christian families still present in Mosul are leaving the city and are heading towards Iraqi Kurdistan.
The exodus was caused by the proclamation on Thursday by the self-proclaimed Islamic Caliphate that Christians must pay a special tax or be killed. Islamists have for the past two days been marking the doors of homes belonging to Christians and Shia Muslims living in the city.
"For the first time in the history of Iraq, Mosul is now empty of Christians," said Chaldean Patriarch Louis Sako in an interview with the AFP news agency.
The Patriarch said as late as last month, 35,000 Christians had lived in the city, and over 60,000 lived there before the United States invasion in 2003.
Online, frustration over the world's inaction have led to a social media campaign to raise awareness about the fate of Mosul's Christians. Users, for the most part Christians and Catholics, are changing their profile pictures on Facebook and Twitter to pictures of the Arabic letter 'N' for
#Nazarene,
the letter branding their Iraqi co-religionists, and turning it into a symbol of support. Hashtags such as #WeAreN, #IamNasrani serve to share news and pictures, send 140-characters-long prayers, and announce time and place for support demonstrations in Western countries.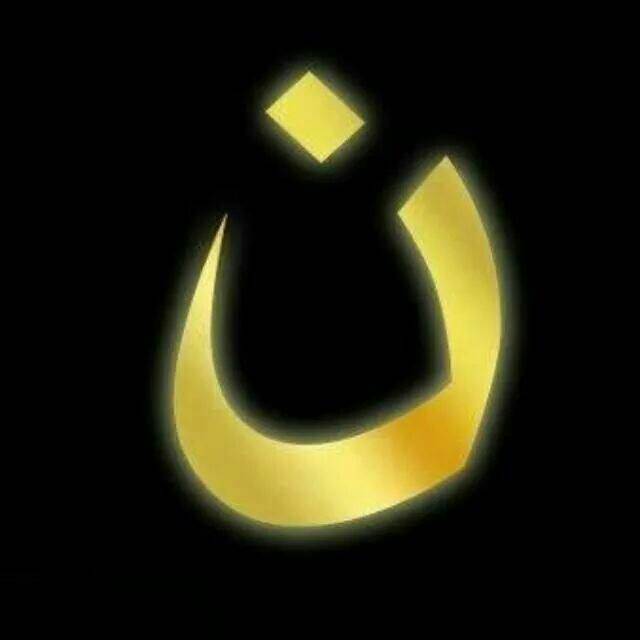 Arabic N
Marked building
Death row Christian woman flies from Sudan to Rome, meets Pope Francis
Reuters Staff Jul.24, 2014
A Sudanese woman who was sentenced to death for converting from Islam to Christianity, then detained after her conviction was quashed, flew into Rome on an Italian government plane on Thursday and hours later met the Pope.
Mariam Yahya Ibrahim, whose sentence and detention triggered international outrage, walked off the aircraft cradling her baby and was greeted by Italian prime minister Matteo Renzi.
Soon afterwards, Ibrahim, her husband and two children had a private meeting with Pope Francis in the Vatican. "The Pope thanked her for her witness to faith," Vatican spokesman Father Federico Lombardi said.
The meeting, which lasted around half an hour, was intended as a "sign of closeness and solidarity for all those who suffer for their faith," he added.
There were no details on what led up to the 27-year-old's departure after a month in limbo in Khartoum, but a senior Sudanese official said it had been cleared by the government.
"The authorities did not prevent her departure that was known and approved in advance," the senior official told Reuters, speaking on condition of anonymity.
Syria: Franciscan Monastery hit by missile
Vatican Radio Jul.24, 2014
On Sunday evening, July 20th, an air-launched missile struck the Franciscan monastery in Yacubiyah, a village located not far from the Turkish border in the Orontes Valley in north-west Syria. The building belonging to the Friars Minor of the Custody of the Holy Land was severely damaged. According to a notice from Fr. Pizzaballa, Custos of the Holy Land, Fr. Dhiya Azziz, who was working inside the monastery when the missile struck, reported that he was uninjured, other than a few blows to the head.
"Fortunately, when the missile fell the friar was not in his room, which was completely destroyed", stated Fr. Pizzaballa, who then repeated the call to pray for peace in Syria and the Middle East.
Jennifer Haselberger, Church Lawyer, Alleges Sex Abuse Cover-Up In Archdiocese of St. Paul and Minneapolis
A canon lawyer alleging a widespread cover-up of clergy sex misconduct in the Archdiocese of St. Paul and Minneapolis has made her most detailed claims yet, accusing archbishops and their top staff of lying to the public and of ignoring the U.S. bishops' pledge to have no tolerance of priests who abuse.
Jennifer Haselberger, who spent five years as Archbishop John Nienstedt's archivist and top adviser on Roman Catholic church law, also charged that the church used a chaotic system of record-keeping that helped conceal the backgrounds of guilty priests who remained on assignment.
. . . .
Since the clergy abuse scandal began in 1984, then erupted into a national crisis in 2002, the American church has been flooded with revelations - from civil lawsuits, grand jury inquiries and the bishops' own research - about how dioceses consistently put the interests of the church above victims. Still, Haselberger's accusations stand out because of her credentials and timing.
She is the highest-level official from a U.S. diocese to make claims of a cover-up. A canon lawyer educated at the Catholic University of Leuven, Belgium, she served as a judge on church tribunals in Minnesota and was trained through the U.S. bishops' conference on child safety and monitoring guilty clergy.
Read more
How three archbishops hid the truth
BETRAYED BY SILENCE: MPR NEWS RADIO DOCUMENTARY
Madeleine Baran & Sasha Aslanian Jul.14, 2014
For decades, the archbishops who led the Catholic archdiocese in the Twin Cities maintained that they were doing everything they could to protect children from priests who wanted to rape them.
Reporters picked up those assurances and repeated them without question. Police and prosecutors took the assurances at face value. Parents believed the assurances and trusted priests with their children.
But the assurances were a lie, and the archbishops knew it. Three of them - John Roach, Harry Flynn and John Nienstedt - participated in a cover-up that pitted the finances and power of the church against the victims who dared to come forward and tell their stories.
Vatican Defrocks A Bishop Over Sexual Abuse - But Not Finn
Pope Francis recently indicated he is serious about ending child sex abuse and cover-ups by Catholic prelates by defrocking a former apostolic nuncio (a nuncio is essentially a high level Vatican diplomat) for having sexual relations with young boys.
But while the Holy See should be applauded for this decisive action, there is unfinished business with the bishop of the Diocese of Kansas City-St. Joseph, Missouri. And the bishop in question is Robert Finn a darling of the American Catholic Right who have very little to say - at least now that he is a convicted criminal.
. . . .
Let's recall that the crimes of Bishop Finn resulted from his knowledge of the relatedcrimes of a priest in his diocese who pleaded guilty in Federal Court to four counts of producing child pornography and one count of attempted production of child pornography. . . . . Finn knew or had good reason to suspect the priest`s crimes. Had he acted, he would have prevented other crimes against children under his pastoral care. Indeed, in September 2012 Bishop Finn became the first American prelate convicted of failing to report a pedophile priest.
. . . .
As a progressive Catholic I truly want Francis to succeed. Catholicism is wanting for the kind of reforms he seems to be all about. . . . . Credibility, especially with regards to the pedophilia issue, requires decisive action. And decisive action requires punishing negligent as well as abusive bishops.
And the perfect place to demonstrate decisive action is in Kansas City.
Read more
Vatican revising canon law on abuse penalties, cardinal says
Cindy Wooden Jul.24, 2014
Church law has procedures and penalties for effectively dealing with allegations of clerical sexual abuse, but the Vatican is working to revise a section of the Code of Canon Law to make those norms and procedures clearer and, therefore, more effective, said the president of the Pontifical Council for Legislative Texts.
"We want to make this delicate material more accessible, more understandable and easier for bishops to apply," Cardinal Francesco Coccopalmerio, council president, told the Vatican newspaper.
In the interview published Thursday in L'Osservatore Romano, the cardinal said his office has been working since 2008 to revise "Book VI: Sanctions in the Church," a section of the Code of Canon Law.
. . . .
The two chief concerns in the revised section, as in all church law, Arrieta said, are "to safeguard the truth and protect the dignity of persons."
At the same time, the rules are more stringent -- "if someone does this, he must be punished," the bishop said. While it withdraws the discretionary power of the bishop in certain cases, he said, "it is for the good of the bishop."
Read more
Catholic diocese upends custom on homilies
For the better part of 40 years in churches across the Roman Catholic Diocese of Rochester, clergy ceded the floor to laypeople for the delivery of the homily - the sermon that follows the reading of the Gospel at Mass.
. . . .
In an extensive interview, Bishop Salvatore Matano said he has been confronting the issue on a case-by-case basis since his installation in January and is now drafting guidelines to clarify that homilies are reserved for ordained priests and deacons, as prescribed by canon law.
. . . .
The reversal is perhaps the starkest example yet of the contrasting stewardship of Matano with his predecessor, Bishop Matthew Clark, under whom the diocese earned a reputation as among the most liberal in the country.
. . . .
Matano called the ubiquity of the practice "a bit perplexing" and attributed it to a misinterpretation of canon law.
Diocese of Bridgeport to unite with upcoming synod
Susan Shultz Jul.15, 2014
As he prepares to celebrate the first anniversary of his installation, the new leader of the Diocese of Bridgeport continues to open doors of communication between the leaders of the church and area Roman Catholic parishioners. To that end, Bishop Frank Caggiano has announced the fourth diocesan synod to be held throughout the next fiscal year.
. . . .
The process has already begun, with parishes and schools throughout Fairfield County that belong to the diocese choosing delegates to represent them during the spring, including Darien's two Roman Catholic Churches, St. Thomas More and St. John Parish. Caggiano said approximately 300 to 400 delegates have been chosen and there will also be a group of young people who will parallel the synod. Other groups represented will include immigrants, ethnic groups and the Voice of the Faithful.
Caggiano broke the Diocese of Bridgeport's long-standing policy of rejecting the Voice of the Faithful since its inception. Previous diocese leaders have condemned the group and banned them from meeting on Catholic church property.
Call to Action presentation gets author's Scripture commentaries pulled from book
A religious educator with decades of experience, hired to write Scripture commentaries for a liturgy training sourcebook, had her writing pulled from the book after the publisher learned that she had presented a workshop at a Call to Action conference.
Liturgy Training Publications, owned by the Chicago archdiocese, had hired Margaret Nutting Ralph to write short daily Scripture commentaries for its Sourcebook for Sundays, Seasons, and Weekdays 2015, a resource for lectors.
Censoring of Scripture scholar not in line with Francis' 'big tent' church
Jim FitzGerald Jul.17, 2014
I have always believed that to be a Catholic, you need faith. It's what Jesus had: the faith to question the status quo, to seek a different way, to share one's gifts to better the community.
Jesus had faith. Prophets had it. Margaret Nutting Ralph has it, too.
Dr. Margaret Nutting Ralph is director of the Master of Arts in Pastoral Studies degree program at Lexington Theological Seminary in Kentucky. She has authored 14 books on Scripture and was secretary of educational ministries for the Lexington diocese for 16 years. For over three decades, Dr. Ralph has offered presentations to parish, diocesan, state and national groups, including the National Conference for Catechetical Leaders and the National Catholic Educational Association.
. . . .
In the fall, Pope Francis expressed his vision for the church as a big tent, not a small chapel that holds only a few. Those of us in Call To Action agree and have been working for over 35 years for a "big tent" church that is more welcoming and inclusive.
My vision of a "big tent" church does not include an employer censoring a colleague's credible work just because she has engaged Catholics who hold various opinions on important issues facing the church.
There are those in the institutional church who prefer censorship to dialogue, who value protectionism over a living tradition, who feel it necessary to critique and suppress rather than lift up and celebrate. It wasn't that long ago that this type of behavior was not only commonplace but encouraged. Let's not go back there. We've come too far.
Jim FitzGerald is executive director of Call To Action.
Sr. Elizabeth Johnson Accepts Invitation to Receive Call To Action's 2014 Leadership Award
im FitzGerald, Jul.22, 2014
While reflecting on today's Gospel reading, I have this image of Mary with tears of joy in her eyes having just connected with Jesus, running to share with her friends the good news that the story of transformation was not over, but just beginning.
Today, on this the Feast of Mary Magdalene, I want to share with you exciting news:
Sr. Elizabeth Johnson, CSJ has accepted the board's unanimous invitation to receive Call To Action's 2014 Leadership Award at November's conference!
Johnson is the Distinguished Professor of Theology at Fordham University in New York City. A former president of the Catholic Theological Society of America, the oldest and largest association of theologians in the world, she is the author of many books and articles. Her most recent work is on the wonder of creation, entitled Ask the Beasts: Darwin and the God of Love.
More on the "Hobby Lobby" decision
Among Justices, Considering a Divide Not of Gender or Politics, but of Beliefs
Samuel G. Freedman Jul.12, 2014
During its last term, the Supreme Court narrowly decided two cases bearing extensively on the separation of church and state. Both of them broke along familiar 5-4 lines, and both of them implicitly raised a question hardly anyone has asked about a court that is entirely composed, for the first time in American history, of Roman Catholic and Jewish justices.
In the first of the cases, Greece v. Galloway, the court ruled to allow public prayer at a government meeting. In the other, Burwell v. Hobby Lobby Stores, the court said that a corporation closely held by a religious family should not have to offer several forms of contraception that it opposed to its female employees, as required by the Affordable Care Act.
To the degree that these decisions, especially Hobby Lobby, have been parsed and picked over, the analysis has gone along the lines of politics (conservative majority against liberal minority) or gender (male majority against mostly female minority).
Yet it is at least as compelling to consider the Catholic-Jewish divide. In both cases, five of the court's six Catholic justices - Samuel A. Alito Jr., Anthony M. Kennedy, John G. Roberts Jr., Antonin Scalia and Clarence Thomas - formed the majority that espoused a larger place for religious practice in public life. All three Jewish justices - Stephen G. Breyer, Ruth Bader Ginsburg and Elena Kagan - joined by one Catholic, Sonia Sotomayor, dissented on behalf of a wider, firmer separation.
. . . .
Surely, though, there is a legitimate way to explore the Catholic and Jewish contexts of the court's votes. The point is not to pretend to climb inside the psyche of each justice but to appreciate that these jurists are simultaneously results and embodiments of historical experience. To put it simply: Did nine individuals just coincidentally disagree based on their legal reasoning, or have American Catholics and American Jews arrived at different communal positions about where to properly draw the line between church and state?
. . . .
The divergent Jewish and Catholic sensibilities are measurable. In a 2007 survey by the Pew Forum on Religion and Public Life, 43 percent of Catholics agreed that "government should do more to protect morality"; just 22 percent of Jews concurred. The survey also found that Catholics were more than three times as likely as Jews (33 percent to 10 percent) to attend a religious service weekly. Catholics are also twice as likely as Jews (55 percent to 27 percent) to rate religion as the most important or a very important factor in their lives, according to a 2012 survey by the Public Religion Research Institute.
. . . .
That Hobby Lobby is owned not by Catholics but by evangelical Protestants, their erstwhile antagonists, speaks volumes about the diminution of old animosities and the societal influence of those people who once were the reviled outsiders.
"How could Catholics say they are now opposed, that they're a minority religion, when they're a majority on the court?" said Professor Griffin, who is an alumna of Notre Dame and has written for the Jesuit publication America. "And now they're reducing the barrier between church and state in a way that's comfortable with their values."
Catholic Church Reform. International Petition
Involve Families More Fully in the Synod
We can no longer be ignored.
This Synod is about us, yet we are uninvited!
Given that:
Pope Francis promises the Synod on the Family "will involve all the People of God - bishops, priests, consecrated men and women, and lay faithful of the particular Churches of the entire world."
Cardinal Kasper believes that "the 'Abyss' between Church teaching and many family situations must be bridged.
The responses to the Vatican Survey clearly demonstrate that most Catholics reject some Church teaching causing the Synod office to be resistant to release responses to the Synod.
The International Theological Commission recently affirmed the validity of the Faithful's contribution to Church teaching: "Sensus fidei is presented as Christ's gift to the faithful, and once again is described as an active capacity by which the faithful are able to understand, live and proclaim the truths of divine revelation."
The Instrumentum Laboris, the working issue-focused document for the Synod, on the one hand, appears to offer an outstretched hand of welcome from our Pope, and on the other, a resistant pushback by the bishops to hold fast to current Church teaching that relegates the People of God to mindless obedience.
The Synod comes at a crucial crossroads for the faithful and could offer either joyous hope or depressive despair based on decisions on families.
Mindful of this historic crossroad, we, the undersigned, believe that the Synod must:
Become a force for good by recognizing all forms of contemporary families today in their Synod dialogue.
Invite families with "lived-experience" challenges and opportunities to be involved in and heard at the Synod.
Utilize the Vatican Television Center to do a simulcast (radio and television) of entire Synod proceedings - for pickup by the world's networks.
Deliberating about family issues in hierarchical secrecy, coupled with Bishops having no contemporary family-life experience, further erodes the potential of trust being built. By including the very people who are the subject of the Synod, the Bishops will be carrying out the expressed wish of Pope Francis and demonstrating that the Church values and respects everyone ... as Jesus himself did.
White House "Champions of Change" Program Honors Jesuit Father Greg Boyle
Jesuit Father Greg Boyle has been recognized by the White House as a "Champion of Change" for his Los Angeles-based gang intervention program, Homeboy Industries. On June 30, Fr. Boyle accepted an award in Washington, D.C., for his work with Homeboy, now in its 25th year.
Along with Fr. Boyle, 14 others were honored for their efforts to "help those with criminal records reenter society with dignity and viable employment opportunities," according to a White House press release.
Sister Simone Campbell Takes Dinesh D'Souza To School on Minimum Wage
Germany: number of people leaving Catholic church spiked last year amid 'bling bishop' furor
Associated Press Jul.18, 2014
The German Bishops' Conference says the number of Germans leaving the Roman Catholic church jumped sharply last year, an apparent result of an uproar over a bishop's lavish new residence.
The conference said Friday that 178,805 people formally left the church in 2013, compared with 118,335 the previous year. The figure was just short of the 181,000 people who quit the church in 2010 amid a scandal over sexual abuse by clergy.
Pope Francis permanently removed Franz-Peter Tebartz-van Elst as Limburg bishop in March, months after an outcry erupted over his residence's 31 million-euro ($42-million) price tag.
Pope seeks justice 20 years after attack on Argentine Jews
Pope Francis called Friday for justice to be done in the unsolved bombing at a Jewish center in Argentina that killed 85 people and wounded 300 others two decades ago.
"Twenty years on from the tragedy at the Argentine Jewish Charities Federation (AMIA), I want to express my closeness with the Argentine Jewish community and all the victims' families, whether Jewish or Christian," the pope said in a recorded message played at commemorations of the anniversary.
. . . .
Argentina charges that Lebanese Shiite movement Hezbollah carried out the attack under orders from Iran, which Tehran denies.
Since 2006, Argentine courts have demanded the extradition of eight Iranians, including former president Akbar Hashemi Rafsanjani, former defense minister Ahmad Vahidi and Mohsen Rabbani, Iran's former cultural attache in Buenos Aires.
An agreement between the two governments to set up a truth commission to investigate the attack was declared unconstitutional by an Argentine court in May after being sharply condemned by organizations representing the country's 300,000-member Jewish community, the largest in Latin America.
Read more
Evidence from Francis helps convict Argentine bishop's junta-era killers
An Argentine court on Friday condemned two former members of the country's 1976-83 military regime, Luciano Benjamín Menéndez and Luis Fernando Estrella, for the murder of Bishop Enrique Angelelli of La Rioja on 4 August 1976.
. . . .
One factor in the verdict was the release by Pope Francis of correspondence from Bishop Angelelli to the nuncio in Argentina sent a fortnight before his death, in which the bishop described the threats he had received from the military and local landowners. At the time of his death he was returning from the funeral of two of his priests, Frs Carlos Murias and Gabriel Longueville, who had been murdered by the military, and also reported on this to the Vatican in the correspondence released by the Pope.
Argentine bishops are still afraid of their past
Francis McDonagh
Jul.18, 2014
The conviction on 5 July of two former commanders in Argentina's military dictatorship for the 1976 murder of Enrique Angelelli, bishop of La Rioja, is important. It marks another step towards clarifying the history of the dictatorship, and in particular the relations between the military regime and the Catholic Church.
The convictions have been welcomed by the current bishop of La Rioja, Marcelo Colombo, who was appointed by Pope Francis in 2013.
. . . .
But from the Argentine bishops' conference there has been silence. The Argentine bishops seem reluctant to revisit the role of the Church in the Dirty War. The last time they did so was in November 2012, in a statement responding to an interview given by Jorge Videla, the leader of the 1976 coup, in which he boasted of his "excellent, cordial, sincere and open" relationship with the Church, and especially with its then leader, Cardinal Raúl Primatesta. In their Letter to the People of God the bishops insisted that to say that their predecessors, "our elder brothers", as they called them, "had any sort of connivance ... is utterly remote from the truth". But they did also repeat an apology made in 2000 for having been "at various moments of our history indulgent towards totalitarian attitudes".
The bishops' silence has been sharply criticised by theologian Fr Eduardo de la Serna, co-ordinator of the group Priests in the Option for the Poor. Curiously, it is also utterly remote from the action of Cardinal Bergoglio in 2006 . . . . when he led a delegation of 12 bishops to La Rioja to commemorate, on the thirtieth anniversary, the murder of Bishop Angelelli, whom he then called a martyr. Some people have called Angelelli "Argentina's Romero"
A reappraisal of Archbishop Rembert Weakland
Todd Robert Murphy Jul.18, 2014
[Archbishop Rembert Weakland's] views were consistent with most American Catholics. Weakland believed that to stay relevant with the faithful, the church needed to evolve after Vatican II. The issues facing the American church were not yet germane to Catholics in other parts of the world. The perplexity was to evolve but to stay one with the worldwide Catholic community and the Vatican, a difficult balance to achieve.
Cardinal Joseph Bernardin of Chicago was an ally, but Weakland's voice in the church soon would be cut short with the death of Pope Paul VI. The decades-long leadership of the more conservative Pope John Paul II changed the welcome mat message for his voice in the Vatican. Weakland and the Holy See didn't always have a harmonious relationship, so he began to use his pulpit as a bully pulpit to address the issues confronting a restless American faithful.
. . . .
Weakland took it upon himself to address issues such as abortion, greater roles for women in the church, social and economic justice, homosexuality, AIDS, sex education, clerical pedophilia and feminism. He acknowledged that a person could, perhaps, reconcile his or her pro-choice views and still be a good Catholic. Or that he would consider ordaining a married man, who was worthy, into the priesthood because of a shortage of priests. He wanted expanded roles for women in the church and held out the possibility of ordination of women when the Vatican was still opposed to children serving as altar girls alongside altar boys. The innocuous little things he endured, such as criticisms about the use of altar girls, made no sense to most American Catholics. And he held out the possibility that ordaining women might lead to "a more intelligent and compassionate church."
. . . .
Weakland's personal issues came to light in May 2002, when he paid off a male lover on the advice of legal counsel. Weakland also came out of the closet. And we learned that he followed established protocol of moving sexually abusive priests to other parishes once a psychological exam was completed. He acknowledged that he, like many of his brethren, was wrong to do so and asked for forgiveness. Many have concluded that there will never be, nor can there be, closure for those who have been abused by a priest regardless of compensation, apologies and pleas for forgiveness. And maybe that's the church's cross to bear.
. . . .
In truth, Milwaukee has blundered by not turning to Weakland's sagacious counsel in many circumstances in which he could have provided guidance. We seem to have exiled him. Is it because we are uncomfortable with the sin - or the sinner?
The archbishop's sins should be treated with empathy and forgiveness; he, like all of us, is a fallible person. You see when you cut through all the doctrine and church politics that being Catholic with a capital C is about forgiveness. It's really not any more complicated than that one word. God's forgiveness is greater than any sin any of us can commit.
Read more
Kenya's Catholic bishops sued after canceling lease for Muslim-run restaurant
The Kenya Conference of Catholic Bishops is facing a lawsuit over the cancellation of a rental contract for a restaurant operated by a Somali Muslim.
Al-Yusra Restaurant Ltd. had signed a six-year lease starting in 2013 to operate a restaurant in a section of Waumini House where the bishops' conference is based. Baakai Maalim, a Somali Muslim, is a director for the company.
A lawyer for the bishops said the lease was signed without written consent and knowledge of the bishops.
. . . .
"We stopped the lease for security reasons," said Bishop Martin Kivuva of Machakos. "The restaurant would have increased human traffic within the building and that can be a danger even to other businesses here."
But Rahma Jillo, the restaurant's lawyer, claims the tenant was rejected because he is Somali and a Muslim. She accused the church of using tactics informed by discrimination and intolerance.
Church pantry worker fired for being a lesbian sues Catholic diocese
A Kansas City woman fired from a Catholic food pantry in May sued the Kansas City-St. Joseph diocese and Bishop Robert Finn on Thursday, saying that her supervisors knew that she was a lesbian.
Colleen Simon alleges in her lawsuit that she had told two priests at St. Francis Xavier Church that she was married to another woman and they had informed her that her sexual orientation would not be a problem.
. . . .
"While I feel betrayed by the unjust action of the diocese, it is still my greatest desire to return to my position and to serve the parishioners and those at the margins in the surrounding community," she said at a sidewalk news conference announcing the lawsuit at the Catholic Center downtown.
"People who say homosexuals are sick are sick themselves"
Jan Martínez Ahrens Jul.14, 2014
Raúl Vera is the Mexican bishop who holds the record for death threats. He has survived more than one attempt on his life, and his work in favor of missing persons, immigrants, children and juveniles, indigenous populations, prostitutes and pariahs of all types has earned him the undying hatred of many, including the drug rings.
Yet the threats seem to leave no mark on him. An engineer by trade and an intellectual son of May 1968, the 69-year-old Dominican friar has forged himself a legend as an untamed soul.
. . . .
For a long time, Raúl Vera was the Catholic Church's black sheep, the old-fashioned left-winger. But that was until the ideological earthquake represented by the new pope, Francis I, gave renewed relevance to his words. Now, other bishops are suddenly turning to Vera for guidance.
Joint Declaration of the Bishops of the United States, Mexico, El Salvador, Guatemala, and Honduras on the Child Migrant Crisis
Profoundly moved by the suffering of thousands of children and adolescents who have migrated from Central America and Mexico to the United States and who now find themselves waiting to be deported, we, the bishops of the United States, Mexico, El Salvador, and Honduras, moved by the love of Christ, let all of them and their families know of our prayers, solidarity, and commitment.
. . . .
Therefore, we support the request that Bishop Mark Seitz of El Paso, Texas, has formulated to the Migration Committee of the US House of Representatives [House Judiciary Committee] to issue a declaration of a humanitarian crisis to give a comprehensive response to the problem by creating public policies which provide basic services and protection to migrants, examining the roots of the exodus of migrants, assigning federal resources to invest in the countries from which these migrants come in order to avoid the need to migrate, and providing programs of family reunification for migrants.
UN Urges America to Classify Central American Migrants as Refugees
Associated Press Jul.9, 2014
United Nations officials are pushing for many of the Central Americans fleeing to the U.S. to be treated as refugees displaced by armed conflict, a designation meant to increase pressure on the United States and Mexico to accept tens of thousands of people currently ineligible for asylum.
Pope Francis: Child Migrants to U.S. Must Be 'Welcomed and Protected'
Mirren Gidda Jul.15, 2014
. . . .
In a letter read Monday at a Vatican conference in Mexico City on human migration and development, Pope Francis said migration "has now become a hallmark of our society and a challenge."
. . . .
The pontiff calls on nations to become more welcoming towards migrants, singling out the increasing numbers of children who migrate alone as deserving special care and attention.
"They are increasing day by day," the Pope said, in a reference to the rising number of unaccompanied child migrants attempting to cross the U.S. border. "The humanitarian emergency requires, as a first urgent measure, these children be welcomed and protected."
Pope Francis meets US televangelists, and the first-ever 'papal high-five' follows
Sarah Pulliam Bailey Jul.9, 2014
What does it take to produce the first-ever papal high-five?
A meeting with American televangelists, apparently.
The gesture came during a three-hour meeting of Pope Francis and Texas televangelists Kenneth Copeland and James Robison, just weeks after the pontiff met with televangelist Joel Osteen and other religious leaders. At the June 24 meeting, Robison said he was so moved by Pope Francis' message of the gospel that he asked the translator to ask Francis for a high-five. The pope obliged, raised his arm and the two men smacked hands.
. . . .
Copeland and Osteen have been criticized by some as teaching "health and wealth" prosperity theology, the belief that faith can increase one's wealth. But from his humble shoes to his simple Fiat, Francis has set a decidedly un-extravagant example.
"The prosperity gospel seems to be fundamentally opposed to the message that Francis has been spreading. But he has shown that he's willing to meet with just about anyone," said Michael Peppard, a professor of theology at Fordham University.
Read more
The past, present and future of the Vatican bank
Thomas Reese Jul.18, 2014
Ever since Jesus appointed Judas to take care of the purse, the church has had problems with finances. The church may have been founded by Jesus, but it is run by men. Will the recent reforms of the Vatican bank end these problems? Probably not, but that does not mean the Vatican will be operating with business as usual.
. . . .
In the past, "financial reform" in the Vatican was done by committees of cardinals and resulted in minor tinkering. The Francis reforms are comprehensive and have been done by lay experts who are creating a system of controls that do not depend on just a few people being honest and competent.
Will this protect the church from future scandals? No. In fact, the immediate future should produce more scandals as these new procedures catch the bad guys. The auditors have made clear that it is not their job to prosecute crooks. Rather, they pass along whatever they learn to the proper authorities in the Vatican for prosecution.
Why aren't Pope Francis and his cardinals singing from the same hymn sheet?
. . . .
The contrast between Pope Francis and the seeming privileges of some of those around him, as well as his inclination to keep his own counsel, are clearly provoking a "nervous" moment in the Holy See. People who were "in the loop" are no longer informed; rather, they are left waiting and wondering just what the Pope has in mind. In such a climate, it would be mistaken to speak of "opposition" to Francis, but what is clear is that not everyone in the Holy See is on the same page as the Pope on the question of communion for divorcees, clerical celibacy, north-south divide, Vatican finances or clerical sex abuse.
Recently, the members of one of Francis's many new commissions were astonished to find that the wording of an agreed press release had been significantly changed. A mere mistake or the desire of someone in the secretariat of state to slow up the reform process?
When Pope Francis says that "the Eucharist is not a prize for the perfect" in Evangelii Gaudium, he would appear to be moving a debate (likely to dominate the next two vitally important Synods on the Family, in October 2014 and 2015) on the ban on divorcees and remarried receiving communion. Yet, almost as soon as he says this, German Cardinal Ludwig Muller, Prefect of the Congregation of the Doctrine of the Faith, gives interviews in which he says that allowing divorcees communion is against Church teaching from the time of the Council of Trent.
That "nervousness" may explain the "correction" offered by senior Vatican spokesman Fr Federico Lombardi to comments attributed to Pope Francis in an interview in last Sunday's La Repubblica newspaper. In particular, when the Pope points out that clerical celibacy is a question of custom and practice, rather than Christ's teaching, there are those in the Holy See who do not want to hear.
As we said, not all on the same page.
In the Spirit: Catholic diocese changes process for baptism of children of same-sex couples
Doug Erickson Jul.11, 2014
The Madison Catholic Diocese is altering the way it handles requests for the baptisms of children of same-sex couples, though the significance of the change is not entirely clear.
The process now will be centralized, with requests coordinated through the office of the vicar general, the bishop's second in command, in consultation with parish priests.
. . . .
But on the central question of whether the change would alter the number of babies baptized, [diocesan spokesman Brent] King responded in an email, "If a parent is sincere in presenting a child for baptism, no. We believe that baptism is the entrance into a new life in Christ and His Church, open to all."
Bishops reject ACP's call for married priests
Irish Church leaders have rejected as "not feasible" a call from a group of priests to ordain married men and make celibacy optional. The Irish hierarchy also rejected a call from the Association of Catholic Priests (ACP) that women should be ordained deacons.
The ACP, which represents between 20%-25% of Irish priests, described as "disappointing and disheartening" the bishops' response.
However, theologian Dr John Murray described the ACP as "very much at loggerheads with key elements of Catholicism.
. . . .
ACP members met with representatives of the bishops' conference last month and, as well as a call to drop mandatory celibacy and admit women to the permanent diaconate, the group criticised the translation of the Roman Missal and urged the bishops to ask the Pope to change this.
Now, in a written response signed by Raphoe Bishop Philip Boyce, the hierarchy accepted unease and unhappiness about the Missal, but also affirmed that the translation "expresses accurately the faith of the Church".
Fr Gerard Alwill, one of the leaders of the ACP, told The Irish Catholic that he was disappointed with the response "which seems to indicate no change on any of the issues that we raised".
Plans for joint commemorations of Reformation unravel as Protestants accused of slapping Catholics in the face
A bitter clash between the Catholic Church and the Lutherans in Germany is threatening the planned joint celebration of the 500th anniversary of the Reformation in 2017.
The row revolves around the failure of the German Protestant Church (EKD) to mention the historic 1999 Joint Declaration on the Doctrine of Justification, in its "position paper" on the ­theological foundation of the Reformation, which was published in May. The 1999 declaration is seen as a milestone in Catholic-Lutheran relations, and the omission has seriously endangered ecumenical dialogue.
The omission was criticised by the former president of the Pontifical Council for Promoting Christian Unity, Cardinal Walter Kasper, last month.
Since then, feelings have been running high and on 10 July Bishop Heinz Josef Algermissen, deputy chairman of the German bishops' conference's ecumenical commission, publicly stated that he was "incensed and disappointed" by the position paper. Referring to the 2017 Reformation commemoration he added, "I really cannot actually see a reason for celebrating anything together any longer."
God knows where the women bishops vote leaves Anglican-Catholic relations
The vote by the Church of England to ordain women as bishops changes nothing in its official relations with the Catholic Church. And yet it changes a great deal. It is to be noted that the decision in England only confirms a reality that has existed in worldwide Anglicanism since 1989. The Anglican-Roman Catholic dialogue has been dealing with the reality of women clerics since the 1970s, (early ordinations took place in Asia, North America and New Zealand) and so this decision in one part of the Anglican Communion changes little; indeed, a woman bishop from Canada, Linda Nicholls, is a member of the current Anglican-Catholic dialogue commission, ARCIC III.
. . . .
Thus, it is true to say that hope of union has receded. There is no mid-point now between having women bishops and not having them. From speaking of unity, realistically dialogue now considers how two traditions, one of which ordains women bishops and one which does not, co-exist. The rug has been pulled from under those who longed for unity within the foreseeable future.
Yet ecumenists are upbeat; they have come too far, and weathered too many disappointments, not to continue to have faith in the movement. Ecumenism, they point out, is not a human construct, but a divine imperative. Wonders have happened; the Holy Spirit is not discouraged. At a time when, institutionally, we seem far away apart, faith in God's will for unity has to be stronger than ever.
Nuns attacked at convent in northern Bangladesh
Last week dozens of armed men broke into a convent in northern Bangladesh, beating a group of nuns at a small mission.
"The attack was massive and lasted about an hour and a half. The attackers brutally beat the nuns ... the convent was seriously devastated," Bishop Sebastian Tudu of Dinajpur told the international Catholic charity Aid to the Church in Need, of the attack which took place at the Boldi Pukur mission in the early hours of July 7.
. . . .
The nuns are now in Dhaka, the Bangladeshi capital, for medical treatment, the bishop said. He added that the rectory's door was broken down, and the mission's pastor was robbed and threatened.
"The attack is obviously a targeted and planned attempt at intimidation. Nuns and priests are being attacked because they stand up for the disadvantaged and minorities," stated Bishop Tudu.
Read more
Chhattisgarh, Christians targeted by Hindu radicals: Out by August or pay dearly
"Out of your villages by August 1, or suffer the consequences": This is the threat delivered by the militants of the Vishwa Hindu Parishad (VHP), a radical Hindu organization, to the Christian communities of Gaiya and Parapur in the district Bastar, the Indian state of Chhattisgarh. Sajan K. George, president of the Global Council of Indian Christians (GCIC), who has appealed to the National Human Rights Commission (NHRC) and the National Commission for Minorities (NCM), "to defend and preserve the religious freedom of Christians in Chhattisgarh".
This intimidation is just the latest in a series of attacks in Chhattisgarh by ultra-nationalist Hindu groups against minority communities. And the Bastar district, a rural area in tribal majority state, is the scene of the worst discrimination.
Hopes rise for priest abducted in Afghanistan
A Catholic priest abducted in Afghanistan last month is believed to be alive and may be released at the end of Ramadan in late July, the Jesuit Refugee Service says.
Jesuit Fr Alexis Prem Kumar, JRS' Afghanistan director, was abducted on June 2 by a group of armed men from a JRS sponsored school in Sohadat, western Afghanistan.
James Stapleton, JRS International's communication coordinator, told ucanews.com on Wednesday that the agency would not release updates on negotiations with the priest's captors to protect his safety. "There are things happening. But this is a delicate situation," Stapleton said, adding that they do not want to speculate on the group behind the abduction or the reasons for it. The Jesuits are doing "everything in our power to ensure" the safety of the priest and expressed hope that by the end of Ramadan "those who have taken him will release him as a festive Eid al-Fitr gift", he said.
Former archbishop lends his support to campaign to legalise right to die
The cross-party campaign to legalise the right to die took a significant step forward last night when the former archbishop of Canterbury, Dr George Carey, announced his support for the proposal as a way of preventing "needless suffering".
As peers prepare to debate a bill next Friday to legalise assisted dying, the former head of the worldwide Anglican church said it would not be "anti-Christian" to ensure that terminally ill patients avoid "unbearable" pain.
The intervention by Lord Carey of Clifton, 78, who served as archbishop of Canterbury between 1991-2002, could change the terms of the debate over the bill tabled by the former Labour lord chancellor Lord Falconer of Thoroton.
. . . .
The Church of England is strongly opposed to the bill. But in an article for the Daily Mail, Carey said he had changed his mind after witnessing the pain of Tony Nicklinson who suffered from locked-in syndrome. He died two years ago just weeks after losing his high court battle.
Reilly told inquiry must be 'all-inclusive'
Juno McEnroe Jul.18, 2014
Infant mortality rates, burial practices and the issue of forced labour in institutions need to be included in the forthcoming mother-and-baby home inquiry, the [Irish] Government has been told.
Minister for Children James Reilly faces pressure to have an all-inclusive inquiry and yesterday accepted it would be counterproductive to exclude any group from the investigation. But any decision will depend on the possible costs and length of the probe, he told the Dáil.
Dr Reilly said the commission of investigation into mother-and-baby homes may examine the role the State and Church played and how homes were managed.
TDs debated the terms for the pending inquiry, which will now not be known until the autumn.
A report this week recommended its starting point should be the foundation of the State in 1922, when many homes opened, up until 1987 when the concept of 'illegitimacy' was abolished.
Dr Reilly said the research part of the inquiry could examine a wide range of institutions, including mother-and-baby homes, county homes, private nursing homes, homes for infants or children and Magdalene Laundries.
Sudanese family drops lawsuit against Christian woman claimed as Muslim
A lawsuit brought by a Sudanese Muslim father against a Christian woman to formally establish her as his Muslim daughter was dropped on Wednesday, the lawyer handling the case said, a move that could allow her to depart for the United States.
The case of Mariam Yahya Ibrahim, 27, raised an international furore when a Sudanese court sentenced her to death in May on charges of converting from Islam to Christianity and marrying a Christian South Sudanese-American.
. . . .
Even after lifting the death penalty, Sudan refused to acknowledge Ibrahim's new identity as a South-Sudanese Christian, and the lawsuit by her family raised another obstacle to her departure.
On Wednesday however, Abdel Rahman Malek, the family's lawyer, said they had dropped the lawsuit before the first scheduled hearing in Khartoum Family Court on Thursday.
Man Who Took Religious 'Vow of Poverty' Wins $259.8 Million Powerball Jackpot
Jessica Martinez Jul.8, 2014
A Tennessee man who took a vow of poverty as part of his membership with a religious organization, claimed the largest lottery prize in the state's history, worth $259.8 million, last Thursday.
Roy Cockrum, known as Brother Roy for his service with The Society of Saint John the Evangelist, embraced the organization's rule of taking several vows in order to live a selfless life. Now that he has won the lottery, Cockrum intends to give a large portion of his money to charities and religious organizations.
. . . .
Having worked for 20 years as an actor and stage manager for theater and TV productions, Cockrum says he also plans to keep enough money for a pension fund.
As part of his membership in the society, Cockrum also took a vow of lifelong celibacy and obedience. The society is an Episcopal organization and characterizes itself as a monastic experience.
Help Support ARCC with AmazonSmile
Do you make purchases at Amazon? Do you buy Kindle books from Amazon? Consider going through
AmazonSmile
.
AmazonSmile is a website operated by Amazon that lets you enjoy the same shopping features as on Amazon.com. The difference is that when you shop on AmazonSmile(smile.amazon.com), the AmazonSmile Foundation will donate 0.5% of the purchase price to the eligible charitable organization of your choice. You will see eligible products marked "Eligible for AmazonSmile donation" on their product detail pages. Recurring Subscribe-and-Save purchases and subscription renewals are not currently eligible.
On your first visit to AmazonSmile, you will be prompted to select a charitable organization to receive donations from eligible purchases before you begin shopping. Just enter "ARCC." Your selection will be remembered, and then every eligible purchase you make on AmazonSmilewill result in a donation. ARCC receives 0.5% of the price of each purchase made via AmazonSmile.
ARCC can earn a penny every time you search the Internet. GoodSearch.com donates half its revenue, about a penny per search, to the charities its users designate. You use it just as you would any search engine. Go to www.goodsearch.com and enter ARCC as the charity you want to support. Just 50 of us searching four times a day will raise about $730 in a year without anyone spending a dime.
Association for the Rights of Catholics in the Church
Membership options:
Life $500 ARCC-Angel $100 Regular $50
Senior $25 Student $15
SHOP or SEARCH and SUPPORT ARCC