Share on your favorite social networking site by clicking its icon.
Click
here
for a link to this newsletter to send to friends.
ARCC invites our Newsletter friends who are not already members to consider joining and supporting ARCC.
Some things we have been reading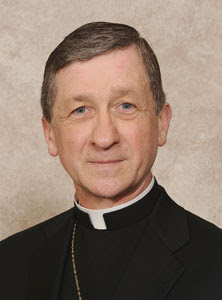 Pope Francis has named Bishop Blase J. Cupich of Spokane, Washington, as archbishop of Chicago, succeeding Cardinal Francis E. George, who has headed the archdiocese since 1997.

The appointment was announced Sept. 20 in Washington by Archbishop Carlo Maria Vigano, apostolic nuncio to the United States.

Archbishop Cupich will be installed in Chicago during a special Mass Nov. 18.
. . . .
Archbishop Cupich, 65, has been bishop of Spokane since 2010 after having served as bishop of Rapid City, South Dakota, since 1998. A native of Omaha, Nebraska, he was born in 1949, the grandson of Croatian immigrants. He was ordained a priest for the Omaha Archdiocese in 1975.

In his ministry as a priest, he served as an associate pastor and pastor, teacher, seminary rector, and as a member of the staff of the apostolic nunciature in Washington.

The archbishop chairs the Subcommittee on Aid to the Church in Central and Eastern Europe and is former chair of the Committee for the Protection of Children and Young People.
Catholic Diocese of Spokane sues its lawyers in sex abuse cases
Associated Press Sep.19, 2014
A lawsuit filed by the Catholic Diocese of Spokane against the lawyers who led it through a 2004 bankruptcy related to sex abuse lawsuits is set for a February trial.
Bishop Blase Cupich stopped using the legal team at the Paine Hamblen law firm after he arrived in 2010.
He has since pursued a malpractice complaint that accuses the firm of failing to use a strategy that could have saved the diocese millions of dollars and prevented a new round of priest sex-abuse claims.
Patriarchs urge West to stop extinction of Middle East Christians
United in the suffering of their people, five Catholic and Orthodox patriarchs from the Middle East urged Westerners to take action to help ensure that Christians and other minorities can remain in the Middle East.

"Christians are not (just) looking for humanitarian aid. They are looking for humanitarian action, to save Christianity in the Middle East," said Catholicos Aram of Cilicia, patriarch of the Armenian Apostolic Church.

The Armenian patriarch said a comprehensive strategy is needed to defeat Islamic State extremism that "threatens the very survival of Christianity" in places like Iraq and Syria. He said it was essential to promote human rights, pluralism and religious freedom.

The September 11 panel was part of an inaugural summit, In Defence of Christians (running from September 9-11), a new Washington-based group formed to promote awareness of the plight of Christians in the Middle East, and to lobby US policymakers on their behalf.
Listening to women...for a change
The Diocese of Killaloe, Ireland, is a very typical one and not in crisis...yet. It has around 100 priests to staff its 56 parishes but more than half of them are over 66 years old and vocations are declining. Given this panorama, Bishop Kieran O'Reilly decided pro-actively to introduce a permanent deacon program, a proposal he presented via a pastoral letter to his flock in August 2014. Permanent deacons are married, ordained, and, unlike lay people, they are allowed to read the gospel, give homilies, and perform weddings and baptisms. They may not celebrate the Eucharist or hear confessions. And...they must be male, according to current canon law.
. . . .
Those women swiftly and forcefully let their bishop know that his proposed permanent diaconate plan would not be welcome because they could not be included and they encouraged him to try to find a more equitable solution. As one of the lay women activists, Kathleen McDonald, who is involved with catechesis, retreat facilitation, as well as in parish and diocesan pastoral councils, told the Irish Examiner: "We were offended that the Church in Killaloe was not going ahead with any alternative to a diaconate that could involve women as women do most of the lay work on the ground around the diocese." "In 2014 is it appropriate that they bring in another male only ministry? What impression does it give of the Church?," McDonald asked.
Bishop O'Reilly expressed surprise at the negative reaction to his proposal but was sympathetic to the women's feelings. "I was a little bit surprised by the manner in which the discussion took a very negative approach and went very far away from what my intentions were and people second guessing me on a different level altogether which did really surprise me." He added that, as the diaconate is presently constituted, "I was not in a position to be able to offer it to those who have felt very hurt and who felt over the last couple of weeks that they are excluded. May I say from the very beginning that it was never my intention."
What happened next is almost unheard of in the Catholic Church. The bishop took the women's concerns to heart and put his proposal on hold. Last Sunday, he issued a statement to be read at all the masses: "In the light of the conversations held over the past weeks and in the interest of allowing the further implementation of the Pastoral Plan I will not now proceed with the introduction of the Permanent Diaconate at this time in the diocese....I believe that the level of engagement shown by the recent dialogue has brought to the surface a sign of the energy and commitment of many people in our church. I encourage this dialogue to continue as I believe it will bring great benefits to the Church in the Diocese and the mission entrusted to all of us by Jesus Christ."
Open Letter to Pope Re Appointments to Synod
Catholic Church Reform Int'l Sep. 2014
Dear Pope Francis:
When you called the Extraordinary Synod on the Family, we welcomed this initiative as a genuine attempt to consult the people of the Church. We now write to you on the cusp of the Synod to express our dismay at the process employed in selecting participants from the faithful, a process that ignores your commitment to "involve all the People of God" and sadly reflects the continued mindset of clericalism with its reluctance to be accountable and transparent.
Having now announced that 14 married couples from 12 nations will join 197 bishops, 15 other clerics and 16 lay experts at the Synod, we are at a loss as to how these representatives of families were chosen. In a truly transparent and accountable Church, the selection process should have been open. Moreover, only 24 women will participate as collaborators and auditors without a vote in the Synod deliberations, despite your call in Evangelii Gaudium "to create broader opportunities for a more incisive female presence in the Church" and for the expansion of "possible roles (for) women in decision-making in areas of the Church's life."
Among the married couples and non-clerical auditors and collaborators selected, few represent the diversity of families within the Church, but rather organizations that generally support existing doctrine, much of which was questioned by grass-roots respondents to the Synod survey circulated globally last year. Regrettably, non-clerical participants from the faithful will be only a small minority (17.2%) in an essentially clerical forum, and will have no vote in the decision-making process.
While responses to the Vatican survey and our own research indicate that an overwhelming majority of Catholics ignore much of what the Church condemns, those participants selected to represent families at the Synod are largely advocates for traditional Catholic teachings, and are unlikely to challenge those teachings. It seems that the Synod has been designed to ensure that bishops are being sheltered from the voices of diverse Catholic families who live their daily lives not always according to the formulations in the Catechism, but attuned in good conscience to their understanding and embrace of the word of God.
The magisterium has to be attentive to the sensus fidelium, the living voice of the people of God. The Theological Commission's 2014 document Sensus Fidei in the Life of the Church affirmed this: "Those who exercise authority in the Church will take care to ensure that there is responsible exchange of freely held and expressed opinion among the People of God. More than this, they will set up norms and conditions for this to take place" (n. 74).
We ask, therefore, that you review the arrangements for this Synod to ensure that there is within its membership a truly adequate representation from ordinary and diverse Catholic families, with appropriate provision for them to share their views, be heard, and to have a vote.
As an additional assurance of openness of the proceedings, we urge you to arrange public broadcasting of the complete Synod discussions via radio, television and the internet. If this Synod is for the people of God, then it should be open to them. Here is an opportunity for a real new evangelization.
Holy Father, we are committed to a Christ-like Church in all its works and governance. This Synod is a unique opportunity for renewal and it must be credible. If it lacks credibility in this first session, it will prejudice the success of the final session in 2015.
We pray for you, and the success of the Synod under the guidance of the Holy Spirit!
Yours in Christ,
Cardinal Lorenzo Baldisseri explains new rules for the Synod
More than 250 people will participate in the next Synod of Bishops in Rome from October 5-19 on the challenges of the family.
Pope Francis has asked for a change in their way of working so that meetings can be more efficient.

Each day will deal with a theme from the Instrumentum Laboris, a working document on the Synod that was published on June 26th.
. . . .
A bishop entrusted with the topic of the day will open the session with an explanation.Then the married couples will address the Synod.
. . . .
It will follow with interventions from those who ask. They will speak in alphabetical order and for four minutes. They can also provide a written version of their intervention.
At the end of the day, a time of open debate will be opened for one hour, in which all will speak on the theme discussed during the day.
. . . .
The Synod will confront the problems facing families throughout the five continents, distinct situations in very different environments.
Read more
Will Catholic bishops annul Pope Francis' marriage reform initiative?
Josephine McKenna Sep.22, 2014
. . . .
As several Vatican observers warned of further clashes between hard-liners and those seeking a more open approach to divorced Catholics at the October synod, the pope has urged bishops to build unity and avoid fragmentation.

"Don't waste energy in disagreements and clashes, but in building and loving," the pope said in an address recently.

Monsignor Pio Vito Pinto, dean of the Roman Rota, the Vatican's highest appellate court, which includes lawyers and theologians, will head the new commission.

Marco Politi, renowned Vatican expert, said the pope may want to streamline the process but that did not mean he wants to change church doctrine.
Scola: Four Solutions for the Divorced and Remarried
Sandro Magister Sep.22, 2014
With the synod approaching, the clash between supporters of change and defenders of the bimillennial doctrine and practice of the Catholic Church in the matter of marriage is becoming ever more heated.
. . . .
What follows is a selection from the article that Cardinal Scola published in "Communio," and republished in the last issue of the Bologna-based magazine "Il Regno."
Of particular interest, in the selection, are the solutions proposed for the problem of communion for the divorced and remarried.
They are four proposals made in full continuity with the traditional doctrine and practice on marriage, but not devoid of innovative elements. Which concern:
- spiritual communion, or "of desire";
- recourse to the sacrament of reconciliation even without absolution;
- sexual continence while remaining in the civil union;
- the verification of the validity or invalidity of a marriage not only by the diocesan tribunals or the Rota, but also with a more streamlined nonjudicial canonical procedure under the supervision of the local bishop.
This last new procedure is proposed by Cardinal Scola in detailed form. It can be expected to find an attentive audience at the synod.
Doctrinal wars? Both sides fire over Communion for divorced, remarried
Francis Rocca Sep.18, 2014
The extraordinary Synod of Bishops on the family will not open until Oct. 5, but some of its most prominent members are already publicly debating what is bound to be one of its most controversial topics: the eligibility of divorced and civilly remarried Catholics to receive Communion.
In an interview published Sept. 18, a proponent of changing church practice to allow such Catholics to receive Communion answered criticism from some of his fellow cardinals, suggesting they are seeking a "doctrinal war" whose ultimate target is Pope Francis.
"They claim to know on their own what truth is, but Catholic doctrine is not a closed system, but a living tradition that develops," German Cardinal Walter Kasper told the Italian daily Il Mattino. "They want to crystallize the truth in certain formulas ... the formulas of tradition."
. . . .
"Remaining in the Truth of Christ," which Ignatius Press will publish Oct. 1, includes essays in response to Cardinal Kasper's proposal by three synod fathers: Cardinal Gerhard Muller, prefect of the Congregation for the Doctrine of the Faith; Cardinal Raymond L. Burke, prefect of the Supreme Court of the Apostolic Signature; and Cardinal Carlo Caffarra of Bologna, Italy.
On the same day, Ignatius Press will also publish two other books in which synod fathers respond to Cardinal Kasper's proposal: "The Hope of the Family," an extended interview with Cardinal Muller; and "The Gospel of the Family," which features a foreword by Cardinal George Pell, prefect of the Secretariat for the Economy. (Cardinal Kasper's address, published by Paulist Press, is also titled "The Gospel of the Family.")
War of words heats up as Vatican counts down to synod
Journalists often exaggerate conflict at the Vatican. But it's no exaggeration to say that sharp battle lines are being drawn for the October Synod of Bishops, in particular on the issue of Communion for divorced and remarried Catholics.

This week saw several leading cardinals and Vatican officials weigh in on the "No" side, with the imminent publication of two new books on the topic. Among them were two leading Roman Curia officials - German Cardinal Gerhard Müller, prefect of the Congregation for the Doctrine of the Faith, and Australian Cardinal George Pell, head of the Vatican's new Secretariat for the Economy.

Specifically, they took issue with Cardinal Walter Kasper, who was selected by Pope Francis to address the world's cardinals last February. Kasper proposed that the church find ways to allow divorced and civilly remarried Catholics to receive Communion, arguing that the Eucharist should be a spiritual "life raft" for those who need it most.
. . . .
In an interview with the newspaper La Stampa, Kasper said he was blindsided by publication of the new books. "I was surprised. I learned about it only today from journalists - they were sent the text, not me. In all my academic life I've never experienced anything like this."

And in an interview with another newspaper, Il Mattino, Kasper went farther, saying his critics appeared to want a "doctrinal war" at the synod, and that the target was not himself but "probably" Pope Francis.

"They claim to know on their own what the truth is. But Catholic doctrine is not a closed system, it is a living system that develops, as Vatican II taught us. They want to crystalize the truth in certain formulas," Kasper was quoted as saying.

He added: "None of my cardinal brothers have spoken with me. I, on the other hand, have spoken twice with the Holy Father. I arranged everything with him. He was in agreement. What else can a cardinal do, other than stand with the pope? I am not the target, the target is someone else."

Asked if the target was Pope Francis, Cardinal Kasper replied: "Probably yes."
Pope Creates Commission to Streamline Annulment Process
Vatican Radio Sep.20, 2014
The Holy See Press Office on Saturday announced Pope Francis has decided to establish a Special Commission for the study of the reform of the matrimonial processes in canon law.
The decision was made on August 2, 2014.
This committee will be chaired by Msgr. Pio Vito Pinto, Dean of the Roman Rota.
. . . .
The work of the commission will start as soon as possible and will have as its goal to prepare a proposal of reform of the matrimonial process, with the objective of simplifying its procedure, making it more streamlined, and safeguarding the principle of the indissolubility of matrimony.
Being careful about what we hope for
Bishop Robert N. Lynch Sep.17, 2014
. . . .
As you know, in this diocese over 7000 Catholics participated in and responded to the first ever online survey of questions raised by the Pope/Holy See for the coming synod. Very few dioceses in this state or in the nation gave their people this opportunity, often limiting the input to diocesan Pastoral Councils or Presbyteral Councils. The Synod office in Rome was inundated, flooded may be a better word, with advice apropos of the topic. Universal responses tended to focus in real-life and real-time challenges: the effect of the culture on the notion and institution of marriage, readmission of the divorced and remarried to the sacramental life of the Church, most especially the Eucharist, living with same-sex civil marriages, etc. My suspicion is that Pope Francis has been amused if not energized by the attention given to both the topic of the Extraordinary and Ordinary Synods as well as pushback the topic has given birth to.
. . . .
A very good Archbishop friend of mine whose theological and ecclesial opinions I admire very much says that this Synod will mark a "crossing of the Rubicon" for the Church. I hope he is right. I hope that a vast majority of the bishops present will affirm that the topics, especially the more neuralgic ones, will be vetted and addressed in the Ordinary Synod to conform to this Pope's ardent desire to become a Church of mercy, compassion and forgiveness.

I see hard lines developing against any effort to find a way to readmit divorced and remarried Catholics to Eucharistic communion. The punishment is more important to some cardinals than the moment. I recognize that changing the praxis of the Church on this means finding a way to reaffirm the indissolubility of marriage which has been and must always be true of our ecclesial communion but at least being open to those who have failed.

Think about it for a moment, I can absolve the most heinous of criminals who seeks God's forgiveness for the sin of murder and give him or her the Eucharist, but let a twenty-one year old who made a mistake in choosing a spouse for a bevy of reasons return to the Eucharist - no way says the Church and I pray instead for some way. Pope Francis has instilled in my heart a desire for reconciliation of all, forgiveness, mercy and compassion for those who need it and seek it, and a Church which is itself a beacon of hope to those who walk in the darkness of this day and age.

So let's pray that the Extraordinary Synod will be open to a full and active participation by the Church universal in not just repackaging the age-old method of dealing with modern day challenges but is open to that same spirit who gave us this extraordinary pope. But then again, we must always be mindful and careful of what we hope for as it has been tried before and has, in the minds of many, not worked. This one hangs in the balance of the hands of a man who subscribes to that part of the prayer of St. Francis which says, "give me the grace to accept those things which I can change". Prayers for the Extraordinary Synod are welcome!
Historic meeting of clergy abuse survivors, Archbishop Nienstedt
Jean Hopfensperger Sep.23, 2014
It was a first in Minnesota, and perhaps a first in the nation. A support group for survivors of clergy sex abuse hosting the man who represents the church they believe betrayed them - Archbishop John Nienstedt.
The ground rules for last weekend's meeting quietly were laid in advance. No media allowed. No robes or collar on the archbishop. The survivors would be respectful.

Held in a suburban library conference room, the unlikely meeting allowed survivors to share their painful stories with Minnesota's top Catholic leader and provided Nienstedt a rare and inside look at the impact of abuse.
. . . .
Nienstedt said after the session that he was "honored and thankful that so many have shared their experiences with me."

"I have been deeply moved by the devastating stories I have heard ..." he said in an e-mail. "Their stories have been very touching and further encourage me to continue in our direction of protecting children from any abuse ...''
Ellen Euclide Sep.23, 2014
For nearly 20 years, Bob Heineman has served on Call To Action's national staff cultivating and supporting CTA's local chapters around the country as well as leading fundraising efforts. Today, there are over fifty Call To Action chapters around the country and CTA has a solid financial foundation positioning the organization well for the future.

After two decades of extraordinary and passionate service to Call To Action, Bob has announced his plans to retire at the end of this year.
. . . .
Bob's wisdom, passion, and love for the Catholic faith will continue to help move CTA forward next year, as he will remain connected with CTA in a consultative role. In the coming months, Bob and I will be developing a transition plan so that there is no break in the ongoing support for CTA's local chapters.

In this special moment, please join me over the next several months in celebrating the wonderful gifts Bob continues to bring to our CTA community. Feel free to post those well wishes on CTA's facebook page and/or email Bob directly.

Bob's call for a Catholic Church that is just, inclusive and accountable is one we all envision for generations to come. We honor Bob's years of service by remaining faithful to that vision of church.
Greater lay involvement in Dublin's Catholic archdiocese
Patsy McGarry Sep.18, 2014
An enhanced role for the laity in Dublin's Catholic archdiocese grows apace with the announcement that, for the first time ever, lay people will now be able to take part in deanery meetings.

It follows an agreement by Dublin's Council of Priests and as adopted by Archbishop Diarmuid Martin. Up to this such meetings were mostly attended only by priests.

From this week the archdiocese's 16 deanery groupings will include participation by parish pastoral workers, deacons, religious, chaplains and representatives from each parish pastoral council.

The archdiocese's deaneries meet four times a year to look at pastoral planning for its area over the following quarter. The deaneries foster common pastoral programmes and activities among local parishes.

Archbishop Martin has welcomed the broad support for these changes, especially from priests themselves. He thanked the Council of Priests for being a pioneer in areas such as establishing parish pastoral councils in every parish, introducing the permanent deaconate and full-time lay parish pastoral workers.
Pope invites Xi Jinping to the Vatican
Vatican Insider Sep.17, 2014
The Argentinian website Infobae revealed yesterday that Pope Francis had sent a personal letter to China's President Xi Jinping, via two Argentinian emissaries: Ricardo Romano, a representative of Peronism and José Luján, a representative of the Chinese Academy of Sciences.
. . . .
The author of the article, Claudia Peirò, says that in his letter, Francis formally invited President Xi Jinping to visit the Vatican to talk about peace in the world ... In a statement, Romano told Infobae that during the exchange of opinions in St. Martha's House, there was a stress on the need to establish ties with Beijing "in order to contribute to the decision-making process in a multipolar way, guaranteeing a superior degree of governance, serving more fraternal planetary society where there is greater social equality."
Pope says religion can't justify violence
Pope Francis warned during a visit to Albania on Sunday that religion can never be used to justify violence, making apparent reference to the bloodshed wreaked by Islamic State militants in Iraq and Syria.
The 77-year-old pontiff said majority-Muslim Albania was an "inspiring example" of religious harmony, as hundreds of thousands thronged the streets of the capital Tirana to greet him.
In a speech to chiefs of Albania's religious communities -- including Muslim, Orthodox Bektashi, Jewish and Protestant leaders -- Francis took aim at extremists he accused of perverting religion for their own ends.
"No one must use the name of God to commit violence," the spiritual leader of the world's 1.2 billion Catholics said at the Catholic University. "To kill in the name of God is a grave sacrilege. To discriminate in the name of God is inhuman."
In an earlier speech to government officials he also praised the peaceful coexistence of Albania's Catholics, Orthodox Christians and Muslims, labelling it "a precious gift to the country".
Pew Surprised by How Many Americans Want Religion Back in Politics
More Americans want more religion in politics, according to a new Pew Research Center study exploring the "growing appetite" for churches endorsing political candidates and other intersections of church and state.
While three out of four Americans (72%, a record high) believe that religion is "losing its influence on American life," a majority of Americans (56 percent) also believe this shift has been for the worse. White evangelicals are the most likely to view the change negatively (77 percent), but the majority of white mainline Protestants (66 percent), black Protestants (65 percent), and Catholics (61 percent) feel likewise.
Gregory Smith, Pew's director of U.S. religion surveys, previewed a number of what he called the study's "surprising" and "interesting" findings at the Religion Newswriters Association's annual conference on Thursday.
Fewer Americans now believe churches (and other houses of worship) should stay out of politics. A narrow minority (48 percent) agree with this in 2014, versus a narrow majority (52 percent) in 2010, according to the study. About half (49 percent) also now believe that churches should express views on social and political questions, an increase from 43 percent in 2010.
Nuns on the Bus hit the road once again, this time for Democracy
Simone Campbell Sep.15, 2014
This week, starting Sept. 17, NETWORK's Nuns on the Bus will board a new bus to launch a campaign against the power of big money to severely damage our nation's democratic principles. This new journey is all about supporting the even bigger power of the community of U.S. voters when we all choose to engage.
. . . .
So what is different this year? What convinces me that I should once again spend several weeks riding from state to state in another brightly colored bus?

I have come to realize that our earlier journeys were all about convincing those in power - in Washington and state capitals - that they should exercise their power in everyone's behalf. Vote against the Paul Ryan budget, we said. Vote for Medicaid expansion! Vote for immigration reform!
But this time, we are focused directly on the power of the people. This new trip is all about how we, the community of voters, have the power to create justice ourselves. It's all about democracy.
Why did we select this theme this year? Because there is an urgent need for people to reclaim our democracy. Simply put, it is being threatened by big money.
It has been clear for years that wealth and income disparities in our nation have grown exponentially. People who are poor have grown proportionally poorer, and those with the greatest wealth have grown far, far richer.
To make matters even worse, we now have billions of dollars pouring into election campaigns from the wealthiest individuals and corporations. Huge amounts of money are "donated" during this election year in order to elect candidates friendly to the interests of the donors, who are allowed to remain anonymous.
. . . .
The only thing more powerful than big money is the power of constituents to vote candidates in or out of office. When we show up in record numbers, they have to listen. They have no choice because candidates fear losing elections almost more than anything else.
. . . .
In addition to individual voter commitments, we will urge workplaces, parishes, congregations and neighborhoods to pledge to get all of their members to vote. We want all the groups and organizations to become "100% Voters" in the November election, and in all elections beyond.

Biden, a Catholic School 'Kid,' Praises Nuns Under Fire From the Vatican
Jason Horowitz Sep.17, 2014

At a Vatican meeting a few years ago, Pope Benedict XVI unexpectedly asked Vice President Joseph R. Biden Jr. for some advice. "You are being entirely too hard on the American nuns," Mr. Biden offered. "Lighten up."
Last year, Mr. Biden seized on an audience with Pope Francis as another opportunity to praise the sisters who remained the target of a Vatican crackdown for their activism on issues like poverty and health care.

And on a visit to Iowa on Wednesday, Mr. Biden literally, as he might put it, got on board with the nuns.
. . . .
So while political reporters focused on Mr. Biden's appearance as his first foray back into a presidential campaign season, the outing also put the nation's first Roman Catholic vice president in the middle of a protracted political fight between the pope he admires and the American nuns he reveres.

"All politics begin here in Iowa," said Sister Simone Campbell, the head of Network, the group that organized the tour and described Mr. Biden's papal conversations. She expressed delight that the vice president lent some star power to what she called "our little, teeny event."

In an interview, Sister Campbell said Mr. Biden had expressed a willingness to join the nuns after their first tour in 2012, "Nuns on the Bus: Nuns Drive for Faith, Family and Fairness."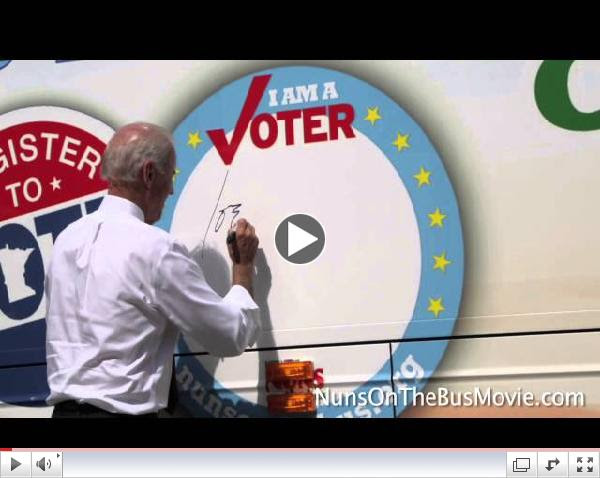 How Should the CDF Treat U.S. Nuns? 'Just Say "Thank You"
Mary Ann Walsh R.S.M. Sep.22, 2014
About 18 months ago a Vatican official told me he had asked a U.S. philanthropist for advice on how to deal with controversy with American nuns. The philanthropist advised: "Just say 'thank you."

The conversation came to mind as I read comments Sept. 18 in The New York Times by Vice President Biden in which he said he advised Pope Francis to lighten up and not be be so hard on the nuns.
. . . .
In political history, one of the worst statements ever uttered was Richard Nixon's infamous "I am not a crook." Cardinal Gerhard Mueller has now offered the church's equivalent
when he said
of Vatican officials, "We are not misogynists." The man who heads the venerable CDF topped that off with another turkey line when he added: "We don't want to gobble up a woman a day!"
. . . .
The Vatican stands on the losing side of this fiasco given that virtually every Catholic has been the beneficiary of some sister's generosity or knows someone else who has, perhaps in a school, hospital, parish, soup kitchen, used clothes center or inner city clinic.
. . . .
The LCWR has been criticized by some, including, theNational Catholic Reporter, for playing their cards close to the vest and not engaging in public battle with the CDF. A wounding verbal scrimmage of ecclesial boys and girls would be any newspaper's dream but would cause harm to church unity, something the nuns are loathe to do.
Cardinal Mueller reportedly will be on the east coast in November. It would be well for him to meet some of the sisters involved in these and other works. It also may be time for the Vatican to draw this controversy to an end. It's time to follow the philanthropist's advice and just say "Thank you."
Ian Paisley Dies at 88; Longtime Voice of Hard-Line Ulster Who Then Made Peace
Robert D. Mcfadden Sep.16, 2014
The Rev. Ian Paisley, Northern Ireland's firebrand Protestant leader, who vowed never to compromise with Irish Catholic nationalists, then, in his twilight, accepted a power-sharing agreement that envisioned a new era of peace in Northern Ireland after decades of sectarian violence, died on Friday in Belfast. He was 88.
. . . .
From the 1950s, when he organized vigilante patrols to defend Protestant neighborhoods against I.R.A. attacks, through decades of deadly turmoil - bombings, assassinations, clashes with British troops and general strikes and riots he had fomented - Mr. Paisley barnstormed the province, condemning any peace deal that might open the way to power-sharing with Catholics in Northern Ireland, which has nearly 1.8 million people.
In the pulpit or at Stormont - the Northern Ireland Parliament, which had been emblematic of Protestant hegemony since the partition of Ireland in 1921 - Mr. Paisley was a spellbinding orator, a thundering Jeremiah of relentless political attacks laced with biblical references. The Catholic Church, Sinn Fein, the I.R.A., Irish leaders, even interfering American presidents were all targets of the Paisley wrath.
He called Pope John Paul II the Antichrist. He said he wanted to kick Bill Clinton in the pants for his peace efforts. He refused to attend negotiations and accused some British leaders of plotting to sell Belfast out to what he called the devils in Dublin. His demands for the removal of an Irish flag from Sinn Fein's Belfast office once led to two days of rioting. And he said "no" to almost everything - to civil rights for Catholics, to meetings with Irish leaders, and especially to power-sharing proposals.
. . . .
In 1998, a peace agreement was signed by David Trimble, the mainstream Ulster Protestant leader, and Mr. Hume, and they shared the Nobel Peace Prize that year for their efforts. The so-called Good Friday Agreement, ratified by voters in Ireland and Northern Ireland, was hardly radical. It provided that Ireland could be united only with the consent of Northern Ireland and made it likely that Northern Ireland would remain Protestant in perpetuity or at least well into the 21st century. But it envisioned power-sharing, and Mr. Paisley fulminated against it.
By 2007, however, a series of hurdles had been passed: The I.R.A. had destroyed its arsenal of weapons and dismantled its clandestine cells, and Sinn Fein had endorsed a reconstituted Northern Ireland police force, which it had long considered an arm of British and Protestant repression, leading Mr. Paisley to accept a power-sharing compromise reached at St. Andrews, Scotland.
. . . .
But his politics were predominantly a crusade against Irish Catholics. And when it was over, when he had softened the diatribes and accepted leadership in a power-sharing government, the legacies of fighting and religious hatreds remained. Housing was still overwhelmingly segregated, discrimination in jobs was still common, and 3-year-olds, researchers said, continued to display sectarian instincts.
Vatican Diary / Exile to Malta for Cardinal Burke
Sandro Magister
Sep.17, 2014
The "revolution" of Pope Francis in ecclesiastical governance is not losing its driving thrust. And so, as happens in every self-respecting revolution, the heads continue to roll for churchmen seen as deserving this metaphorical guillotine.
. . . .
The next victim would in fact be the United States cardinal Raymond Leo Burke, who from being prefect of the supreme tribunal of the apostolic signatura would not be promoted - as some are fantasizing in the blogosphere - to the difficult but prestigious see of Chicago, but rather demoted to the pompous - but ecclesiastically very modest - title of "cardinal patron" of the Sovereign Military Order of Malta, replacing the current head, Paolo Sardi, who recently turned 80.
If confirmed, Burke's exile would be even more drastic than the one inflicted on Cardinal Piacenza, who, transferred from the important congregation for the clergy to the marginal apostolic penitentiary, nevertheless remained in the leadership of a curial dicastery.
With the shakeup on the way, Burke would instead be completely removed from the curia and employed in a purely honorary position without any influence on the governance of the universal Church.
Vatican astronomer: Just a matter of time until life found in universe
Dennis Sadowski Sep.19, 2014
Jesuit Brother Guy Consolmagno, the new president of the Vatican Observatory Foundation, has no doubt that life exists elsewhere in the universe and that when humanity discovers it, the news will come as no big surprise.
He suggested that the likely discovery -- whether next month or a millennium from now -- will be received much the way that news of planets orbiting far off stars has filtered in since the 1990s.
. . . .
While the discovery of life elsewhere will not prove nor disprove the existence of God, Brother Consolmagno expects that it will open the door to ponder what form salvation history may take in other intelligent societies.
The longtime Vatican astronomer addresses the same question and a series of others that cross the threshold between science and religion in a new book, "Would You Baptize an Extraterrestrial? ... and Other Strange Questions From the Inbox at the Vatican Observatory," set to be published in October. Co-written by Jesuit Father Paul Mueller, another Vatican Observatory astronomer, the book uses a series of easy-to-read conversations between the two in an effort to explain how the church supports science and provide insight into how religion works.
Read more
Scotland bishops hope Catholics join public debate after independence vote
Simon Caldwell Sep.19, 2014
The Catholic bishops of Scotland said they accept the results of referendum in which Scot voters rejected independence.
In a Sept. 19 statement, the Bishops' Conference of Scotland also commended "all those who participated in what was a passionate and sometimes partisan debate."
. . . .
The bishops also urged the Catholic community to "continue to engage in public debate and decision-making and, in doing so, to uphold the meaning and importance of the Christian message.
"May God bless Scotland," the statement concluded.
Cardinal Vincent Nichols of Westminster, president of the Bishops' Conference of England and Wales, endorsed the Scottish bishops' statement
A spokesman for the cardinal said Sept. 19: "All Catholics are encouraged to continue to engage in public debate and decision-making as confidently we seek to make the face of Christ known and together work for the common good."
Priest: Church crisis led to book release
Herald Scotland Sep.19, 2014
Father Matthew Despard said the resignation of Cardinal Keith O'Brien and a lack of leadership from senior church figures last year led to him publishing Priesthood In Crisis,a book he had written three years before.

Cardinal O'Brien resigned from the church in disgrace amid allegations of sexual misconduct from three priests and one former priest.

Father Despard, 49, was later ordered to leave his home at St John Ogilvie in High Blantyre, Lanarkshire, on the orders of the Bishop of Motherwell, Joseph Toal, but he refused.

The civil hearing before Sheriff Joyce Powrie at Hamilton Sheriff Court had earlier heard Father William Nolan deny he targeted Father Despard after being offended by his book. Father Nolan, 60, replaced Father Despard at St John Ogilvie Church following the dispute with Church authorities.

Bishop Toal told Father Despard to leave the house in November last year.

Although he refused to move, the church has now taken legal action to evict him.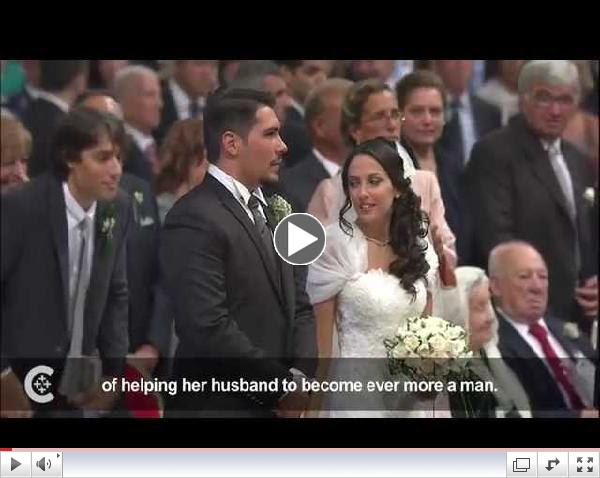 Pope to focus on grandparents after newlyweds
Nicole Winfiels Sep.16, 2014
First, Pope Francis married 20 couples to highlight the role of families as the heart of the Catholic Church. Next up is a special Mass for grandparents.
Francis and 100 elderly priests will celebrate a Mass in St. Peter's Square on Sept. 28 in honor of the elderly, part of his long-standing belief that old people shouldn't be shut away in retirement homes but should be actively cherished for their wisdom.

Some 40,000 people from 20 nations are expected to attend. Francis plans to give each one a copy of the Gospel of Mark, written in large-sized type, said Monsignor Vincenzo Paglia, head of the Vatican's family office.
Paglia said Tuesday that one of the elderly couples taking part in the Mass recently fled the Islamic militant crackdown in northern Iraq and would recount their family's story to the crowd.
Read more
U.S. denominations, key Catholic bishop advocate for open Internet
Mark Pattison Sep.17, 2014
More than a dozen religious bodies, including the U.S. Conference of Catholic Bishops, argued in a joint letter to the Federal Communications Commission that the Internet must remain available to all without "fast lanes" and other devices meant to speed up traffic for extra revenue while keeping nonpaying traffic in a slow lane.
"We are concerned about paid prioritization and other policies that will increase costs and limit opportunities for our organizations and the communities we serve," said the Sept. 15 letter to FCC Chairman Tom Wheeler and the other four FCC commissioners.
"We urge you to adopt the strongest protections possible to protect an open Internet and to use the strongest legal authority available so that you can eliminate paid prioritization and that these protections will survive court challenge. Robust net neutrality protections are essential for all sectors of society, including ours," the letter said.
Also, Bishop John C. Wester of Salt Lake City, chairman of the USCCB Committee on Communications, advocated for an open Internet in a Sept. 16 op-ed essay.
. . . .
Bishop Wester called the Internet "an international treasure of information, creativity and human potential. It should be preserved and protected by regulation as a place that fosters the best in humankind. The FCC needs a better vision of what the Internet is and what it can do."
McAleese 'has a duty to name and shame' Catholic cleric
Mark O'Regan Sep.15, 2014
. . . .
A leading children's rights campaigner told the Irish Independent that Ms McAleese has a "duty" to disclose the identity of the person involved.

The former President had said the cleric, who she would not name, had come "looking for advice" when he visited her at Aras an Uachtarain.

The incident occurred at a time when Church authorities were under increasing pressure to investigate a variety of abuse allegations. She suggested to him that the Church should "open up the diocesan archives" and having carried out a relevant audit relating to the allegations "tell the people of God what's going on".

But the cleric only "laughed" at her, she recalled.

"I said if you don't, the State will intervene. And his last words to me, getting into the car, were 'the state would never cross that line'. A week later, the state crossed that line," she said.
. . . .
Children at Risk in Ireland CEO Mary Flaherty said Ms McAleese had a "duty" to disclose the identity of the person involved. "We need to know this person is no longer in a position of influence," she said.
"It's a very strange thing for her to bring something so serious halfway into the open. It's an extremely concerning account, and the full information should definitely be in the public arena."
Bishop backs down over plan for male-only lay ministers
Sarah MacDonald Sep.16, 2014
Protests over the proposed introduction of a male-only lay ministry (sic) in the Catholic diocese of Killaloe have forced the local bishop to back down and postpone the move.

In a letter read out in parishes on Sunday, Bishop Kieran O'Reilly acknowledged the concerns raised by lay women and groups in the western diocese about the permanent diaconate.

The move came after Kathleen McDonnell, a member a parish pastoral council in west Clare, had criticised the move to set up the men-only lay ministry and had called on the diocese to create a ministry for all.

It also provoked a poster campaign opposing the new ministry which appeared on parish noticeboards across the diocese.
. . . .
In his letter, Bishop O'Reilly told his flock that in light of the conversations held over the past weeks: "I will not now proceed with the introduction of the permanent diaconate at this time in the diocese."

It is understood that a number of men had already put themselves forward for consideration as candidates for training to become deacons.
Brazilian archbishop robbed at gunpoint in Rio
Associated Press Sep.16, 2014
The Roman Catholic Archbishop of Rio de Janeiro escaped injury during a robbery by three gunmen, the city's archdiocese said Tuesday.

Rio archdiocese spokesman Adionel Carlos da Cunha said the robbery occurred Monday night when Cardinal Orani Joao Tempesta was being driven to a local radio station to participate in a debate.

The archdiocese's photographer, a seminarian and the cardinal's driver were also held up. None was hurt.
Cunha said the assailants blocked the cardinal's car less than one mile from his residence in the neighborhood of Sumare.

"They recognized the cardinal, apologized, but went ahead with the robbery anyway," Cunha said.
Theologians gather to honor O'Meara, discuss ecclesiology
B. Kevin Brown Sep.19, 2014
Catholic theologians working in the field of ecclesiology gathered Sept. 5-7 in Dover, Mass., to honor one of their own and discuss the future of Catholic ecclesiology.
Over 40 theologians and graduate students came from across the United States and Canada to celebrate the theological achievements of Dominican Fr. Thomas O'Meara. Organized by four of O'Meara's former students -- Fr. Stephen Bevans of the Society of the Divine Word, Richard Gaillardetz, Edward Hahnenberg, and Vincent Miller -- the symposium was held at Boston College's Connors Family Retreat Center.
Gaillardetz said the choice to honor O'Meara with such a symposium was both a tribute to the the Dominican's work in the field and an opportunity to reflect on the study of the church in light of the first 18 months of Francis' papacy.
. . . .
The conference brought together both emerging scholars with some of North America's most prominent ecclesiologists, including Catherine Clifford, Jesuit Fr. Michael Fahey, Jesuit Fr. Roger Haight, Fr. Joseph Komonchak, Paul Lakeland, Jesuit Fr. Thomas Rausch, and Charity Sr. Susan Wood.
Saudi Arabia's top clerics speak out against militancy
Angus McDowall Sep.17, 2014
Saudi Arabia's top clerical council, the only body in the country authorized to issue fatwas or Islamic legal opinions, declared on Wednesday that "terrorism is a heinous crime" under Sharia, and perpetrators should be made an example of.

The statement, days after Saudi Arabia and other Arab states pledged in Jeddah to combat militant ideology, was the most comprehensive attack the kingdom's conservative clergy have made so far on Islamist radicalism and the Islamic State group.
. . . .
It said people who issued fatwas or other opinions that "justify terrorism" were not permissible in any way and were "the order of Satan".
Saudi Arabia has joined international efforts headed by the United States to combat the Islamic State group in Iraq and Syria, and has also worked with Washington in its battle against al Qaeda.
Archbishop Schnurr Throws Cold Water on the Ice Bucket Challenge
Frank Cocozzelli Sep.20, 2014
The Ice Bucket Challenge has been an outstanding success in raising both awareness and research money needed to find a cure for Amyotrophic lateral sclerosis (ALS) . As of September 10, 2014 the ALS Association has raised $111.6 million in Ice Bucket Challenge donations. The wildly popular charity stunt captured the hearts of millions of people last summer bringing together former presidents, movie stars and ordinary citizens in an effort to create a greater awareness necessary to cure a hideous muscle disease. They did it by pouring ice water over themselves and then challenging friends and neighbors to do the same.
. . . .
But all this warm hearted, spot-on humanitarianism did not deter Archbishop Dennis M. Schnurr from sounding a sour note. It seems that his eminence wanted to seize an opportunity to change the subject to stage a culture war battle over stem cells.

It is not that Cincinnati prelate did not want his diocesan members to take part in the challenge; instead, he did not want them to send any money to the ALS Association.
. . . .
Anyway, here is the reason behind culture war commander Schnurr's lastest exploit. The Washington Post recently explained, "That's because the [ALS] association funds a single study using embryonic stem cells, mainly through the funds of a single donor."

To that end, the Archbishop asked those who took part in the challenge to send the matching donations to an institution such as The John Paul II Medical Research Institute which, while doing extensive research on adult stem cells is not focused on curing ALS.
The Post continued: "In a statement to the American Life League, ALS Association spokesperson Carrie Munk said that donors are able to specify whether they want their funds to support embryonic stem cell research or not."
Schnurr created a false equivalence in order to try to direct donor funds away from from an organization that exclusively engages in ALS research to an institution that does not do ALS research.
. . . .
The archbishop used the Ice Bucket Challenge to mooch off of the campaign's newly found heightened awareness to raise money needed for heretofore underfunded research. Schnurr managed to siphon off both attention and hundreds of thousands of dollars that might otherwise have gong to do actual research into finding a cure for this orphan disease. And in so doing, kicked instead of assisting the orphan.
Catholic League drops out of St. Patrick's Day parade over row about gays
David Gibson Sep.12, 2014
After organizers agreed to allow a gay and lesbian group to march, William Donohue of the Catholic League announced that his organization would not take part in next year's popular celebration of Irish-American culture, New York's St. Patrick's Day parade.

Donohue said the parade organizers had "betrayed" him by promising that an anti-abortion group would be allowed to participate if a gay group were given a permit. But he claimed the committee later reversed itself and said abortion opponents would not be marching next year.
. . . .
After years of dogged resistance and legal battles, the St. Patrick's Day parade committee said earlier this month that it would allow gay and lesbian groups to march under their own banner and they chose
OUT@NBCUniversal
, a lesbian, gay, bisexual and transgender resource group from NBC, to be the first. The network is a sponsor and broadcaster of the event, which processes along Fifth Avenue.

New York Cardinal Timothy Dolan - the parade's grand marshal next March 17 - welcomed the move, a significant change from previous archbishops and one that sparked criticism from many Catholic conservatives.

The rebukes have continued, with one Catholic activist accusing Dolan of "a dereliction of duty" while National Catholic Register columnist Pat Archbold said Dolan's response was "a shameful and sinful capitulation."

The parade is not a Catholic-sanctioned event but it is closely identified with Irish Catholicism.
Help Support ARCC with AmazonSmile
You shop. Amazon gives.
Do you make purchases at Amazon? Do you buy Kindle books from Amazon? Consider going through AmazonSmile.
AmazonSmile is a website operated by Amazon that lets you enjoy the same shopping features as on Amazon.com. The difference is that when you shop on AmazonSmile (smile.amazon.com), the AmazonSmile Foundation will donate 0.5% of the purchase price to the eligible charitable organization of your choice. You will see eligible products marked "Eligible for AmazonSmile donation" on their product detail pages. Recurring Subscribe-and-Save purchases and subscription renewals are not currently eligible.
On your first visit to AmazonSmile, you will be prompted to select a charitable organization to receive donations from eligible purchases before you begin shopping. Just enter "ARCC." Your selection will be remembered, and then every eligible purchase you make on AmazonSmilewill result in a donation. ARCC receives 0.5% of the price of each purchase made via AmazonSmile.
ARCC can earn a penny every time you search the Internet. GoodSearch.com donates half its revenue, about a penny per search, to the charities its users designate. You use it just as you would any search engine. Go to www.goodsearch.com and enter ARCC as the charity you want to support. Just 50 of us searching four times a day will raise about $730 in a year without anyone spending a dime.
Upcoming Event
LECTURE
Thursday, September 25, 6:30 p.m.
Presenter: James Martin, S.J.
Robsham Theater, Chestnut Hill Campus
Free of charge, no registration
Seating will be first-come, first-served, with doors opening at 6:00 p.m.
Association for the Rights of Catholics in the Church
Membership options:
Life $500 ARCC-Angel $100 Regular $50
Senior $25 Student $15
SHOP or SEARCH and SUPPORT ARCC