Share on your favorite social networking site by clicking its icon.
Click
here
for a link to this newsletter to send to friends.
ARCC invites our Newsletter friends who are not already members to consider joining and supporting ARCC.
I am writing to you and to all the ordinaries of the dioceses in the United States to ask you and your fellow bishops in your role as teachers to provide a clear and credible theological explanation of why women are not being ordained to the priesthood in the Catholic Church. I write not to challenge the teaching of Ordinatio Sacerdotalis on women's ordination. Rather, my concern is the theological explanation of this teaching - theology being, as Anselm said, "faith seeking understanding."
Two years ago, I wrote to all of you with the same request. At that time, I was teaching in the School of Theology and Ministry at Boston College. The teaching on women's ordination was extremely important for many of the students - women, of course, but men as well - and a number of them were simply leaving the church because the theological explanation that was offered made no sense to them. Before my letter, I had already stepped aside from active ministry as a priest until women are ordained. After my letter, Jesuit - run Boston College terminated me as a professor. My provincial, with the urging of several archbishops, has given me two "canonical warnings" threatening me with being "punished with a just penalty" for voicing my concerns.
. . . .
In all of my study, in all of my training, in all of my counseling experience, and in all of my years of teaching I have not come across a single credible thinker who holds that women are not fully able to provide pastoral care. Likewise, I have not come across a single credible thinker who holds that women are deficient in religious development or maturity. From the perspective of practical theology - a theology of the livingchurch, a theology that takes experience seriously - I find absolutely nothing that does not support the ordination of women to priesthood.
It seems that Ordinatio Sacerdotalis, the document on the ordination of women that the Vatican and the bishops keep pointing to, is actually an historical explanation of the issue. It looks back at what it we think Jesus was doing in appointing the 12 Apostles.
. . . .
Unfortunately, this teaching that "women are not fully in the likeness of Jesus"- qualifying, as it does, as a theological explanation - is utterly and demonstrably heretical. This teaching says that women are not fully redeemed by Jesus. This teaching says that women are not made
whole by the saving favor of our God. This teaching says that the "catholic" church is only truly "catholic" for males.
. . . .
As a bishop, how long will you champion the inferiority of women in the church? How long will your teaching on women be an obvious and eye-popping contradiction? How long will your demeaning patriarchal stance violate women's human and religious equality in God's name?
Two more years have come and gone. The priests are voiceless. The academic theologians are nice and safe. The bishops make statements but do nothing that would be recognized as engaged teaching. The adults-desperate for something that respects their intelligence-leave the church in droves. How many serious people, young and old, have given up on ever finding a theological explanation of women barred from priesthood-an explanation not hopelessly patriarchal and sexist, not serving inequality and subservience, not aiding and abetting violence?
Special Notice
For some reason, the U. S. Postal Service did not process the address change for ARCC correctly. They have been returning mail going to the P. O. Box 6512, Helena, MT address. We have corrected this and all ARCC or "Association for the Rights of Catholics in the Church" will not be returned in the future. If you have had your mail returned, I apologize for this mistake. You can now safely send material to this address. I know that many of you have sent in your dues or donations and had them returned. We appreciate your support so much, and I trust that you will not hold this against us and send them in again.
Patrick B. Edgar, DPA
President, ARCC
Some things we have been reading
"In the Name of Francis, Get Up and Walk" - On Pope's Anniversary, The Nuncio's Message
A year into the new Franciscan Rule, perhaps no figure symbolically reflects the change of ecclesiastical seasons more than Archbishop Carlo Maria Viganò.
Thirty months since being exiled to Washington after his outrage over fiscal mismanagement and corruption in Vatican City's government became too much for the Curia's Old Guard, what had been seen as the 73 year-old Italian's "punishment" has suddenly birthed a new springtime. Among the US bishops and most of the rest of the Stateside scene, Viganò's delicate effectiveness has made him the most universally well-regarded holder of the DC posting in some three decades, while in Rome, he's reportedly forged a keen bond with the Pope his criticisms helped create.
Even before the last Conclave, the Nuncio's return in triumph under a reformist Pope was advanced as a sign that the new pontiff "means business." As the move hasn't happened to date, its absence can likely be chalked up to Francis' reluctance to antagonize the natives too much too quickly by making the ultimate bomb-drop on the Establishment he inherited. Accordingly, a fresh round of chatter over recent weeks has indicated that its coming could finally be at hand.
In any case, having made an impassioned call for the bishops to follow Francis at the November meeting - a stemwinder that served even to upstage Cardinal Timothy Dolan's farewell address from the USCCB presidency - at the close of Sunday's National Mass of Thanksgiving for the Pope's anniversary in the capital's Basilica-Shrine, Viganò launched another high-octane reflection, by turns both potent and poignant, on Papa Bergoglio and his mission....
U.S. Catholics View Pope Francis as a Change for the Better
Papal anniversary: top marks for warmth but now get to work on abuse record, curial reform and the role of women - poll
Developing the role of women, reforming the Vatican bureaucracy and improving the Church's record on abuse are the three areas Pope Francis must most urgently address, according to a survey conducted by The Tablet.
Some 73 per cent said Pope Francis must prioritise developing the role of women, 72 per cent highlighted the need to press ahead with curial reform and 68 per cent said they wanted him to focus on "child protection, the censure of clergy who have abused or covered up abuse, and care for victims".
More than 1,400 people completed an online poll on The Tablet's website between 19 February and 4 March. Every continent was represented, with one third of respondents from the UK and one third from the US. One fifth were clergy.
. . . .
Almost nine out of 10 practising Catholics said they considered Francis a more effective Pope than his predecessor, Benedict XVI.
In addition more than a quarter say Benedict XVI should have left the Vatican altogether when he resigned last February.
And the Greatest Leader in the World Is...
Fortune magazine went in search of the globe's best leaders. And it came back with Pope Francis-and 49 other change agents, reformers, and visionaries. The list's members span six continents and operate in fields including business, government, armed forces, philanthropy and religion. Some, such as the Pope, are famous the world over; many are not. "A leader's job is to define reality and give hope," American Express CEO Ken Chenault (number 18 on the list) told the publication.
In an interview on German television to mark the first anniversary of Pope Francis' pontificate, Archbishop Georg Gänswein, head of the papal household, revealed how he did not favour the election of Pope Francis.
Asked on ZDF on 13 March whether the election of Pope Francis at the conclave last year had surprised him, Archbishop Gänswein said, "Well, yes, as I had favoured other candidates - I was wrong - but then so were other people."
He went on to say that at the moment the Pope is the darling of the media "but that won't always be the case". The Pope is not "everybody's darling", he said, using the English phrase.
The Public Pope
Why the intense fascination paid to Pope Francis-or any pope-isn't good for the Catholic Church.
Paul Baumann Mar.11, 2014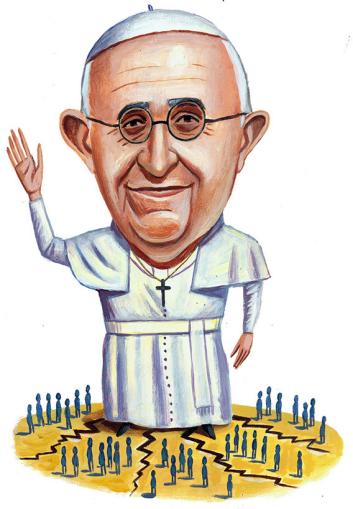 . . . . Apparently there is something about popes that a mass media otherwise skeptical of religious authority finds almost irresistible-which is why, from time to time, popes have even been good for getting me on television, called upon to comment on this or that papal action or utterance. Modern popes also function as job creators for church historians and for biographers. Wait a week, and we'll get yet another instant life of Jorge Mario Bergoglio or collection of his table talk. How else would we know that Pope Francis was once a bouncer? Essential training, one presumes, for a guardian of orthodoxy.
. . . .
Whatever people think Pope Francis is offering, he is no magician; he can't alter the course of secular history or bridge the church's deepening ideological divisions simply by asserting what in truth are the papacy's rather anemic powers. In this light, the inordinate attention paid to the papacy, while perhaps good for business, is not good for the church. Why not? Because it encourages the illusion that what ails the church can be cured by one man, especially by a new man. In truth no pope possesses that kind of power, thank God. The very first pope, let us recall, was a man of legendary weakness, denying his Lord three times before the cock crowed. And the most recent pope, Benedict XVI - a man of towering intellect and inspiring, if fusty, piety -retired from the ring, overmastered by palace intrigue within the Vatican. John Paul II, to be sure, was a media superstar and arguably played a historic role in the collapse of the Soviet Union. Yet even he could not effectively confront the most critical challenge facing his church, the clergy sexual-abuse scandals.
The truth is that the more the world flatters the Catholic Church by fixating on the papacy-and the more the internal Catholic conversation is monopolized by speculation about the intentions of one man-the less likely it is that the church will succeed in moving beyond the confusions and conflicts that have preoccupied it since the Second Vatican Council (1962-65).
. . . .
The fixation on the papacy trivializes the faith of Catholics, the vast majority of whom throughout history have had little knowledge of, and no contact with, any pope.
Traditionally, the papacy was the court of last resort in adjudicating disagreements among the faithful. But in the last century or so it has increasingly become the avenue of first resort, determined to meddle in every theological or ecclesiological dispute. If American nuns are flirting with novel styles of ministry, the Vatican intercedes. If translations of liturgical texts incorporate a bit of inclusive language, Rome takes out its red pencil. This meddling Vatican infantilizes the church's bishops, who seem to change their tune (as well as their dress) in response to every new papal fashion. Bishops in turn demand deference from the clergy and laity. The consequences have been all too clear: As in any heavily top-down organization, local initiatives fail to gain a foothold, or fizzle out for lack of dynamic leadership, and apathy prevails in the pews. Institutional gridlock and paralysis have become the norm. Seminaries are empty, and clerical talent is thin on the ground.
. . . .
In any event, the church's unity and renewed vitality will be-must be-a gift that the faithful bring to the pope, and not the other way around.
Ukraine: A spiritual journey in a political guise
David Nazar SJ Mar.13, 2014
The recent events in Ukraine are not what many news sources, even respected ones, imagine them to be. First, Ukraine was not a battleground where Russia and the West were hammering it out. Indeed, 99% of what was taking place on 'the maidan', the central square in Kyiv, was based on issues internal to Ukraine. Second, there was never the threat of civil war, as everyone living in Ukraine knew.
. . . .
This protracted standoff between an honest, popular yearning and deceitful, corrupt government was understood from the outset as a spiritual, even apocalyptic, battle between good and evil. It was unimaginable without the youth and the Church. The second follows the first and, while less dramatic, it is more complex: the creation of a style of government based on new values. This work entails the definitive cleansing of the vestiges of Soviet-style governance and the establishment of what the West takes for granted: transparency, accountability, fair elections and basic justice. The maidan now exercises a role of civic stewardship until such governance is in place. The third moment is the illegal intervention of President Putin in Crimea, which is less an act of aggression than an act of fear. It is not related to the maidan except as an opportunistic exploitation of it.
. . . .
Russia is not the factor in this that many might imagine. President Putin's interest is in creating a competitive economic block. To this end he has dedicated almost ten years of his life, trying to force neighbouring countries into his Eurasian Union, for which Ukraine is essential. From 2006 until today, with specious reasoning, Russia has cut off Ukraine's gas in winter twice, forbidden Ukrainian meat imports once, milk products twice and confectionary products once - all attempts to force Ukraine into the union. The invasion of Crimea is a variation on the theme. Ukraine has not submitted but kept its European orientation.
. . . .
At the Church's prompting, much of Ukraine continues to pray and fast during Lent until all is resolved. This is a country acquainted with suffering and familiar with grief - and from this arises a hope in the fidelity of God. (Isaiah 53)
David Nazar SJ is Superior of the Jesuits in Ukraine.
Ukrainian crisis may split Russian Orthodox Church
Sophia Kishkovsky
Mar.14, 2014
As Russian troops massed on Ukraine's border and a controversial secession vote in Crimea approaches Sunday (March 16), Patriarch Kirill of the Russian Orthodox Church called for prayers "that brothers of one faith and one blood never bring destruction to one another."
Russia has prided itself on its revival of Orthodox Christianity after decades of Soviet persecution, but a war with the Ukraine could splinter the Russian Orthodox Church.
That church has its roots in Kiev, where Prince Vladimir baptized his people as Christians in 988, an event viewed as a cornerstone of Russian and Ukrainian identity. It has even deeper roots in Crimea, where, according to legend, Vladimir was himself baptized by Byzantine emissaries.
. . . .
In his sermon at the end of the service at Christ the Savior Cathedral in Moscow on Friday (March 14), Kirill, who has been known for his support of Russian President Vladimir Putin, suggested that Ukraine has a right to self-determination.
But he also stressed that it must not be trapped into a spiritual division from Russia.
"What we are referring to is the Russian world, the great Russian civilization that came from the Kievan baptismal font and spread across the huge expanse of Eurasia," he said according to a transcript posted on the Moscow Patriarchate's website.
The "Russian world," or "Russky mir" has been an overriding theme for Kirill since he became patriarch in 2009, and it meshes with Putin's worldview, said Antoine Arjakovsky, director of research at the College des Bernardins in Paris and founder of the Institute of Ecumenical Studies in Lviv.
. . . .
But for the churches in Ukraine, the protests that toppled President Viktor Yanukovych also galvanized a religious awakening and may lead to a seismic shift in church-state relations. Dramatic images of clergy with crosses standing between protesters and government forces went viral as the standoff escalated in January and February.
"The majority of the Ukrainian churches followed a paradigm common to Eastern Christianity; they aligned with the state," said the Rev. Cyril Hovorun, a former chair of the Ukrainian Orthodox Church's Department of External Church Relations who has also worked at the headquarters of the Moscow Patriarchate and is now studying church-state relations at Yale Divinity School.
"The churches in their majority on different levels supported the justifiable demands of the Maidan," he said referring to the square in Kiev where the protests took place.
Greek Catholics, or Eastern Rite Catholics who are loyal to Rome, were the earliest and most active supporters of the demonstrations, he said. Many of them come from Western Ukraine, on the Polish border, where the state and communist policy of persecution of religion under Soviet dictator Joseph Stalin was accompanied by forced conversion from Eastern Rite Catholicism to Orthodoxy. Atheism never took hold.
National churches should stand up to almighty Vatican, says cardinal
Christa Pongratz-Lippitt Mar.11, 2014
A senior German Cardinal has called on national churches to speak up more courageously in their dialogue with Rome, claiming that their lack of courage has made Rome "over-powerful".
Cardinal Karl Lehmann of Mainz, the former president of the German bishops' conference, said in an interview with the Cologne-based daily Kölner Stadtanzeiger: "We need to be more courageous in dialogue within the Church. We complain that Rome is over-powerful but the reason why Rome is so strong is because we are too weak," Lehmann.
He also cautioned against expecting all church renewal to come from the Pope. "I get very annoyed when we expect everything from the Pope as far as church renewal is concerned but do nothing towards renewal ourselves, or just remain silent."
Retired Pope Benedict critiqued Francis' interview
The man who serves two popes has revealed that retired Pope Benedict XVI wrote four pages of critique and commentary on Pope Francis's landmark interview in which he blasted the church's obsession with "small-minded" rules.
Monsignor Georg Gaenswein, Benedict's personal secretary and head of Francis' papal household, was quoted by German broadcaster ZDF as saying that Francis had solicited Benedict's input.
Reformist priests warn of an anti-Francis front
The "disobedient" Austrian priests, pioneers in the reformist trends in the Church, rated the first year of Pope Francis' papacy positively but indicated that the changes could fail because of opposition from the bishops and from what they call an "anti-Francis front" in Rome.
Helmut Schüller, founder and spokesman for this group, asserted in a press conference that there is a "well-organized anti-Francis front" in which he put groups such as Opus Dei, Communion and Liberation, and the Legion of Christ.
. . . .
Schüller highlighted the need to end discrimination against women in the Church, to open it to the divorced, to discuss whether priests can get married and whether to give more responsibility to lay people in the parishes, among other matters.
All in all, he argued that there are reasons to keep the Call to Disobedience that they launched in 2011 in which, "faced with Rome's rejection of a reform that has been needed for some time," they declared themselves forced to follow their conscience and act independently of the Vatican's dictates.
Cardinal calls to maintain, yet reinterpret, doctrine to help families
In its approach to divorced and civilly remarried Catholics, the Catholic Church needs to find a middle ground that does not destroy or abandon doctrine, but offers a "renewed" interpretation of church teaching in order to help those whose marriages have failed, Cardinal Walter Kasper said.
"I propose a path that goes beyond strictness and leniency," the German cardinal and theologian told Vatican Radio March 10.
An approach that avoids the two extremes "isn't against morality, it isn't against doctrine, but rather, (is meant) to support a realistic application of doctrine to the current situation of the great majority of people and to contribute to people's happiness," he said, speaking in Italian.
German church leader signals opening for divorcees
Associated Press Mar.15, 2014
The new leader of Germany's Roman Catholic bishops is signaling support for allowing some divorced but remarried Catholics to receive Communion after a "penitential period."
. . . .
In an interview with the Welt am Sonntag newspaper released Saturday, Marx cited a prominent theologian's proposal that "divorced people who recognize their failure can, after a penitential period, seek readmission to the sacraments." He's quoted as saying cardinals' reactions were varied but he personally considers it "a viable path."
After 13-Month Wait, Liverpool Lands a Preacher
A month after the Pope described his ideal picks, a fascinating cycle of choices from his rebooted Congregation for Bishops was capped at Roman Noon this Friday with Francis' appointment of Malcolm McMahon OP, 64, as archbishop of Liverpool, Britain's largest local church.
. . . .
A longtime friend of McMahon's - observed, "I have never heard a word [from him] about traveling down the conservative path." Perhaps the most prominent example of the point came in 2001, when the prelate was quoted as saying "I look forward to the day when we will have women priests" during a conversation with a diocesan youth group, and was forced to clarify after a meeting with then-Cardinal Ratzinger.
Teresa Forcades: Banned in LA
Yesterday, we were pleased to bring you the good news that Benedictine nun and theologian Sr. Teresa Forcades would be doing a book signing in a bookstore in the Los Angeles area. She still is, as far as we know.
Now the bad news: That is all Sr. Forcades will be doing. Yesterday, she went on Ruben Luengas' program "Entre Noticias" and told the reporter that she had been scheduled to speak at the Archdiocese of Los Angeles' Congress on Religious Education this weekend but that at the last minute, just a couple of weeks before the event, her participation was cancelled by conference organizers. Luengas spoke to Sr. Edith Prendergrast, director of the Office of Religious Education for the Archdiocese of Los Angeles, who told him, "We spoke with her and decided that her topic, which was very good, might be misinterpreted since she comes from the theological world...She could be caught in a situation where common people couldn't understand someone with strong theological baggage."
National Religious Leaders Affirm Access to Birth Control in Advance of SCOTUS Hearing
Today, 45 nationally recognized religious leaders released a joint statement supporting universal access to contraception, and affirming that equal access to contraceptives through insurance coverage is a moral good. The statement comes one week before the U.S. Supreme Court hears two cases by private companies to deny women birth control coverage in their employee health insurance, as mandated by the Affordable Care Act.
Together, these Christian, Jewish, Unitarian Universalist, and Muslim leaders agreed:
"As religious leaders, we support universal access to contraception. We believe that all persons should be free to make personal decisions about their reproductive lives, their health and the health of their families that are informed by their culture, faith tradition, religious beliefs, conscience, and community. We affirm, in accordance with each of our faith traditions, that ensuring equal access to contraceptives through insurance coverage is a moral good. Including contraceptives as a covered service does not require anyone to use it; excluding contraceptive coverage for those who choose to plan and space their families with modern methods of birth control will effectively translate into coercive childbearing for many."
. . . .
The full text of the statement and its endorsers can be found at www.religiousinstitute.org/faithleaders4bc
Catholic Nuns Back Obamacare Contraception Access
Patricia Miller Mar.14, 2014
The National Coalition of American Nuns has announced their support for women's right to access contraceptives under the Affordable Care Act as the Supreme Court prepares to hear the historic Hobby Lobby and Conestoga Wood cases. While the plaintiffs in these cases are Mennonites and evangelical Christians, opposition to the contraceptive mandate was largely spearheaded by the Catholic bishops. Several key cases of Catholic non-profits, such as the Little Sisters of the Poor, are making their way through the lower courts and may well end up in the Supreme Court themselves.
"NCAN is dismayed that the Little Sisters of the Poor, the University of Notre Dame and other Catholic organizations are challenging the Affordable Care Act. Spurred on by the United States Conference of Catholic Bishops these organizations are attempting to hold hostage all women by refusing insurance to them for contraceptives," said the 2,000-member group in a statement.
. . . .
The nuns are seeking support for their stand through an online petition. The Rev. Debra Haffner of the Religious Institute is helping NCAN coordinate the effort. "When I saw the brave stand these nuns were taking on the mandate, I started to think about what we could do to amplify their voices. So we launched a social media campaign asking people to 'Stand with the Nuns'," she said.
California bishop urges Catholics to sign up for health insurance
Bishop Gerald Barnes of San Bernardino urged Catholics in his diocese to comply with federal law and sign up for health insurance if they have not already done so.
In a March 11 letter, he said he wished to provide "some clarification and some direction regarding the new federal health care law."
"As you may know, the Affordable Care Act requires that all legal residents of the country carry health insurance by April 1. Failure to comply with this law will result in fines that increase progressively each year," he wrote.
. . . .
The bishop said that if Catholics in his diocese have an insurance plan that "includes services that are objectionable to our faith, which most plans in California do, our response is to not utilize these services."
Christians and Muslims join forces to combat modern slavery
The Roman Catholic Church, Church of England and al-Azhar, the Cairo-based seat of Sunni Muslim learning, came together on Monday for a rare display of interfaith action among them in calling for an end to modern slavery within 20 years.
Their joint statement setting up the "Global Freedom Network" they declared that "physical, economic and sexual exploitation of men, women and children" trapped 30 million people worldwide in slavery.
As well as establishing a world day of prayer for victims of slavery, the faiths agreed to "slavery-proof their supply chains and investments and to take remedial action if necessary" and press governments and companies to do the same.
. . . .
Bishop Marcelo Sanchez Sorondo, who signed the document for the Vatican, said Pope Francis had described human trafficking and modern-day slavery, raging from forced sex work to indentured agricultural labor, as a "crime against humanity".
Catholic church had evidence to support John Ellis abuse claim
Australian Associated Press Mar.21, 2014
The Catholic church continued to dispute former altar boy John Ellis was abused even though it had evidence that supported his claim, a senior church official has told an inquiry.
Cardinal George Pell's private secretary Dr Michael Casey told the Royal Commission into Institutional Responses to Child Sexual Abuse he accepted the church should not have continued to dispute Ellis's credibility in the supreme court.

The hearing in its second week is looking at how the church handled the complaint of Ellis, who was abused by a priest at Bass Hill in Sydney between 1974 and 1979.
Earlier evidence showed that the church accepted Ellis was a victim of abuse when he went through the internal process, and the veracity of his allegations was supported by a church-appointed independent assessor.
But when the case went to the NSW supreme court, the fact of the abuse was vigorously disputed.
On Monday, it was revealed that another complainant had come forward about abusive priest Aidan Duggan, and that an independent witness had seen the priest kiss Ellis when he was about 14 years old.
Counsel assisting the commission Gail Furness SC asked Casey if he accepted that that information should have given rise to the dispute being revisited.
"Yes," Casey said.
. . . .
He also told the commission on Thursday that Pell was concerned about how the media would interpret the Ellis case.
Royal commission: Pell instructed lawyers to fight Ellis claim 'tooth and nail'
Catherine Armitage Mar.22, 2014
The Catholic Church's insurer insisted on being "kept in the loop" in the John Ellis case after lawyers expressed concern at Cardinal George Pell's "tooth and nail" approach, according to evidence at the child sex abuse royal commission.
Peter Rush, then general manager of Catholic Church Insurance Ltd, complained to the business manager of the Sydney Archdiocese about being "kept out of the loop" in the case and warned this could jeopardise the church's insurance, the commission heard.
Cardinal Pell will give evidence on Monday. His testimony is eagerly anticipated after two weeks of hearings in which commission chairman Justice Peter McClellan has sought to establish Cardinal Pell's role in the church's treatment of Mr Ellis, which the commission has been told caused him harm and suffering.
The questions put to Cardinal Pell's private secretary of more than 10 years, Dr Michael Casey, may be a guide to what the Cardinal can expect on Monday. The "conduit to the Cardinal", who handles all his correspondence, admitted the church failed in its moral responsibility to Mr Ellis and his own handling of Mr Ellis's case lacked compassion.
Michael Fugee expelled from priesthood for flouting ban on contact with children
Mark Mueller Mar.17, 2014
Acting with uncustomary speed, the Vatican has expelled a New Jersey man from the priesthood for repeatedly defying a lifetime ban on ministry to children.
Michael Fugee, 53, who attended youth retreats and heard confessions from minors despite signing a court-sanctioned decree forbidding such activities, has been returned to the lay state, said Jim Goodness, a spokesman for the Archdiocese of Newark.
"Very recently all the procedures were completed," Goodness said Monday night. "He is no longer a priest of the archdiocese."
The Vatican typically takes a year or longer to expel priests, a process known as laicization. In some cases, the procedure drags on for several years.
Fugee's removal comes just four months after the Bergen County Prosecutor's Office agreed to drop criminal charges against him in exchange for his expulsion. He remains under lifetime supervision by the prosecutor's office.
Abuse Charges Roil Heavily Catholic Puerto Rico
First, the Catholic Church announced it had defrocked six priests accused of sex abuse in the Puerto Rican town of Arecibo. Then, local prosecutors disclosed that at least 11 other priests on the island were under investigation for similar accusations.
Now, as U.S. authorities acknowledge that they, too, are looking into abuse allegations by priests on this devoutly Catholic island, many are reeling from revelations of abuse involving some of the U.S. territory's most beloved clerics.
. . . .
Puerto Rico Justice Secretary Cesar Miranda said last week that at least four dioceses are being investigated. He also warned he might file charges against church officials suspected of withholding information.
He described the situation as "truly scandalous."
Newark archdiocese has new funeral policy for accused priests
The Archdiocese of Newark is rolling out a policy for the funerals of priests who were removed from ministry on sexual abuse accusations that it says caters to both the sensitivities of surviving victims and the clerics' families.
But victims and their advocates say the policy, approved by Newark Archbishop John J. Myers, bends in favor of the offending priests, still providing them a celebratory funeral that all archdiocese clergy are encouraged to attend and in which they are buried in their liturgical robes.
The policy, sent to the archdiocese's 961 Roman Catholic priests this month, requires the funeral Mass to be held away from any churches where an offending priest worked or lived. It also stipulates that obituaries be stripped of photos and the time, date and location of funeral services.
Depending on their restrictions, the priests can be buried in their Mass vestments.
The policy applies only to priests who were removed from active ministry because a church review process concluded they had abused children.
Archdiocese must make priest abuse files public, judge rules
Jean Hopfensperger Mar.19, 2014
The Archdiocese of St. Paul-Minneapolis must reveal hundreds of pages of information on priests accused of sexually abusing children, a judge ruled Tuesday.
Ramsey County District Judge John Van de North rejected church efforts to keep most of the documents under court seal, ordering that all information on priests who were "credibly accused" of abuse between 1970 and 1985 be filed with the court by March 31.
Information on priests whom the church determined were not "credibly" accused will remain sealed, Van de North ruled.
. . . .
The judge's decision follows a similar ruling earlier this month, when he rejected the archdiocese's bid to prevent Archbishop John Nienstedt from providing sworn testimony on child sex abuse practices in the church.
Nienstedt is scheduled to give that deposition on April 2.
Coakley challenges church in bias suit
Attorney General Martha Coakley thrust her office into the middle of a civil suit against the Worcester Diocese, saying the church's refusal to sell property it owns in Oxford to a married gay couple is discrimination not protected by any right to religious freedom.
Coakley's office on Thursday filed an amicus brief in Worcester Superior Court saying the Worcester Diocese violated state law by refusing to sell a former Whitinsville home used for pedophile priests to Alain Beret and James Fairbanks after Bishop Robert McManus learned the couple was gay and planned to turn the home into a function center for a variety of events, including gay weddings.
CBC/Radio-Canada Documentary: Holy Money
CBC/Radio-Canada Mar.19, 2014
WATCH ON CBC NEWS NETWORK March 23 at 8 PM ET
As Pope Francis marks his one-year anniversary, Holy Money investigates the financial scandals that have rocked the Catholic Church and the efforts of the new Pope to clean up its multi-billion-dollar business dealings amid allegations of money laundering, corruption and embezzlement of funds.
Today, the Pope leads a church with more than one billion Catholics but also a business empire of global dimensions. The Catholic Church is the world's richest religious institution with vast real estate holdings and its own Vatican Bank.
Pope Francis has made it his mission to get the Vatican's financial house in order but there are stumbling blocks on the road to his newly announced reforms and the stakes are sky high for everyone involved.
Led by University College London Historian John Dickie, a leading expert in Italian history, the documentary deconstructs the mechanisms by which the Church administers and invests its money. It reveals the inner workings of the Vatican Bank, and tells the story of a priest known as Father 500 Euros, charged in January, 2014 with money laundering millions of Euros through Vatican Bank accounts.
Council of 15 local Orthodox churches to be held in 2016
A council of the heads of all 15 local Orthodox churches will be held in 2016, Patriarch of Moscow and All Russia Kirill said. "We believe that all issues relating to the preparation of documents and the solution of all procedural, administrative and technical issues will have been resolved in the world by 2016," the patriarch told reporters on Sunday in Istanbul, where he took part in a meeting between the heads and representatives of Orthodox churches devoted to the preparations for the Council.
Patriarch Kirill said all decisions at the Council will be made by a consensus (unanimous voting), not a majority of votes.
. . . .
The patriarch earlier said the agenda of the upcoming Council, which has not convened for more than 1,000 years, should contain issues such as the driving of Christians from the Middle East and Northern African regions, the issue of the cult of consumption, which is the primary cause of the economic crisis, the destruction of morals and family, and the issues of cloning and surrogate mothers.
Kachin war of independence is a test of faith
When government forces attacked Mansi township in northern Kachin state on October 22 last year, soldiers fired 60mm mortars at civilian homes for an hour before storming the village. Many of the thatched wooden buildings were burned to the ground.
To escape the shelling, 700 residents holed up in a nearby church where they remained trapped for 22 days. After state security forces finally left Mansi at the end of December, Christian relief groups that re-entered made a gruesome discovery: in a shallow grave lay three charred bodies. All showed signs of torture.
Since war erupted between state forces and the rebel Kachin Independence Army (KIA) in mid-2011, destruction of this predominantly Baptist region of Myanmar has ranked among the most severe of recent times against any Christian group in Asia.
At least 66 churches - 61 Baptist, four Catholic and one Church of God - have been destroyed in less than three years, according to Kachin Baptist Convention (KBC) data collected last year. Many more remain crumbling and may well need to be demolished and rebuilt, said the KBC. As a result of the conflict at least 75,000 people have fled to temporary camps in KIA-controlled areas, leaving entire Christian communities wiped off the map.
. . . .
The future of the Kachin resistance looks anything but bright. At the end of last month, the KBC ordered yet more prayer marathons as the Myanmar military surrounded Laiza, the KIA stronghold. Few expect government forces to take it over - Laiza lies right on the Chinese border and the international outcry would no doubt be loud. Myanmar's government has become increasingly keen to appease the international community since the West ended a strict sanctions regime in response to recent political reforms.
On January 18, the government announced a unilateral ceasefire with the Kachin, the last of more than 30 rebel groups in Myanmar still fighting the military, but clashes have continued. The next round of peace talks are due in the coming weeks and a framework agreement is 80 percent complete, said a KIA commander who declined to give his name because he was not authorized to speak to media.
Related: Trying to turn the tide of religious hatred in Myanmar
Genocide Threat Grows In Central Africa
Muslims are being "cleansed" from the western part of the Central African Republic, and thousands of civilians risk being killed "right before our eyes," the U.N. high commissioner for refugees, António Guterres, told the U.N. Security Council on March 6. U.N. Emergency Coordinator Valerie Amos on March 10 described an "extremely grave" situation after months of interreligious violence that has wrecked state institutions, left millions on the brink of starvation and now threatens to draw in the wider region.
. . . .
The fighting has taken on increasingly sectarian tones as mainly Christian militias known as anti-Balaka ("anti-machete") have taken up arms against Seleka rebels and now against anyone thought to be a Seleka sympathizer.
Ulf Ekman Converts to Roman Catholicism
Jennifer LeClaire Mar.10, 2014
During his Sunday morning service, Ulf Ekman announced the he and his wife, Birgitta, are converting to Roman Catholicism.
Ekman is the founder of Word of Life, a megachurch in Uppsala, Sweden. News reports and blogs coming out of the nation reveal the congregation was "partially stunned" after hearing what was packaged as a "special announcement." The theme was "Follow the Lamb Wherever He Goes."
"For Birgitta and me, this has been a slow process were we have gone from discovering new things, to appreciating what we have discovered, to approach and even learn from our fellow Christians," Ekman says on his ministry website.

"We have seen a great love for Jesus and a sound theology, founded on the Bible and classic dogma. We have experienced the richness of sacramental life. We have seen the logic in having a solid structure for priesthood, that keeps the faith of the church and passes it on from one generation to the next. We have met an ethical and moral strength and consistency that dare to face up to the general opinion, and a kindness towards the poor and the weak. And, last but not least, we have come in contact with representatives for millions of charismatic Catholics and we have seen their living faith."
. . . .
Ekman calls his conversion a "personal journey" and says it was not his agenda to lead Word of Life toward Roman Catholicism or to collectively unite the church with the Catholic Church. "That would be unreasonable," he says.
Catholic League Bill Donohue Calls for Boycott of Guinness
The president of the Catholic League, Bill Donohue, is calling for a boycott of Guinness, Heineken, and Sam Adams beer.
On March 17, Diageo, the parent company of Guinness, and Heineken pulled their sponsorship of New York's St. Patrick's Day parade while the Boston Beer Company, maker of Sam Adams, withdrew its sponsorship of Boston's St. Patrick's Day parade. The beer companies rescinded their sponsorships because parade organizers would not permit Gay groups to carry signs and banners professing their alternative lifestyle.
Donohue said that "The parade is quintessentially Catholic, beginning with a Mass in St. Patrick's Cathedral. It is this Catholic element that angers those who are engaged in a bullying campaign against the St. Patrick's Day parades. The bullies also have nothing but contempt for the constitutional rights of Irish Catholics."
Bill Donohue asks to march in NYC Gay Pride Parade
Jamie Manson Mar.20, 2014
Yes, you read that headline right. Bill Donohue, the very vocal head of the Catholic League, has emailed organizers with a request to march in this year's New York City Gay Pride Parade.
But no, Donohue's inquiry is not a sign that he has had any kind of personal realization. He plans to march with a banner that reads, "Straight is Great."
Catholic teacher contract specifies banned practices
Michael D. Clark
Mar.7, 2014
Teachers in Cincinnati Archdiocese schools could lose their jobs if they violate a new employment contract that clamps down on their personal lives beyond school walls.
The new contract obtained by The Enquirer has doubled in size and is strikingly different from previous Archdiocese teacher employment agreements.
For the first time, it details prohibited practices such as gay "lifestyles," out-of-wedlock relationships, abortions and fertility methods that go against Catholic teachings.
The contract for the 2014-15 school year explicitly orders teachers to refrain "from any conduct or lifestyle which would reflect discredit on or cause scandal to the school or be in contradiction to Catholic doctrine or morals." It goes so far as to ban public support of the practices.
Nun Rocks It On Italy's 'The Voice' Singing Competition And No One Can Believe It: Sister Cristina Scuccia Wows
The judges of singing competition "The Voice of Italy" couldn't believe their ears when they heard Sister Cristina Scuccia belting out Alicia Keys' "No One," but they were in for a greater shock when they saw what Scuccia looked like.
Judges begin the show with their backs to the stage, and if they like what they hear they can swivel their chairs around-- but none of them were prepared for the sight of 25-year-old Scuccia, a member of the Ursuline Sisters of the Holy Family, delivering a jaw-droppingly good performance in her black habit and silver cross. As the crowd cheered, her fellow sisters jumped up and down in delight.
Bishop Caggiano impresses VOTF members during Norwalk visit
Francis X. Fay, Jr. Mar.15, 2014
Bishop Frank Caggiano, the new leader of the Roman Catholic Diocese of Bridgeport, proved as appealing in his first formal meeting with the Voice of the Faithful (VOTF) on Thursday night as his boss, Pope Francis, has proven to international audiences.
The short, spare native of the Bensonhurst section of Brooklyn, N.Y., who came to the priesthood via the unconventional path of Yale College graduate and book salesman before entering the seminary, gave 160 attending the historic meeting in the First Congregational Church on the Green the hope that their dialogue would continue.
Quite a contrast to his predecessor, Bishop William E. Lori, who shunned the organization and even prohibited its use of church property for meetings or the diocesan newspaper for announcements.
"We pray that we will never again be separated from our bishop or he from us," implored VOTF co-founder Joseph O'Callaghan in his introduction.
Catholic program on gays in Santa Rosa draws criticism
A former gay-porn actor who says his Catholic faith saved him from a world of pornography, homosexuality and the occult is scheduled to make a presentation today in Santa Rosa to a religious group called Courage, an apostolate of the Catholic Church that ministers to people with same-sex attractions.
. . . .
The planned presentation has raised concerns among some local Catholics that the Santa Rosa diocese is sanctioning religious tactics that harken back to the days of reparative therapy, aimed at changing people's sexual orientation from homosexual to heterosexual.
Polling the faithful - Pew vs the USCCB
Two days ago, the National Catholic Reporter published an article stating that laypeople in only just over a third of the nearly 200 Catholic dioceses in the United States were given the opportunity to respond directly to the Vatican's survey in preparation for the upcoming synod on the family. It said it "found 78 dioceses with clear, easily accessible information about what the survey was and how Catholics could participate, either through online surveys, direct consultations...or parish input" and that "of those, about a dozen reported the results of their surveys and consultations publicly."
. . . .
It's a pity most of our bishops can't be as open as the Pew Religion and Public Life Project.
Pew surveyed American Catholics last month on the occasion of Pope Francis' one year anniversary and here is what they found. The good news is that Pope Francis' popularity remains high (85% give him a favorable rating, so that honeymoon is definitely not over). The bad news is that, except for being inspired to maybe pray a little harder, Catholics have not changed much due to the new pope. Mass attendance remains the same as a year ago with only 40% attending weekly or more. Participation in the Sacrament of Reconciliation continues to decline with 22% of Catholics reporting that they are confessing less often than when Francis assumed the papacy.
Nor has there been any significant change in the acceptance of Church teachings in key areas:
Birth Control: 77% of Catholics surveyed think that the Church should allow the use of birth control and 56% think the Church will change on this issue by 2050 (up from 53% in 2013)
Married Priests: 72% of those surveyed think the Church should allow priests to get married and 51% think the Church will change on this issue by 2050 (only 39% thought change was possible when Benedict XVI was in office)
Women Priests: 68% of Catholics think that the Church should allow women to become priests but only 42% think the Church will change on this issue (slightly more than a year ago when only 37% thought it possible)
Read more
Botched survey
John Chuchman
The survey results are a disaster!
Not enough of the regular Pewsitters
submitted the pre-printed responses we gave them.
Czech priest, philosopher Tomas Halik wins 2014 Templeton Prize
Chris Herlinger Mar.13, 2014
Tomas Halik, a Roman Catholic priest and philosopher, onetime Czech political activist and an advocate for religious freedom and interfaith dialogue, won the 2014 Templeton Prize on Thursday (March 13), for religious and spiritual progress.
Halik, 65, a convert to Catholicism whose influences include religious figures such as Mother Teresa and author Graham Greene, has in recent years been increasingly active in building bridges between people of different faiths and between those who claim a religious tradition and those who do not.
Saying he dislikes dogmatic figures on either end of the religious spectrum, Halik said his work is aimed at "seekers," the segment of those asking questions about religious and spiritual issues but unaffiliated with religion or atheism.
US Catholics free to eat alligator this Lent
This Lent US Catholics are free to eat alligator after the support given last year by US bishops' conference to the Archbishop of New Orleans, who said that it was permissible.
. . . .
In accordance with this statement, Catholic can, if they wish, also consume turtles, snakes, lizards, and tortoises on Lenten Fridays. Alligator is a delicacy of Louisiana where it is often served deep-fried, in sandwiches, and even in cheesecake.
Read more
ANALYSIS: Fred Phelps' hateful legacy may be the opposite of all he intended
Cathy Lynn Grossman Mar.20, 2014
Fred Phelps, the 84-year-old founder of Westboro Baptist Church and media-master of hate speech campaigns, died near midnight Wednesday (March 19) after devoting decades to damning Americans for tolerating homosexuality.
. . . .
But by the time of his death, Phelps had lived long enough to see American public opinion soar in exactly the opposite direction - in favor of gay rights, including marriage.
The message he spread across the country never took root, and in fact helped galvanize the gay rights movement and put other Christians on the defensive. The image of Christianity he painted was a hateful, judgmental collection of rabble-rousers - an image that, paradoxically, did more to help his targets than it advanced his message.
Kaye Ashe's spirit lives in those she inspired
Mary E. Hunt &
Cathy Jaskey
Mar.15, 2014
Dominican Sr. Kaye Ashe was part of a generation of smart, committed, gutsy women who opened the world's eyes to Catholic women's potential and barriers to its fulfillment. She died Feb. 15 at the age of 84.
Rooted in her faith and religious community, Ashe pushed for women's social equality and full participation in the Roman Catholic church. Like so many of her cohorts, she was deeply accomplished. She earned a doctorate, published several books (Today's Woman, Tomorrow's Church in 1983 and The Feminization of the Church? in 1997), taught widely, administered effectively, and served as prioress of her religious congregation, the Sinsinawa Dominicans.
Defiant Chinese bishop dies at 97 while under house arrest
Megha Rajagopalan Mar.17, 2014
A Shanghai bishop who was imprisoned for decades by Chinese authorities died Sunday evening at his home, a Catholic group said in a statement.
Bishop Fan Zhongliang, 97, was ordained by Pope John Paul II but not recognized by Chinese authorities.
China is home to between 8 and 12 million Catholics, divided between the state-backed Chinese Catholic Patriotic Association, which appoints its own bishops, and an "underground" church that is loyal to the Vatican.
Fan spent more than 30 years in prisons and labor camps over the course of his life, starting in 1955, according to the U.S.-based Cardinal Kung Foundation, which reports on the treatment of Catholics in China. He was under house arrest when he died.
New Translation of the Roman Missal
Pro-reform group critique 'clumsy' and 'archaic' language of new Missal
The Leeds branch of A Call to Action, a Catholic pro-reform group, has released a statement about the new translation of the Missal. In it they criticise the translation for its "archaic language" and "clumsy phraseology", and warn that some of the language could make young people and women feel excluded from the liturgy.
They call for a return to one of the two exisiting, complete English translations of the Missale Romanum - one of which was rejected by the Vatican in 2001, and the other of which "suffered wholesale revisions at the hands of the Roman Congregation" without proper consultation.
Read the commentary in full
ARCC can earn a penny every time you search the Internet. GoodSearch.com donates half its revenue, about a penny per search, to the charities its users designate. You use it just as you would any search engine. Go to www.goodsearch.com and enter ARCC as the charity you want to support. Just 50 of us searching four times a day will raise about $730 in a year without anyone spending a dime.
Upcoming Events
Turning Talk into Action
VOTF 2014 Assembly
Workshop Facilitator Fr. Tom Doyle
Supporting Survivors: What You Can Do
April 5, 2014, Connecticut Convention Center,
Hartford, CT
Register by Mar. 28 to receive a free box lunch.
_______
Pope Francis, Reform and You:
The Future of the Church
Can we help Pope Francis reform the church?
Bring about a new birth in the life of our parishes?
Diana Hayes, PhD, STD, prominent theologian & teacher
Chestnut Hill College, Sugarloaf Campus
(corner of Bells Mills Rd and Germantown Ave, Philadelphia)
Monday, April 7 at 7:00 PM. Donation: $10
Association for the Rights of Catholics in the Church
Membership options:
Life $500 ARCC-Angel $100 Regular $50
Senior $25 Student $15
SHOP or SEARCH and SUPPORT ARCC