Share on your favorite social networking site by clicking its icon.
Click
here
for a link to this newsletter to send to friends.
ARCC invites our Newsletter friends who are not already members to consider joining and supporting ARCC.
All loving and ever-living God,
we do well always and everywhere
through Jesus Christ our Lord.
When he humbled himself to come among us,
he fulfilled the plan
you formed long ago
and opened for us the way to salvation.
Now we watch for the day,
hoping that the salvation promised us will be ours
when Christ will come again in his glory.
And so, with all the choirs of angels in heaven
we proclaim your glory
and join in their unending
hymn of praise:
Holy, holy, holy Lord,
God of power and might,
heaven and earth arefull of your glory.
Hosanna in the highest.
Blessed is he who comes in the name of the Lord
Hosanna in the highest.
Some things we have been reading
Pope Francis visits Turkey
Pope Francis in Turkey to boost faith ties
Pope Francis is in Turkey on a three-day trip aimed at promoting religious dialogue, only the fourth visit by a pope to the Muslim-majority nation.
In a speech in Ankara he said such a dialogue could "deepen the understanding and appreciation of the many things which we hold in common".
He also spoke about the Middle East, saying that "for too long [it has] been a theatre of fratricidal wars".
The Pope was speaking alongside Turkish President Recep Tayyip Erdogan. The Pope's visit comes as Islamic State insurgents have captured swathes of neighbouring Iraq and Syria.
Turkey is now home to at least 1.6 million people from Syria, most of them living close to the border.
The Pope said: "Turkey, which has generously welcomed a great number of refugees, is directly affected by this tragic situation on its borders; the international community has the moral obligation to assist Turkey in taking care of these refugees."
Pope prays in Istanbul mosque, rallies local Christians
Francis X. Rocca Nov.29, 2014
A day after hearing Turkish leaders demand the West show more respect for Islam, Pope Francis prayed alongside a Muslim cleric inside Istanbul's most famous mosque.
At the Blue Mosque, Istanbul's grand mufti Rahmi Yaran led Pope Francis to the mosque's "mihrab," a niche indicating the direction to the holy city Mecca. He explained that the name is related to that of Jesus's mother, Mary, who is revered by Muslims.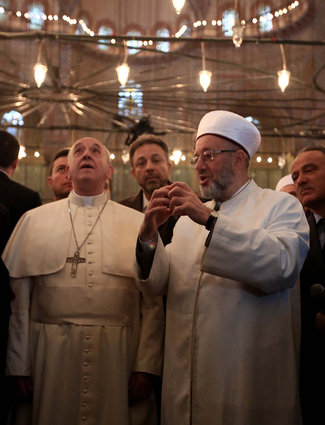 URL
Pope backs anti-ISIS strikes, faces pressure on 'Islamophobia'
John L. Allen Jr. Nov.28, 2014
Pope Francis on Friday offered measured support for military action against the Islamic State in Iraq and Syria, marking a return to what had been his stance after he appeared to back away from it earlier this week.
On the first day of a three-day swing in Turkey, the pontiff also faced strong pressure from his hosts on a new front in tensions over religious freedom: What Turkish leaders described as the worrying rise of "Islamophobic paranoia" in the West.
In Turkey, Pope Francis Advocates Dialogue in Battling 'Fanaticism'
In his first visit as pope to a predominantly Muslim country, Pope Francis said in Turkey on Friday that interreligious dialogue, more than just military action, was required to combat the "fanaticism and fundamentalism" that threaten Christians and other religious minorities along the country's southern border.
"Fanaticism and fundamentalism, as well as irrational fears, which foster misunderstanding and discrimination, need to be countered by the solidarity of all believers," the pope said in televised remarks at President Recep Tayyip Erdogan's official residence in Ankara.
Pope Francis Bows, Asks For Blessing From Ecumenical Patriarch Bartholomew In Extraordinary Display Of Christian Unity
Nicole Winfield & Suzan Fraser Nov.30, 2014
Pope Francis and the spiritual leader of the world's Orthodox Christians demanded an end to the persecution of religious minorities in Syria and Iraq on Sunday and called for dialogue with Muslims, capping Francis' three-day visit to Turkey with a strong show of Christian unity.
Francis and Ecumenical Patriarch Bartholomew I issued a joint declaration urging leaders in the region to intensify help to victims of the Islamic State group, and especially to allow Christians who have had a presence in the region for 2,000 years to remain on their native lands.
"The terrible situation of Christians and all those who are suffering in the Middle East calls not only for our constant prayer but also for an appropriate response on the part of the international community," they wrote.
. . . .
Francis kicked off his final day in Turkey with a liturgy alongside Bartholomew in the Orthodox Church of St. George, where incense mingled with hypnotic chants on an important feast day for the Orthodox Church.
The Catholic and Orthodox churches split in 1054 over differences on the primacy of the papacy, and there was a time when patriarchs had to kiss popes' feet. At the end of a joint prayer service Saturday evening, Francis bowed to Bartholomew and asked for his blessing "for me and the Church of Rome," a remarkable display of papal deference to an Orthodox patriarch that underscored Francis' hope to end the schism.
In his remarks Sunday, Francis assured the Orthodox faithful gathered in St. George's that unity wouldn't mean sacrificing their rich liturgical or cultural patrimony or "signify the submission of one to the other, or assimilation."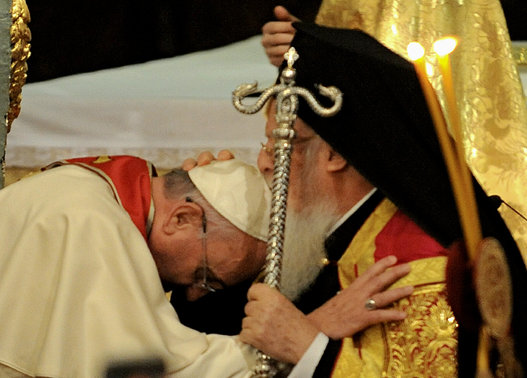 URL
Americans say Pope/Patriarch meeting will boost US dialogue
Inés San Martín Nov.30, 2014
Two Orthodox leaders in America say the meeting between Pope Francis and Patriarch Bartholomew of Constantinople in Turkey this weekend will have important repercussions in the United States.
The get-together with Bartholomew, the "first among equals" of Orthodox leaders, was the official motive for the pontiff's Nov. 28-20 trip to Turkey.
The Rev. Dr. John Chryssavgis, theological advisor of the Greek Orthodox Archdiocese of America, said the meeting has already had one concrete American result: It's prompted American bishops from both churches to revive their own annual meetings.
Pope, patriarch demand end to IS attacks
Nicole Winfield & Suzan Fraser Nov.30, 2014
Pope Francis and the spiritual leader of the world's Orthodox Christians demanded an end to the persecution of religious minorities in Syria and Iraq on Sunday and called for a "constructive dialogue" with Muslims, capping the pontiff's three-day visit to Turkey with a strong show of Christian unity in the face of suffering and violence.
Francis and Ecumenical Patriarch Bartholomew I issued a joint declaration urging leaders in the region to intensify assistance to victims of the Islamic State group, and especially to allow Christians who have had a presence in the region for 2,000 years to remain on their native lands
Patriarch Bartholomew: Christian martyrdom makes unity urgent
Vatican Radio Nov.30, 2014
Calling Pope Francis his "beloved brother in Christ," the head of the Orthodox Church, Ecumenical Patriarch Bartholomew I on Sunday recalled their gathering last May at the Church of the Holy Sepulcher in Jerusalem on the fiftieth anniversary of the historic ecumenical meeting of their predecessors, Pope Paul VI and Patriarch Athenagoras.
Welcoming the Pope after a celebration of the Divine Liturgy at the Patriarchal Church of St. George in Istanbul, Patriarch Bartholomew said "the path toward unity is more urgent than ever for those who invoke the name of the great Peacemaker."
. . . .
He noted that the Orthodox Church is preparing for its Great Council planned for 2016 and asked Pope Francis to pray for its success. The Patriarch expressed satisfaction that members of both Churches are present as observers in each other's synodal life and said he hoped that once full communion is restored, "the significant and special day" of holding a joint Great Ecumenical Council will "not be prolonged."
In concluding, the Patriarch said "the challenges presented to our Churches by today's historical circumstances oblige us to transcend our introversion in order to meet them with the greatest degree of collaboration. We no longer have the luxury of isolated action. The modern persecutors of Christians do not ask which Church their victims belong to. The unity that concerns us is regrettably already occurring in certain regions of the world through the blood of martyrdom."
Pope Francis visits Armenian Patriarch in Istanbul hospital
Vatican Radio Nov.30, 2014
Before leaving for the airport to board his flight back to Rome at the end of his visit to Turkey, Pope Francis paid a visit to the Armenian Patriarch of Constaninople, Mesrob Mutafian, who is seriously ill at the San Salvatore Armenian hospital in Istanbul.
The Pope speaks to the press on the return flight to Rome
Pope Francis spoke with the journalists accompanying him on the return flight from Istanbul to Rome. The questions touched mostly on the themes of relations between Islam and Christianity, and ecumenism.
The Holy Father affirmed that the Qu'ran is a book of peace and that Islam cannot be equated with terrorism; however, he remarked, it is necessary for Muslim political, religious and academic leaders to condemn terrorist attacks so that the people may hear this directly from such figures. He also revealed that in the Blue Mosque, he prayed above all for peace.
Referring later on to so-called "Christianophobia" or anti-Christian sentiment, as opposed to "Islamophobia", he underlined that today there are many Christian martyrs among the populations of the Middle East, and he mentioned those compelled to leave their homes. This martyrdom has been the fate of faithful of different Christian confessions and has given rise to an "ecumenism of blood".
. . . .
The Pope observed that it seems to him we are experiencing a third world war, fragmented and dispersed in various places, and expressed his wish to go to Iraq, although he remarked that at the moment it would not be possible since it would create important problems for the authorities and difficulties regarding security.
. . . .
He also expressed his wish to go to Moscow in order to meet with the Patriarch Kiril, but not at the moment due to the pressing problems in Ukraine.
Again in relation to ecumenism, he stressed that when the Church looks inwardly to herself rather than at Christ, when she believes herself to be a creator of light rather than a bringer of light, she creates divisions. Finally, he remarked on the desire of Christians to be able to celebrate Easter on the same date.
World Faith Leaders Signed Declaration to Eradicate Modern Slavery
Global Freedom Network
Dec.2, 2014
Today, on the International Day for the Abolition of Slavery, the Global Freedom Network (GFN) has brought together leaders of the Christian Catholic, Anglican and Orthodox, as well as Buddhist, Hindu, Jewish and Muslim faiths who have jointly declared one common humanitarian endeavour: To eradicate modern slavery by 2020 throughout our world and for all time as a crime against humanity.
In a ceremonial act, a Joint Declaration of Religious Leaders against Modern Slavery was signed by:
Catholic: Pope Francis
Hindu: Her Holiness Mata Amritanandamayi (Amma)
Buddhist: Zen Master Thich Nhat Hanh (Thay) (represented by Venerable Bhikkhuni Thich Nu Chan Khong)
Buddhist: The Most Ven. Datuk K Sri Dhammaratana, Chief High Priest of Malaysia
Jewish: Rabbi Dr. Abraham Skorka
Jewish: Rabbi Dr. David Rosen
Orthodox: His All-Holiness Ecumenical Patriarch Bartholomew (represented by His Eminence Metropolitan Emmanuel of France)
Muslim: Mohamed Ahmed El-Tayeb, Grand Imam of Al-Azhar (represented by Dr. Abbas Abdalla Abbas Soliman, Undersecretary of State of Al Azhar Alsharif)
Muslim: Grand Ayatollah Mohammad Taqi al-Modarresi
Muslim: Grand Ayatollah Sheikh Basheer Hussain al Najafi (represented by Sheikh Naziyah Razzaq Jaafar, Special advisor of Grand Ayatollah)
Muslim: Sheikh Omar Abboud
Anglican: Most Revd and Right Hon Justin Welby, Archbishop of Canterbury
A number of faith leaders spoke at the event and video messages were given by His All-Holiness Ecumenical Patriarch Bartholomew and by Grand Ayatollah Sheikh Basheer Hussain al Najafi who could not attend the ceremony but are equally committed to eradicating modern slavery and human trafficking.
For Turkey's remaining Assyrian Christians, a dream of better days
Philippe Alfroy Nov.27, 2014
In a small village in the southeast of Turkey stand two Assyrian churches, one a thousand years old, the other modern, signs of both the region's Christian past and the determination of those who remain to bring it to life again.
. . . .
The Christian Assyrian community in Turkey, which now numbers no more than a few thousand, has been hit by wave after wave of emigration since the foundation of the modern Turkish state in 1923 out of the ruins of the multi-ethnic Ottoman Empire.
But hope has not been lost that there will be a presence in the future, with some expecting a small boost from the first visit of Pope Francis to Turkey.
. . . .
The exodus of Christians from Turkey began with the notorious population exchanges with Greece in 1923 under which they - like most of Greece's Muslims - were sent across the border to make the two new states viable.
The trend accelerated again with the civil unrest of the 1950s and the Turkish invasion of Greek Orthodox-majority Cyprus in 1974.
In recent years, the Kurdish conflict and the economic crises of the 1990s prompted many of those who had defied hardship to remain, to pack their bags.
Now no more than 80,000 members of various Christian communities - including Armenians, Assyrians, Catholics, Chaldeans and Greek Orthodox - are estimated to live in Turkey, a country of some 75 million Muslims.
. . . .
The ruling Islamic-rooted Justice and Development Party (AKP) co-founded by President Recep Tayyip Erdogan makes much of being a defender of all religions.
But Christian communities still have no legal status as official minorities. Like the Armenians, they also want official recognition of the scale of the slaughter their community was subjected to at the hands of the Ottoman security forces from 1915.
Pakistani Christian woman miscarries following public beating
Christian activists in Pakistan on Thursday called for the immediate arrest of two Muslim brothers involved in stripping a pregnant Christian woman naked and beating her.
The attack took place in Christian Colony, Rana Town, in Sheikhupura district of Punjab province on November 16.
Elishba Bibi, 28, who was three-months pregnant, suffered a miscarriage after the beating by two brothers, Muneeb and Mobeel Gondal, who allegedly attacked her because she had argued with their mother and sister.
Bibi told police she was beaten with a pipe, stripped and dragged into the street before falling unconscious. She was rescued after Christian neighbors called police.
. . . .
The attack on Bibi comes just a few weeks after a Christian couple was brutally beaten and burned to death by a 1,500-strong mob at a brick-making kiln after being accused of burning pages of the Qur'an.
Pope Francis complains of 'haggard' Europe in Strasbourg
Pope Francis has warned that the world sees Europe as "somewhat elderly and haggard" during a speech to the European Parliament in Strasbourg.
The Pope said the continent felt "less and less a protagonist", in a world that regarded it with mistrust.
He also called for a "united response" to the help the boatloads of migrants arriving in Europe.
Pope Francis's whistle-stop visit to Strasbourg disgruntled some, who accused him of neglecting Europe.
. . . .
At the European Parliament, he spoke of a need to reinvigorate Europe, describing the continent as a "grandmother, no longer fertile and vibrant" and saying it risked "slowly losing its own soul".
What is Francis' problem with grandmothers?
Tina beattie Nov.27, 2014
My friend's grandfather is a bad-tempered old man, suspicious of foreigners, not averse to beating up the neighbours, and mean-spirited when it comes to charitable giving (though he has a fortune stashed away in his bank account). He spends more time with his electronic gadgets and calculating the interest on his investments than he does with his family. He's a typical grandfather, and he reminds me of Europe.
Sexist, ageist nonsense? Of course. But what about Pope Francis's suggestion in his speech to the European Parliament that Europe is "elderly and haggard", so that "we encounter a general impression of weariness and aging, of a Europe which is now a 'grandmother', no longer fertile and vibrant". Sexist, ageist nonsense, or am I just a haggard old woman who has lost her sense of humour?
. . . .
Francis has a long way to go before he persuades me that he has a fundamental respect for the human dignity of women. In his first interview with a woman since becoming Pope, he was adept at dodging questions to do with misogyny and raising the status of women in the Church. When asked by Franca Giansoldati, a journalist with the Rome daily Il Messaggero, if he thought there was an underlying misogyny in the Church, he replied: "The fact is that woman was taken from a rib". Ms Giansoldati reports that he laughed 'heartily' before saying, "I'm joking. That was a joke."
People who are the butt of racist and sexist jokes are often criticised for not having a sense of humour, but these casual and careless "jokes" corrode human dignity. Asked if he thought a woman might head a Vatican department, he went on to say "Priests often end up under the sway of their housekeepers." That's another tedious tactic. Implying that women exercise subtle, subversive control over men is a way of deflecting questions about equality and power.
However, Francis' greatest failure to date as far as women are concerned is the Synod on the Family. This was his golden opportunity to bring about a more inclusive and representative ethos in the Church, yet apart from one religious sister, the only women present were wives and mothers, in the context of married couples who had been carefully selected because they represented a narrow stereotype of the Catholic family. While Pope Francis encouraged the bishops to speak freely and openly, women are still only permitted to speak according to the most rigidly controlled agenda, with no decision-making power or institutional authority.
So what about the next Synod? It is not too late. Why not invite a woman to accompany every bishop, encourage those women to speak with parrhesia - with courage and confidence - about many different struggles and insights, and allow those women full voting rights along with the prelates?
In the meantime, dear Pope Francis, please cut the jokes. They are not funny.
Judging and firing bishops and due process in the church
Thomas Reese Nov.28, 2014
When people do not like their bishop, they often call for the pope to fire him and appoint another. Such requests have come from the right and the left in the church. The right has asked for the removal of bishops it considers unorthodox while the left has wanted to remove bishops who lack pastoral qualities. In recent years, many have demanded the removal of bishops who have not responded adequately to the sexual abuse crisis.
. . . .
Today, because the pope appoints bishops, we tend to think that he can fire them. Prior to the 19th century, however, the pope appointed few bishops. Most were either elected by their clergy or appointed by kings. Pope Leo I (440-461) said that to be a legitimate bishop, a man had to be elected by the priests, accepted by his people, and consecrated by the bishops of his province. The pope's role was minimal or nonexistent.
Earlier this month, the Vatican announced new provisions for the removal of bishops and holders of papal offices. The "rescript" begins with a quote from the Second Vatican Council's Decree on the Pastoral Office of Bishops (Christus Dominus, No. 21):
Since the pastoral office of bishops is so important and weighty, diocesan bishops and others regarded in law as their equals, who have become less capable of fulfilling their duties properly because of the increasing burden of age or some other serious reason, are earnestly requested to offer their resignation from office either at their own initiative or upon the invitation of the competent authority.
The rescript goes on to reaffirm Pope Paul VI's 1966 motu proprio, whereby bishops are "invited" to submit their resignations at age 75. Although some canon lawyers argue that bishops are not required to resign at 75, this invitation has for all practical purposes become impossible to decline. It's an offer you can't refuse.
Article 5 of the rescript is new: "In some particular circumstances, the competent authority can consider it necessary to ask a bishop to present his resignation from pastoral office, after having made known the reasons for the request and listening carefully to the reasons, in fraternal dialogue."
. . . .
In reality, bishops are not fired, but talked into resigning.
. . . .
In the few instances where bishops publicly resisted, it is not clear whether they eventually resigned or were dismissed. The process is not transparent, and the participants' language is often ambiguous.
. . . .
In reviewing these cases, certain patterns can be observed.
Bishops involved in personal scandals tend to resign quickly and fade away.
Bishops in conflict with their priests and people tend to stay in office until retirement age.
Bishops accused of violating church discipline or doctrine, like Morris, can mend fences by revising their statements or policies, but if they refuse, they will be subjected to heavy pressure to resign.
Bishops who lose the support of their brother bishops -- for example, Law, Morris, Livieres, and Tebartz-van Elst -- are in trouble. One observer noticed that during the breaks at this month's USCCB meeting in Baltimore, Bishop Robert Finn of Kansas City, Mo., was standing alone while other bishops were in clusters talking. Finn was convicted of not reporting to the police a priest who had child pornography on his computer.
As part of the process, the Vatican will often send a foreign cardinal or archbishop to investigate the situation: Archbishop Charles Chaput for Morris; Cardinal Santos Abril y Castelló for Livieres; Cardinal Giovanni Lajolo for Tebartz-van Elst; Archbishop Terrence Prendergast for Bishop Robert Finn.
The process is not transparent. The investigator makes a confidential report to Rome, which is not shared with the bishop or his diocese.
The Vatican does everything possible to avoid using terms like "fire" or "dismiss" but talks of "resignations." It is not clear what would happen if a bishop simply said, "No. I am not leaving." Would he be excommunicated or declared schismatic? Would the church end up fighting over the control of church property in civil court?
. . . .
There is a need for greater clarity on questions of due process in the church, whether it applies to bishops, theologians, sisters, priests, or laity who are under investigation and charged with offenses. The Canon Law Society of America called for better due process procedures prior to the reform of the Code of Canon Law in 1983, but its recommendations were ignored. It is time to take another look at due process in the church.
An open letter to Cardinal O'Malley
Erin Saiz Hanna & Kate McElwee Nov.20, 2014
Dear Cardinal Sean O'Malley:
In what has already become an infamous "60 Minutes" interview, you stated to Norah O'Donnell: "If I were founding a church, I'd love to have women priests. But Christ founded it, and what he has given us is something different."
As women born well after Vatican II, we are constantly asked: "Why would any young, educated woman choose to stay in a Church that purposefully denies her equality?" We stay because we believe that Jesus did give us "something different." Jesus gave us the Gospel message of equality and social justice, where all people are made in God's image and welcomed at the table.
Unfortunately, the Catholic hierarchy has given the Church only misguided, theologically dubious doctrines that have been refuted time and time again. You may not have founded our faith, but in today's Church you do have a voice, authority, and a vote, which is something denied to women.
. . . .
Cardinal Sean, please stop making Jesus your partner in gender discrimination. As Catholics, we believe "every type of discrimination ... based on sex ... is to be overcome and eradicated as contrary to God's intent" (Vatican II, Gaudium et Spes, #29). By perpetuating a system that excludes women from sacramental ministry, and denies women their baptismal equality, the Catholic Church implicitly gives permission to the rest of the world to oppress and dominate women.
. . . .
We implore you to stop endorsing the tragic message that the Roman Catholic Church, the world's largest organized faith community, chooses to oppress women because it's what Jesus wanted. Furthermore, we would welcome a personal meeting with you in order to have a conversation about women's ordination, and the true poverty of a Church that excludes the theology, leadership, and vocations of half its members.
Pope Francis And The Koch Brothers: An Unholy Alliance?
It seems we've been getting this Pope Francis guy all wrong. A pope who rejects an "economy of exclusion" and gives heartburn to disciples of Reagan by challenging the Gospel of Trickle Down would really just prefer to raise a bubbly champagne toast to those beneficent Koch brothers. In a recent Washington Post essay that doubles as a love letter to the billionaire industrialists, two wealthy Catholic philanthropists find the pope a helpful prop for pushing hackneyed arguments about poverty, markets and the role of government.
. . . .
The column gives a nod to the Catholic Church's teachings about a "preferential option for the poor" before unleashing the usual litany of rightwing talking points about the crippling effect of welfare and Washington's "insatiable growth." All that wasted money, the authors lament, could be better used by "philanthropists like us" who could "give to local charities" and to businesses that would "create the jobs the poor desperately need."
. . . .
If these wealthy donors take inspiration from Pope Francis, they are conveniently quiet about Catholic social teaching that extends beyond charitable giving. There is no mention of the church's centuries-old support for living wages, what Pope John Paul II called the "indispensable" role of unions or Catholicism's clear challenge to address the "social sins" embedded in unjust economic structures. "Charity is no substitute for justice withheld," that raging liberal St. Augustine once said. Pope Benedict XVI may have been viewed as a hardliner, but he also wrote that "justice is the primary way of charity" and warned about the "scandal of glaring inequalities."
Few progressives know it, but the U.S. Conference of Catholic Bishops is one of the nation's largest funders of community organizing, which empowers grassroots activists to challenge institutional injustices that often lead the poor to seek charity.
. . . .
While the Kochs fight for sweeping deregulation of industries that make them very wealthy, Catholic teaching articulated by popes and bishops over the years assert the need for prudent oversight of markets so that human dignity is not sacrificed by a profit-driven utilitarianism.
. . . .
Pope Francis, explained German Cardinal Walter Kasper during a recent speech in Washington, is not a liberal or a conservative. He's a radical in the tradition of that itinerant preacher from Nazareth we meet in the Gospel who announced "good news" to the poor in the shadow of the Roman Empire. The marginalized today surely need charity and kindness from the rich, but they will taste justice only when we abandon our comfortable illusions.
Pope Francis is remodeling the Vatican bathrooms - and he has a really great reason
Esther Meroño Dec.2, 2014
When a homeless man on the steps of St. Peter's Basilica turned down a lunch indoors because of his smell - the Pope took action. He's installing showers in the Vatican public restrooms complete with soap, towels, and clean undies for those in need.
Meanwhile, across the pond from Rome ... a 90-year-old man keeps up his tradition of feeding the homeless in a Florida town, and gets a citation - twice.
Read more
Trinidad Archbishop Opens Gay-Inclusive Shelter, Calls for Families to Welcome LGBT Children
Archbishop Joseph Harris helped open the Credo Center, a new shelter for at-risk children administered by the Holy Faith Sisters. The Center will welcome lesbian and gay youth, echoed in an opening statement:
'Our doors are open to any boy or girl we feel are equipped to help, irrespective of race, religion, sexual orientation, physical ability or socio-economic status.'
Archdiocese bans gay rights speaker from Detroit parish
Patricia Montemurri Nov.21, 2014
The Archdiocese of Detroit has banned a support group for Catholic families with gay members from using a Detroit parish for a Saturday meeting because the scheduled speaker represents a pro-gay rights ministry censured by the Vatican.
"I feel bad for the message that it sends to Catholics that there can't be discussion of an issue of great importance to them and their families - how to stay in better communication with their church and their gay and lesbian children," said Francis DeBernardo, executive director of Maryland-based New Ways Ministry, an advocacy group for Catholics who are lesbian, gay, bisexual and transgender (LGBT), but which is not sanctioned by the Catholic church.
Archbishop Allen Vigneron has quashed DeBernardo's scheduled appearance Saturday at Christ the King parish in northwest Detroit to the Fortunate Families support group. Instead, Fortunate Families organizers have moved the meeting to a Farmington Hills condo clubhouse.
. . . .
In 1999, the Vatican censured New Ways Ministry's cofounders, a Catholic priest and nun, contending their outreach to gay Catholics did not do enough to promote Catholic teaching that gay sexual relationships are "intrinsically disordered" and sinful.
Priest exiled for supporting female clergy accuses Vatican of heresy
Father Roy Bourgeois has spent the better part of his 76 years like a polemical Don Quixote, tilting against the powerful windmills of his time: the US military, Latin American dictatorships, the State Department, federal courts - and now the Vatican.
Bourgeois is the founder of School of the Americas Watch (SOAW), whose annual demonstration began Friday outside Fort Benning, in Columbus, Ga. and runs through the weekend.
. . . .
Bourgeois, who lives just off the base in the town of Columbus, has spent several stretches in prison for his protests over the years. In a weird swing of life's pendulum, the church that gave him harbor through decades of civil disobedience has now turned against him.
"I never liked bullies - in high school, Latin America or the Catholic Church," says Bourgeois. "They cause suffering to others. If I left the church I'd be allowing these bullies to do what they do."
The Vatican excommunicated Bourgeois two years ago for his public support of women priests, the issue that raced his blood on a recent sun-dappled morning at the rectory of a friend in New Orleans.
"This is heresy at its worst - that a woman cannot become a priest, that God cannot possibly choose one," Bourgeois told me.
. . . .
"Think about it: this all-powerful God, the creator who gave us the cosmos, this all powerful and loving God behind the sun and the stars and the bayous that I was weaned on, this God who rose from the dead" - he paused for a beat - "cannot empower women as priests."
Bourgeois was excommunicated in 2012 by the Vatican's Congregation for the Doctrine of the Faith, and dismissed by the Maryknoll Fathers and Brothers after 45 years, for participating in the 2008 ordination of Roman Catholic womanpriest Janice Sevre-Dusyznska because of her gender.
. . . .
For a man with a sunny personality, a darker, mordant wit salts his comments, as he zeroes in on the Vatican prohibition of women priests.
"This stupidity is from little men with little brains, little heart and little faith," he says in the sweetened cadences of his south Louisiana upbringing, contrasting with the rock hard message.
"They see women as less than they are," says Bourgeois. "This is sexism. This is heresy, heresy."
. . . .
"I think the reason John Paul said we can't talk about it is because if we really discuss this issue, it doesn't stand up to scrutiny," says Bourgeois.
"Scripture doesn't prohibit it. He just said it can't be done." A pause. "Thanks for sharing."
But papal fiat has long reach, as Francis indicated in his 2013 airplane press conference from Brazil to Rome, saying that the issue of women priests had been decided.
. . . .
Father Louis Arceneaux, a Vincentian priest who hosted Bourgeois in his New Orleans rectory, said that he admired him "for standing up to the convictions of his well-formed conscience. Roy has become a dear friend and I will continue to support him and help him in any way I can, whether we agree on specific actions he or I take. He is a fellow south Louisianan so we have a kinship on many levels. I was happy to be with him when he buried his dear father in Lutcher, La. I wish more people would be as courageous as he is. I wish I were more courageous."
Laura Ieraci Nov.21, 2014
The Vatican has lifted its ban on the ordination of married men to the priesthood in Eastern Catholic churches outside their traditional territories, including in the United States, Canada and Australia.
Pope Francis approved lifting the ban, also doing away with the provision that, in exceptional cases, Eastern Catholic bishops in the diaspora could receive Vatican approval to ordain married men. In recent years, however, some Eastern Catholic bishops went ahead with such ordinations discreetly without Vatican approval.
Cardinal Leonardo Sandri, prefect of the Congregation for the Eastern Churches, signed the decree June 14. It was published later online in the Acta Apostolicae Sedis, the official periodical through which Vatican laws and decisions are published.
The new law says the pope concedes to Eastern Catholic bishops outside their traditional territory the faculties to "allow pastoral service of Eastern married clergy" and "to ordain Eastern married candidates" in their eparchies or dioceses, although they must inform the local Latin-rite bishop in writing "in order to have his opinion and any relevant information."
"We are overjoyed with the lifting of the ban," Melkite Bishop Nicholas Samra of Newton, Mass., told Catholic News Service.
Censured priest, Carter support CTA
About 1,000 progressive Catholics gathered here [Memphis, TN] to discuss Catholic church reform at Call to Action's 2014 national conference, and a popular speaker was Irish Redemptorist Fr. Tony Flannery.
Flannery drew such a large crowd for his Nov. 8 morning presentation that it had to be moved to a bigger space. CTA's conference, which ran Nov. 7-9, was the 11th spot on Flannery's 18-stop U.S. tour, sponsored by 12 Catholic reform movements.
In 2012, the Vatican's Congregation for the Doctrine of the Faith ordered Flannery to publish a statement saying he accepted both that there will never be women priests in the church, and that he accepted all Catholic moral teachings, including those against contraception and homosexuality. Flannery refused, and was forbidden to practice as a priest.
. . . .
Former President Jimmy Carter gave a video welcome to Call to Action members during the opening program Nov. 7.
Carter said that attendees faced "a church that models our society in marginalizing many of its women, its people of color and, in fact, all those who question any interpretation by male leaders of Jesus' mission."
"I urge you to give witness to the possibilities that society will change. You are agents of that change. And I stand with you in the valued struggle to move our faith, our country and our planet forward," Carter said.
New Position with Knights of Malta
Cardinal Raymond Burke has said he will be traveling to meet with Knights and Dames of Malta all over the world, maybe with a new passport.
Polish, Dominican authorities discuss priest trial
The chief prosecutor of the Dominican Republic called Monday for tough punishment for a Polish priest if he is convicted of abusing minors on the Caribbean island.
Francisco Dominquez Brito met with his Polish counterpart Andrzej Seremet to discuss the upcoming trial of the priest, Wojciech Gil.
The priest has been under arrest in Poland since February. He has denied charges of abusing six minors in the Dominican Republic between 2009 and 2013 and two in Poland in 2000-2001. He could face up to 15 years in prison if convicted.
Gil is being tried in Poland for all the charges because the eastern European country does not have an extradition agreement with the Dominican Republic, making it impossible to have him tried there. A Polish prosecutor and two attorneys will represent the Dominican victims in the trial before the court in Wolomin, near Warsaw.
Pope Francis takes center stage in new Filipino musical
Filipino priests sing and dance in a new musical based on the life of Pope Francis that aims to draw more young people to the church in Asia's largest Roman Catholic country.
The two-hour musical traces the life of Jorge Mario Bergoglio from his childhood in Argentina to his election in 2013 as the first Latin American pontiff.
The makers of "I (heart sign) Pope Francis" based the mostly English-language musical on news stories and literature about the pope, but add fictional elements to complete the narrative.
Show director Andy Alviz said the performance depicted the challenges as well as rewards of Catholic priesthood, hitting "many birds with one stone".
"You entertain, you evangelize and at the same time, it's also a vocation campaign for young audiences who want to become priests or nuns some day," Alviz said.
Diocese warns against worshiping with dissenting groups
Twice in recent weeks, the Diocese of Pittsburgh has issued notices warning Catholics against taking part in worship services by two groups that claim to be Catholic but that the diocese says are not.
Other than being on the receiving end of the notices and claiming to be authentically Catholic, the two faith communities are as different as right and left.
One is affiliated with the Society of St. Pius X, which rejects the modernizing changes of the Second Vatican Council and whose late founder was excommunicated. The other is affiliated with the group Roman Catholic Womenpriests, which disputes the Vatican's insistence that only men can be priests. The Vatican says women purporting to be ordained have brought excommunication on themselves.
In each case, notices published in the Pittsburgh Catholic newspaper said in almost identical language that "that free and willful participation" with each group and its sacraments implies "separation from the Roman Catholic Church. This is a serious matter that no Catholic should take lightly."
. . . .
Bishop [David] Zubik said it was important to clarify their lack of standing with the church. If people "become active participants, that would be a serious matter," he said, but he doesn't plan any formal excommunication proceedings.
A renewed energy about the US Church
Fr. Tony Flannery Nov.21, 2014
There are a great many Catholic reform groups in this country, ranging from Call to Action, which seems to be the longest in existence, to other middle-of-the-road associations such as Future Church, various women's ordination movements, and others who have agendas around Catholic sexual teaching and differing stances on the abortion question.
It will take time to evaluate my experiences of the American Church but my impression is that, despite their different stances, they work together on what they have in common and amount to a significant voice within the Church here. Pope Francis has given them a lift, and there is a sense of renewed energy about them.
On the Upper East Side, Silent Prayers to Save a Sanctuary for the Deaf
Sharon Otterman Nov.28, 2014
The choir members filed up to the altar in robes the color of the red roses of Saint Elizabeth, the patron saint of their beloved church. They arrayed themselves on two risers and looked to the choir director for a cue. Then they raised their hands in unison and began to sign.
. . . .
The deaf were celebrating Mass on a recent Sunday in the intimate Upper East Side sanctuary where they have prayed since 1980, when Cardinal Terence Cooke named the Church of St. Elizabeth of Hungary on East 83rd Street New York's Roman Catholic parish for the deaf.
The church has become a haven to nearly 500 deaf New Yorkers, who not only pray there, but also come through the week to study religion, meet with clergy members and socialize. That era is about to end. On Nov. 2, the Archdiocese of New York announced that St. Elizabeth's would be among 31 churches closing for regular use by next August, part of a sweeping series of parish mergers and closings.
. . . .
Msgr. Patrick McCahill, 71, has guided the church since Cardinal Cooke's designation and is the only priest fluent in American Sign Language who is left in the archdiocese, which stretches from the Catskills to Staten Island. He has officiated over countless baptisms, confirmations and weddings in A.S.L. and in the process has become the quiet spiritual leader of much of the practicing Catholic deaf community in New York.
Though the church knew as early as last April that an advisory panel had recommended it for closing, Father McCahill, who is hearing, decided to not make a fuss, quietly trusting that the archdiocese would realize that the deaf community and St. Elizabeth's parish had fused together in a rare and special way, he said. There are about 240 hearing parishioners at the church. Despite their small numbers, they provide most of the financial support for the church, saying its work with the deaf community is part of what makes it vital.
Crazy for Kickstarter: Another church embraces crowd-funding
The largest Franciscan church in the world needs help. And it has turned to the Internet's modern-day system of patronage for the arts with Kickstarter.
The final resting place of Michelangelo, Niccolo Machiavelli and Galileo Galilei, the Basilica of Santa Croce in Florence is hoping to restore the loggia of a major chapel that was designed by Renaissance master Filippo Brunelleschi.
. . . .
In an effort to drum up the needed funding for restoration, the non-profit "Opera di Santa Croce" organization, which is in charge of the Santa Croce complex, has turned to Kickstarter for help.
The organization has until Dec. 20 to raise $95,000 - the last half of the total money needed after it fund-raised from larger donors. As of Dec. 1 they were barely a third of the way there with 337 backers.
Is "The Sisterhood" Reality?
Sister Cynthiar Nov.28, 2014
Okay, so it's reality TV. But who defines the reality of "The Sisterhood," the docu-series that premièred on Lifetime last night? The show claims to offer a glimpse at convent reality, but as one of the sisters readily admits, this is NOT the usual process of eciding to become a sister.
In real reality it's a long, prayerful process and very much based on the individual woman. The relationship between the sisters and the inquirer develops slowly, during frequent visits, meals, prayers, ministry sharing and long conversations. What "The Sisterhood" portrays is not convent reality.
Is it reality for the young women on the show? If they don't know sisters at all, then it is, and that's unfortunate. There is so much more to the life, the commitment, than giving up things and taking off makeup. As Sister Mary Mark says, it's about what happens inside, how the call from God resonates in a deep place in your heart. Recognizing that call puts things in perspective and makes the other things not so important.
But this reality, too, seems shaped by the TV process - what will draw viewers, what will be sensational. I pray that the women in the series will find their own real space before God, that deep, sacred space where life decisions are made freely and joyfully.
Help Support ARCC with AmazonSmile
You shop. Amazon gives.
Do you make purchases at Amazon? Do you buy Kindle books from Amazon? Consider going through AmazonSmile.
When you shop on AmazonSmile, the AmazonSmile Foundation will donate 0.5% of the purchase price to the eligible charitable organization of your choice. You will see eligible products marked "Eligible for AmazonSmile donation" on their product detail pages. Recurring Subscribe-and-Save purchases and subscription renewals are not currently eligible.
On your first visit to AmazonSmile, you will be prompted to select a charitable organization to receive donations from eligible purchases before you begin shopping. Just enter "ARCC." Your selection will be remembered, and then every eligible purchase you make on AmazonSmilewill result in a donation. ARCC receives 0.5% of the price of each purchase made via AmazonSmile.
ARCC can earn a penny every time you search the Internet. GoodSearch.com donates half its revenue, about a penny per search, to the charities its users designate. You use it just as you would any search engine. Go to www.goodsearch.com and enter ARCC as the charity you want to support. Just 50 of us searching four times a day will raise about $730 in a year without anyone spending a dime.
Upcoming Events

Future Church Teleconference
Presentation about the Synod on the Family
with Fr. Thomas Reese
Tuesday, December 9 at 8pm ET.
Discussion on the 2014 synod, midterm document, final document, and what to expect at the 2015 synod
Click here to register.

Association for the Rights of Catholics in the Church
Membership options:
Life $500 ARCC-Angel $100 Regular $50
Senior $25 Student $15
SHOP or SEARCH and SUPPORT ARCC